For the past two years, the Medical Center of South Arkansas has focused on making its services and medicine more accessible to the region.
In May 2019, MCSA CEO Scott Street spoke at an El Dorado City Council meeting about improvements and expansions the hospital wanted to make to improve its quality of care.
During the meeting, Street discussed opening Lester Street to allow easier access and a smoother ride to the hospital for ambulances and the patients they carry, recruitment for physicians in subspecialities, building a full-service cancer treatment center, the return of a residency program, mental health services and an on-site medical helicopter.
During the annual Healthy Heart, Healthy You luncheon in February this year, which was hosted by MCSA and the Healthy Woman Board to discuss information about heart disease and encourage action, Street announced advancements in all of those areas.
At the time, Street said the hospital was gearing up for a ribbon cutting for the hospital's alliance with Survival Flight, envisioning groundbreaking on the new cancer center at the end of May and reinstating the University of Arkansas residency program.
Now, many of those improvements and expansions under Street's "Destination Health care," the vision for the hospital, have come to fruition as they're more "tangible," as Street says, while the others are gaining traction but won't be apparent to the public until the somewhat near future.
"Health care is one of the most dynamic, ever-changing fields there is, especially when you work in it, it changes daily," Street said.
Over the past year, the hospital, with the help of the county and city, opened up Lester Street, and although it provides better access, Street said the hospital isn't proud of it quite yet because there's still some cleanup to do.
He also said the hospital is also trying to clean up Grove, Union and Fifth Street from North West to College avenues.
"Priority one is the ambulances coming to us with patients, and to come on Fifth Street is so inappropriate for those patients to be in the back of an ambulance and bounced all over the place, literally," Street said. "Lester Street is a much smoother entrance to us, to the ER, so that was priority one."
In another tangible vein, MCSA's alliance with Survival Flight, an emergency medical air transportation company, started Feb. 28.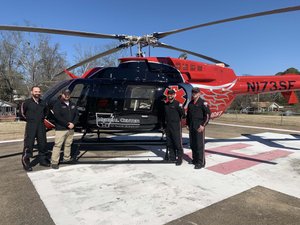 Photo by Photo courtesy JD Windham
The crew of Survival Flight - 17 poses for a photo. The base at the Medical Center of South Arkansas is the sixth base in Arkansas for the Survival Flight company.
The hospital hosts crew quarters and a heli-pad for the company, and Survival Flight has the name of the hospital on its helicopter.
"It's made a difference for sure," JD Windham, El Dorado base manager for Survival Flight and flight nurse, said in a March 17 News-Times report.
The crew is made up of a pilot, registered nurse and a paramedic, although there are four pilots and eight-full time medical staffers that rotate for shifts. The helicopter has a 400 mile radius and flies 130-140 mph in a straight line, and responds to emergency and patient transportation calls.
Although the hospital's name is on the helicopter, Survival Flight will fly patients from emergency scenes wherever they need to go, whether it's MCSA or not.
"It's just been a great partnership," Street said. "They fit our culture and our vision for what we're trying to accomplish in South Arkansas."
However, that isn't the only alliance MCSA has made in the past couple years. The hospital has expanded its services in partnership with the Arkansas Children's Hospital's Nursery Alliance to make in-home neonatal care possible.
The Family Connects program, which allows a registered nurse to visit and check-up on newborns and their mothers, began in September 2019 with training in April the same year.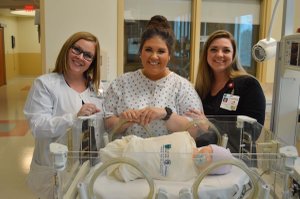 Photo by Photo courtesy MCSA
The Family Connects program at the Medical Center of South Arkansas began seeing patients in September 2019. Since then, the program has made about 100 visits.
The free and voluntary program hit its 100th visit earlier this month, according to a previous News-Times report. Nurses in the program ask the mother if they would like an at-home check-up after giving birth at the hospital. About three weeks after delivery, the nurse will weigh the newborn, check their health and their mother's, and answer any questions and provide resources the mother or family may have or need.
Street said the hospital is looking into expanding its telemedicine program, which began in 2012 with the University of Arkansas for Medical Sciences Center for Distance Health program. The program in place right now helps physicians evaluate stroke patients. According to a press release from 2016, the video conference-based treatment can increase patient access to specialists.
Street said telemedicine will allow patients to have more time with the doctor than if they were actually in the room.
"It's not a drop in quality in care, it's just a different way of giving them care," Street said.
MCSA also entered alliances with the Arkansas Heart Hospital, which brought in Dr. Athanasios Stoyioglou, an interventional cardiologist, and Arkansas Urology, which brought Dr. Caleb Bozeman.
Stoyiouglou and Bozeman are joined by Dr. Joseph Deluca, who joined the hospital's clinic; Dr. Tyler Neal, a hospitalist; and Dr. Althea Conley, medical director of the MCSA Medical Withdrawal Management Program.
Street said when the conversation of Destination Health care first started, behavioral health kept coming up and he has made it an effort to fill that desire from the community.
"We see behavioral health coming as one of the primary service lines that we have to have as a thriving service here in the hospital," he said.
Street said the first step was to add the hospital's medical withdrawal program, which was instituted in November 2018 and is for people suffering from substance and alcohol abuse.
According to MCSA's website, the program includes a pre-screening assessment, admission, three to five days of medical stabilization and appropriate discharge planning.
"That's just putting our toe in the water, it's an important service but compared to an in-patient unit, that's just scratching the service," Street said. "We're glad to get that up and running, we're seeing volume and what we like to see is the impact we're making with patients that come here that now don't have to go an hour, two hours away."
Street said the second phase is an in-patient psychiatric unit on the second floor of the hospital. He said he hopes the project is able to start this year, but is being discussed ,as it would mean a multi-million dollar expansion.
As part of the pursuit to improve behavioral health care, the hospital also hosted the Comprehensive Opioid Abuse Program in February.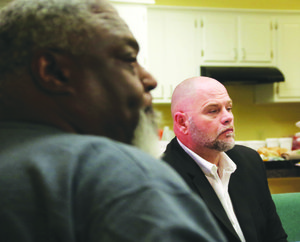 Photo by Siandhara Bonnet
Union County residents gathered yesterday at the College Avenue Church of Christ to discuss the ongoing nationwide opioid epidemic.
Community members of Union and Ouachita counties came together to learn and ask questions about the opioid epidemic. They were joined by state drug director Kirk Lane and state peer recovery specialist Jimmy McGill.
"The drug epidemic really hasn't seeped into Arkansas like it has the rest of the nation," Lane said at the February talk. "We are now just in the middle of it. … It's going to get worse before it gets better."
The group discussed ways to improve the resources in the community and create a better system that would allow those with addiction to get the help they deserve.
Street said there's a great need for mental health services in South Arkansas — and across the nation — and sometimes the hospital will see nine to 12 patients in the emergency waiting on placement who later get sent to a different facility but don't get what they need.
"It's just depressing. Right now it's just depressing," Street said. "There's got to be a really robust outpatient piece to behavioural health along with what we already have in place in the medical withdrawal, but there's got to be that counseling that occurs or there'll be this cycle right back in. It's just an ugly cycle across the country right now — not just in El Dorado or Arkansas, it's a crisis in America."
Street has also been pushing for groundbreaking on the new, three-story, cancer center at the end of May. The first floor would be the center, the second the residency program — which would be reinstituted from the University of Arkansas following an approximate 10-year gap, and would begin in summer or fall of 2022 with four new residents brought in over a three-year period — and the third is to be determined.
Street said it would take 12-14 months to construct the building, but in the meantime patients would be able to use services in a mobile unit that's already set up.
"We haven't started seeing patients yet, we're trying to work out details on the equipment itself," Street said. "(It's) exciting because the importance of cancer care is so high. … There's a lot (of people) that need cancer care that are having to drive to Little Rock today for radiation treatment every day, and that's unacceptable, so we want to try to improve that."
He also said the hospital would work to improve its market share over the past two years, and it has — Street said the hospital has gone up 3-5% in market share.
"That's hard to turn because that requires an improvement in image, improvement of facilities, services and everything else, and that takes time," Street said.
He also said the hospital has put an emphasis on patient satisfaction, making sure patietns know they are attended to respected and have positive interactions with staff.
However, at the end of the day, Street said hospital employees have to have passion for the movement and wants to approach it as an organization.
"We're doing that, but again it takes time," he said.
Street said planning and envisioning health care used to be on a 5-10 year track, but now it's 5-8 months to a year because things change so quickly.
Even with that movement, MCSA plans to move ahead and stay on track to reach their vision of Destination Health care.