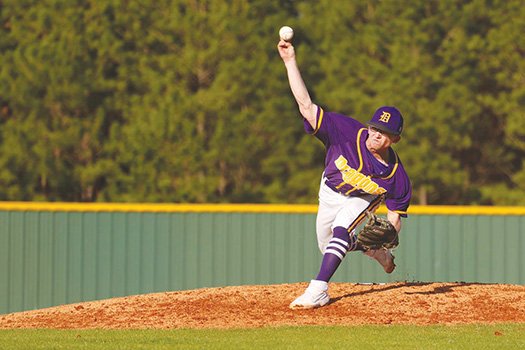 Siandhara Bonnet/News-Times Junction City's Keelan Hodge throws a pitch during a game against El Dorado earlier this month. A senior, Hodge was the MVP of the 2A state title game last spring, but his final season with the Dragons is on hold due to the coronavirus pandemic.
Under normal circumstances, Junction City's baseball team would be spending its spring break in the northwest part of the state testing themselves against teams that they don't get the opportunity to face very often.
But due to the coronavirus pandemic, competition was halted nearly two weeks ago with much uncertainty as to whether or not the games will continue.
For Junction City senior Keelan Hodge, being away from the baseball diamond has been a difficult pill to swallow for him and his teammates.
"To be honest, it's really kind of depressing," Hodge said. "They're definitely upset, just like me and all of the other teams around here. They want to play. We put in all of the hours of work in. It definitely hits the heart, not being able to play, especially your senior season with friends that you go to school with. It's hard on everybody. If I can be playing ball, I want to be playing."
Hodge, who is the ace of the Dragons' pitching staff as well as the team's shortstop when he isn't on the mound, has been doing anything he can to stay in shape, but it hasn't been easy.
"It's been rough," Hodge said. "I got my membership back at the gym, and then they closed the gym, so I'm at home having to do my own workouts. Just really running to keep in shape. Other than that, all I've been doing is push-ups, pull-ups, then I'll do sit-ups, anything I can to stay in shape, just in case we do get to come back and play."
Hodge said he's been throwing, although his catcher may not be the first person one might think of.
"My girlfriend will go out there in the yard with me," Hodge said.
The defending 2A state champions were off to a 3-4 start with three of those four losses coming by a single run.
However, the Dragons' bats started to perk up after an 0-2 start by scoring 33 runs in their three wins.
With a plethora of newcomers on the team, Hodge thought the Dragons were turning the corner.
"We still had a bunch of inexperienced players, and the only way you're going to get better is through experience," Hodge said. "We were getting that, and we would've been fine by the end of the season."
Since he made his varsity debut as a freshman, Hodge has been dominant on the mound.
Entering his senior year, Hodge has posted a 29-6 record with 291 strikeouts in just 158 innings. His last outing prior to the Arkansas Activities Association's dead period came against El Dorado.
In seven innings of work, Hodge allowed just four hits and four runs while issuing two walks with eight strikeouts in the Wildcats' 5-4, nine-inning win.
Not a bad pitching line, but Hodge said it could've been better.
"I didn't pitch as good as I could," Hodge said. "I was leaving my fastball up. Some curveballs would be really sharp, then other ones I would leave up in the zone. If you leave balls up in the zone, you're asking for trouble. I know I could've pitched better."
Hodge, who was the MVP of the state title game in 2019 and has signed with Arkansas Rich Mountain, is hoping he hasn't thrown his last pitch or taken his last at-bat in a Junction City uniform.
"It's a shot in the dark," Hodge said. "If you look in the media, it's not very likely, but I'm always going to keep the faith and let hope stay alive."
Sponsor Content
Comments