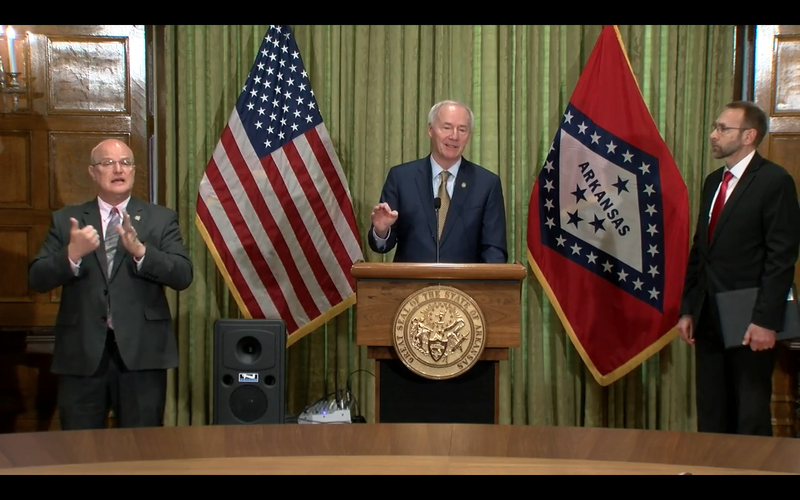 Gov. Asa Hutchinson updated Arkansans during a press conference yesterday at the State Capitol. To his right is Arkansas Sec. of Health Dr. Nate Smith.
Gov. Asa Hutchinson announced yesterday that the Arkansas General Assembly will meet this afternoon in a special legislative session to begin sorting out a budget shortfall caused by the novel coronavirus (COVID-19) pandemic.
A bill has already been drafted to create a COVID-19 Rainy Day Fund, sponsored by Speaker of the House Matthew Shepherd (R-El Dorado). Hutchinson said yesterday he expects the bill to pass without trouble.
"The bill language has been worked with the members where there is broad agreement and the necessary votes to have this pass in a timely fashion without extending the length of the session, which is not what anyone wants to do," he said.
The bill makes provisions for the creation of the COVID-19 Rainy Fund, with $173,610,632 to be transferred into the fund from the General Revenue Allotment Reserve Fund. Monies in the COVID-19 fund will not be able to be spent without the approval of at least two leading members of both the state House of Representatives and the Senate.
The funds will be meant to off-set budget cuts Hutchinson made as a result of falling state revenues due to the pandemic. On Monday, he cut $353.1 million from the general revenue budget for fiscal year 2020. Additional COVID-19 rainy day money may come from the state's Medicaid trust fund, the educational excellence funds and others that currently have high balances, Hutchinson said.
"I think it's clear that the $173 million is not going to stop us from being constrained in the other agencies, so we are most likely going to be giving guidance about reducing travel, on how to shorten or reduce the budget for these last three months and reduce expenses," Hutchinson said. "It is going to be a tightening of the belt … This is just simply called managing the budget."
He also said he hopes to see some of the $173 million saved for emergency needs that may arise as a result of the pandemic, such as for ventilators and other medical supplies. The current fiscal year will end on June 30.
Hutchinson also addressed the current unemployment numbers in Arkansas as of yesterday afternoon. Last week, 9,400 people made unemployment claims; so far this week, 8,700 people have filed for unemployment, with 700 of those claims coming in yesterday morning.
He noted that wait times for the Commerce Department's unemployment hotline currently sit at about 25 minutes per caller. He said the department is currently working to upgrade their online claim system to improve efficiency and accessibility.
"Obviously, from that, people are getting through the system, but I urge those that are filing these claims to be patient, as I know you have been," he said. "This volume of claims is unprecedented in our history, in any economic time. We are processing them as quickly as we can."
The governor also noted that the state has begun making plans to ensure residents do not face a shortage of hospital beds or health care providers as the pandemic continues to spread. He said medical licensing boards have been instructed to expedite the licensure process, noting that over 100 new doctors and 300 new nurses have been licensed this month.
He said nurses who have been laid off in recent weeks due to the halt on elective medical procedures can contact Sue Tedford, executive director of the state Board of Nursing, for job referrals.
"There's ample room right now for the needs that we have," Hutchinson said. "We are having conversations about where we can build additional capacity. There's not any discussion about tents, but there is discussion about bringing additional beds online. For example, we're blessed in Arkansas because we do have additional capacity that might not be operational now that we can bring in operation.
"Part of it is managing it. For example, we have 8,000 hospital beds in Arkansas, so it's about: are they properly located? Are they in the right spot? Are we going to exceed our capacity?" he went on. "These are COVID-19 patients that we're looking at. We have to have the right place for them, the right number of ICU beds. That's what we're measuring and making plans for. There's a lot of work being done to plan for what will be the needs in the coming weeks and months."
Sponsor Content
Comments