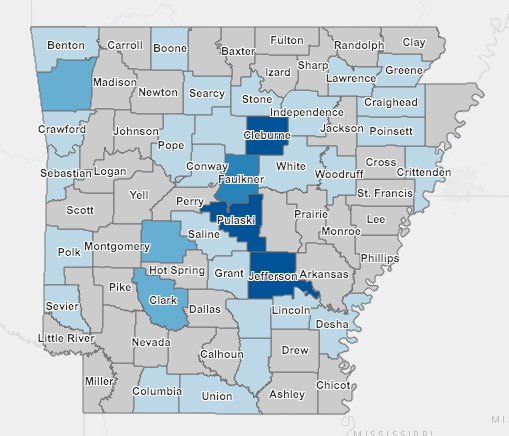 This map shows where in Arkansas positive cases of the novel coronavirus (COVID-19) have been confirmed, with darker blues signifying a higher volume of confirmed cases. Two positive cases have been announced in Union County.
The South Arkansas Medical Association (SAMA) announced a confirmed case of the novel coronavirus (COVID-19) in one of their employees yesterday.
According to a statement on their Facebook page, the employee has been quarantined and is being monitored and other personnel that came in contact with them have been tested and instructed to self-quarantine.
Pete Atkinson, chief executive officer for SAMA, said the staff member that tested positive for COVID-19 has not been in contact with patients. He said he also doesn't believe the staff member contracted the coronavirus at SAMA.
SAMA has put in place several procedure to limit the spread of the novel coronavirus, including asking patients to call ahead before entering the facility, patients with flu symptoms or a fever being seen in a specialty area of the facility and asking patients to wait in their car until invited inside in order to allow time for sanitization.
"Our patient volume is extremely low because of this already, and we're taking precautions to keep the virus from spreading," Atkinson said. "We're screening those with flu-like symptoms in a separate part of our building to protect other patients that come in."
Atkinson said SAMA's testing capacity is currently low. Anyone who complains of flu-like symptoms associated with COVID-19 are first given a flu test and a strep test to screen out those cases. If both come back negative, the patients are asked about their recent travel and potential exposure to the novel coronavirus.
"We're hoping to get more in a few days," Atkinson said.
A representative from the Medical Center of South Arkansas did not respond to emailed questions by press time Monday about the hospital's testing capacity. The News-Times will continue to update the public as more information about testing becomes available.
The SAMA employee joins a Salvation Army employee in testing positive for the novel coronavirus. Capt. Jason Perdieu of the Salvation Army said their infected staff member is in quarantine, and all other staff members are self-quarantining at home. Shelter residents have been asked to stay through the duration of the quarantine and all operations have been canceled until the staff member's quarantine has ended.
Editor's note: A story in Friday's edition of the News-Times about the Salvation Army's Spring Feeding program included several photos that were taken in 2019. No News-Times staff members came into physical contact with Salvation Army staff members in the course of reporting the story.
Caitlan Butler can be reached at 870-862-6611 or [email protected]
Sponsor Content
Comments