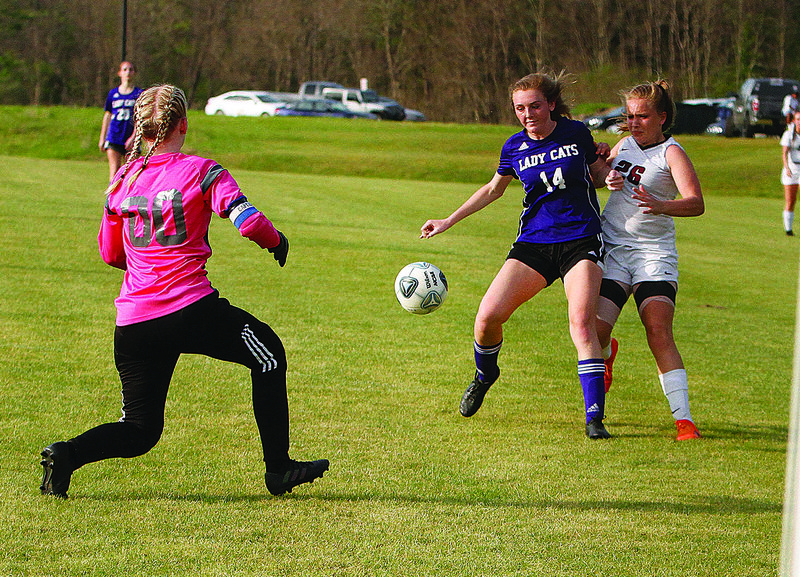 El Dorado's Carson Henry tries to get a shot off against pressure from a Benton defender in action last season. Henry, a senior, became the first Lady Wildcat to sign a Division I letter when she inked with Louisiana Tech during the fall. She is waiting to find out if her high school career is finished because of the caronavirus outbreak. - Photo by Terrance Armstard
El Dorado's Carson Henry became the first Lady Wildcat to sign a Division I letter for soccer when she inked with Louisiana Tech in November. It was to be the kickoff to a stellar senior season for the midfielder.
But the Lady Wildcats, like all the other spring sports teams, are playing the waiting game due to the coronavirus pandemic. The Arkansas Activities Association mandated a sports dead period until April 17 at the earliest, which puts the soccer season in serious doubt.
"I hope it is not going to be over. I really do," Henry said. "I have been working out to keep my strength and agility up for this season in case it does resume and for next season at Tech."
El Dorado is 2-0 after a pair of non-conference games. The Lady Wildcats blanked Warren 4-0 and Hamburg 6-0. Henry keyed the defense and also scored a goal.
A senior year that started out so promising with her college future secured, has turned confusing and very unsettled.
"I think it's bittersweet and hard for me to take all of this in right now," said Henry. "Being a senior, not only have I had my school and senior activities taken away, but my last year of high school soccer possibly being gone, too. Luckily I was given the opportunity to play in college so I get more time to play this great game, but I was really looking forward to the time with our team this year because I feel like it was going to be one of the most successful ones."
Of course, the season isn't over, yet. There's still hope for more games. But having something important taken away can lead to a change in perspective.
"This has really humbled me and made me realize to never take anything for granted because it can be taken away so quickly," said Henry, who plans to, "just try to remain positive during this difficult time and remember that when I do get to play again, the next time isn't guaranteed."
Sponsor Content
Comments