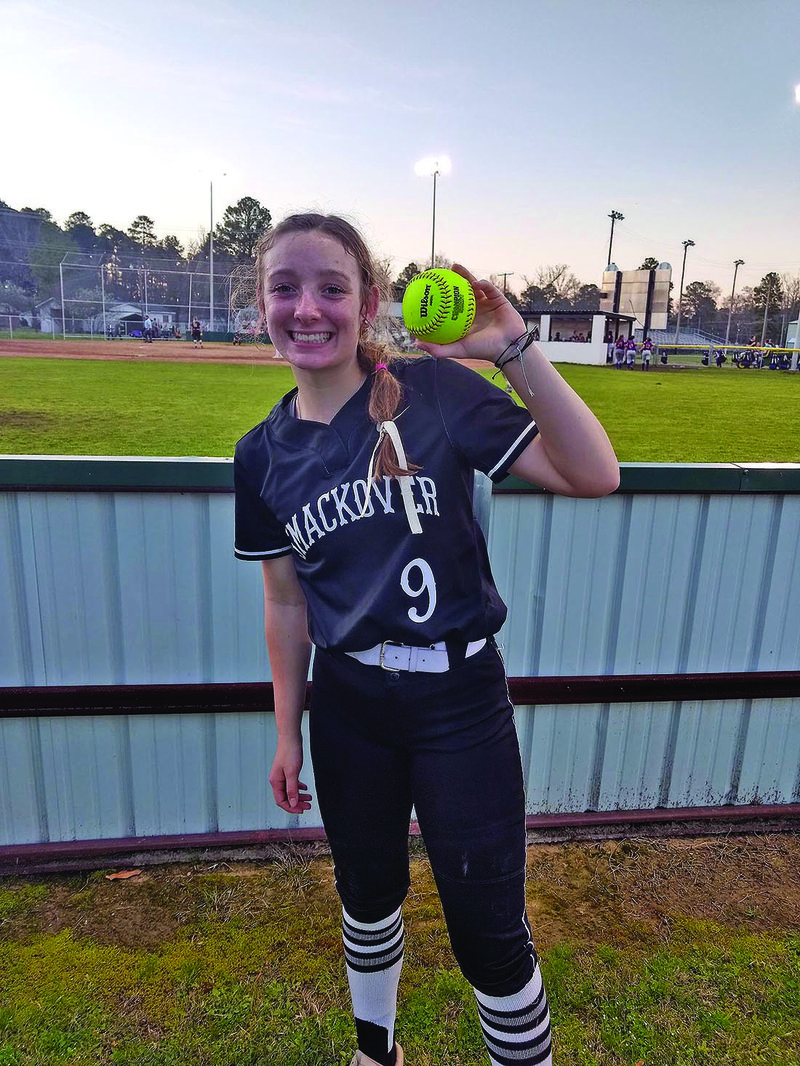 Smackover's Karli Goocher shows off a home run ball she hit earlier this season. The senior, who has signed to play at Lindenwood University, hopes people will put the time away from the field to good use during the dead period. - Photo by Contributed photo
Smackover's Karli Goocher is a softball player. She's a softball player in the fall and winter and especially during the spring and summer. The senior worked in the winter to prepare her for this time of the year.
And now, the coronavirus pandemic has put her and every other spring athlete in the state on the shelf. The Arkansas Activities Association announced Friday it had extended the dead period until April 17.
"I am really concerned. I don't want my senior year to end. I'm not ready for it to end," said Goocher. "I still have memories to make and a team to lead and state to win. It can't be over. But I'm going to trust in God's plan.
"It's so difficult but I'm trying to be positive about it and just trust that God's got this."
Goocher's Lady Bucks are off to an 8-0 start this season, winning a tournament in Ashdown. The catcher, who signed to play at Lindenwood University, is off to a torrid start at the plate with six homers and 20 RBI in eight games.
Perhaps no player in the state was hotter when play was halted.
Goocher has a hit in every game this season and has 15 hits total, including two or more in six of the eight contests.
"This year I'm just playing. I'm not worried about what college I'm going to because I'm already committed. I don't have to focus on my stats every game," she said. "This year I'm playing for my team, not worrying about my stats or anything. I didn't even know how many homeruns I hit until Coach (Dennis) Steele counted them out to me."
Now, however, Goocher's red-hot bat is just for practice, which she does daily, trying to stay sharp for a senior season that might never return.
"All I know so far is to practice at home. We're not allowed to gather and have practice so I'm just practicing at home. I don't know if our season is going to get cancelled or what's going to happen," she said. "I am counting down the days until I'm back on the field. I pray that those days don't grow."
While other athletes play multiple sports, Goocher's focus has been softball for most of her prep career. This is her season, her senior year.
But the whole coronavirus situation serves as a sharp reminder to what's truly important.
"At first, I was really sad because I'm really not ready for my senior year to be over. But I just have to trust in God and know that He's got a plan for everything. My nana reminds me of that every day. She also says that if my season is over, at least I went out with a bang. So that's definitely a blessing.
"I think the silver lining is just trusting that God has a plan. This is a hard situation that we're going through but maybe this is turning people's eyes to Him. On a different note, I am very sad that our softball season is on the verge of being over way before I expected, but I understand that I just have to trust that God has a plan and that He'll take care of us. I think that this time at home is a good time to grow closer to God. I think we should trust in Him and know that He's going to protect us. I think that we should read His word and be well versed. You never know when He's coming back. We should all be ready when He does."
Sponsor Content
Comments