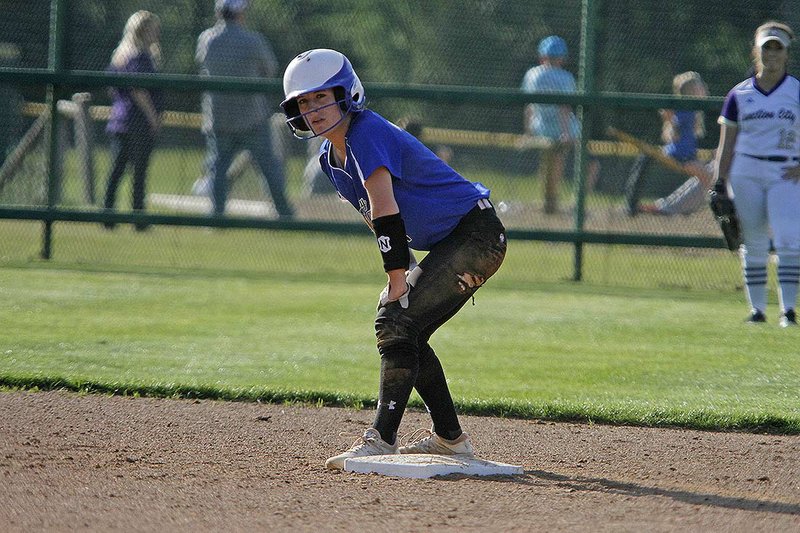 Parkers Chapel's Kenlee McAuliffe stands at second base after a succesful steal against Junction City last season. The senior is currently out with an injury during the dead period. - Photo by Terrance Armstard
Parkers Chapel's Kenlee McAuliffe secured a future in softball during the fall when she signed a letter to compete at Three Rivers College in Poplar Bluff, Missouri. That didn't mean she wasn't looking forward to her senior year with the Lady Trojans.
Like all other spring sports athletes, McAuliffe is on the sideline waiting to see if the season will resume after the Arkansas Activities Association April 17 dead period concludes.
Unlike a lot of those athletes, however, McAuliffe was going to be sitting out these next few weeks anyway. The third baseman sprained her ankle in her last game and was already going to miss the next four weeks.
That doesn't make the situation less stressful, however.
"It is difficult not knowing if the season will resume," she said. "It's our last year. I think that we had high expectations and hoped to reach our goals this year. It is also very frustrating not being able to play or even be there with this injury. You never think any of this would ever happen your senior year, that could've possible been the best."
Whether or not the Lady Trojans take the field again, at least McAuliffe and her teammates won't miss Senior Day. In their last game at Monroe's St. Frederick High School, they were honored with a Senior Day program … just in case.
"It meant a lot to me," McAuliffe said. "I'm so thankful we had this opportunity to make memories and cherish them as a team even though it wasn't on our home field."
Again, just in case, McAuliffe said she's busy with therapy to rehab her injured ankle. Whether her high school career is over or not, she hasn't played her final game.
"My outlook on this situation is you have to literally play every game like it's your last," she said. "But in the meantime, I'm going to continue to get stronger and recover to be a better athlete and continue my career through the summer in travel ball and onto college this fall."
Sponsor Content
Comments