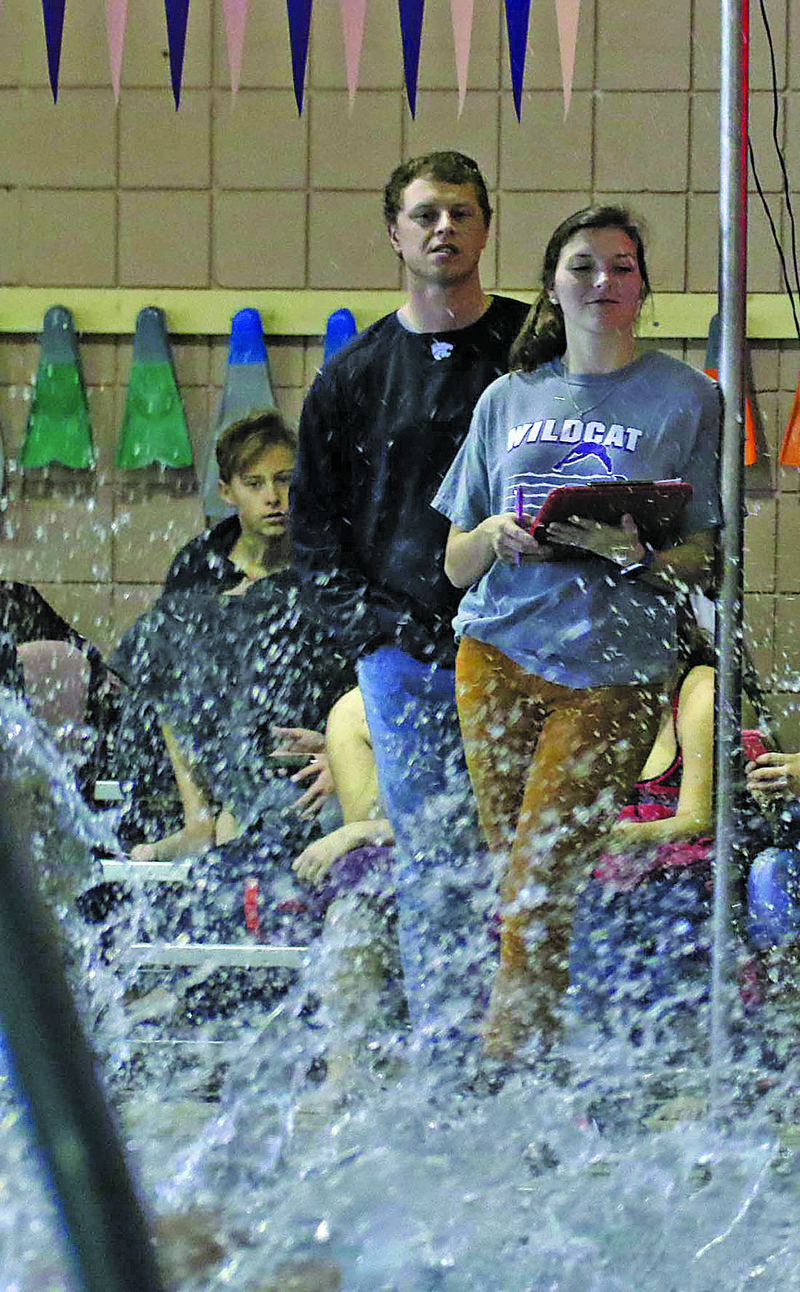 El Dorado swim coach Courtney McDiarmid Canady watches her athletes at a high school meet. Canady, a former Lady Wildcat swimmer, returned to coach at her alma mater this year. She is one of 16 former El Dorado athletes currently coaching in the school's athletic program. - Photo by Siandhara Bonnet
If home is truly where the heart is, the El Dorado athletic department's heart is beating stronger than ever. Sixteen current coaches in the system are former Wildcats and Lady Wildcats.
El Dorado athletic director Phillip Lansdell said that's not a coincidence.
"We're always gonna try to hire the people that come back home for us. They'll have a tie to the community. It means a lot when somebody leaves us and wants to come back home and coach or teach," said Lansdell.
"This is their roots. This is where they're from. They want to represent us well. They want us to do well because they're from here. It is tough for them to come back home right off the bat because everybody knows them. They know everything about them. They've got a little bit higher expectation to live up to than someone who is not from El Dorado."
Local hometown hires aren't new to El Dorado. In fact, it's sort of a tradition. El Dorado graduates Stephen Harshaw (girls' basketball), Billy Blackburn (golf) and Tim Zylks (golf) coached teams at their alma mater to state championships in the past.
Currently, three senior varsity head coaches are El Dorado graduates in Courtney Canady (swimming), Cannon Lester (baseball) and Stephanie Thomas (tennis). Other former Cats and Lady Cats include Kanedria Andrews (eighth grade girls' basketball), Kris Borosvskis (assistant football and track), Ken Cunningham (assistant track), Orie Davis (assistant girls' soccer), Derek Easter (seventh grade girls' basketball), Jimmy Johnson (assistant football), Robert Kersh (assistant football), Luke Lansdell (assistant football), Cori Martinez (eighth grade cheer), Andrew McDaniel (assistant basketball) Matthew Nash (freshman football), Scot Perry (eighth grade football) and Todd Pettit (eighth grade assistant football).
Many of the coaches are just getting their feet wet in their careers. Others, like Johnson, have made their careers in their hometown.
"It means a lot," said Johnson, long-time defensive line coach for the Wildcats. "I hope I can give something back to a place that was so good to me."
Luke Lansdell won a state championship at linebacker for the Wildcats and played football at SAU.
"It's special to have a connection to not only the school, but the community as well," he said. "I have a lot of great memories playing here, and it's awesome to assist the players now that are apart of the program. It's very fulfilling to carry on the Wildcat tradition, and I'm blessed to get to do this job everyday. As Coach Johnson says, it's always a great day to be a Wildcat."
Thomas lettered in tennis and soccer for the Lady Wildcats. Canady competed in swimming, cross country and track at El Dorado. She swam and ran cross country at Ouachita Baptist University and led the Wildcats' swim team to its first conference title this year.
Andrews teaches basketball at El Dorado after playing at Louisiana Tech. She helped lead the Lady Wildcats to a state championship as a player.
"It's a great feeling," said Andrews. "Coaching where I played at and won a championship is a blessing. It's where I sweated my tears and all there. I love what I do. I love being able to teach the girls what I was taught and the aspect of what I learned from myself. LCB means something special to me."
Easter, one of the Wildcats' all-time shot block leaders, played collegiately at UA-Monticello.
"To be able to coach at my alma mater means the world to me" said Easter. "This is home and where I had an opportunity to grow and develop into the person known as 'Stick'. To be able to help the young players is a special feeling for me because I was one of them. As a person who had to earn everything, I know the work ethic and dedication it takes to reach the next level. Although I coach girls, I try to give advice and helpful tips to boys as well because I remember being apart of that side of the program and my heart is still there. Being home and connecting with the community is the perfect situation for me as I grow into my coaching career. I hope to retire here and hope I can inspire other former players to come back home and help with the boys' and girls' programs."
Borosvkis played tight end for the Wildcats. He coached El Dorado's boys' soccer program before concentrating on football as the offensive line coach under Steven Jones.
"There is a great sense of pride to be able to serve the students and people of El Dorado," Borosvkis said. "This is a place that has provided so much for me and my family and it is truly an honor to be able to give back and to serve a community and a school that has given so much to me. This is such a unique town filled with great hard-working people. That is something I try to instill in our athletes - when things get hard, roll up your sleeves and work a little harder - never quit. It's the El Dorado mentality.
"I have had the privilege to play for and work along side many great coaches who inspired me to start in this profession - Scooter Register, Jeff Williams, Butch Gray, Scott Reed, George Blackmon, Nick Vaughn, the late Joe Black and many more that have invested time at El Dorado High School. Each one guided me through the years, and I am truly thankful for each and every one of them. I tell people all the time that it doesn't feel like work to me. I have the privilege to wake up every morning and plant my feet on the campus of EHS and roll up my sleeves. I strive every day to give each student at El Dorado what they truly deserve - my absolute very best. They never fail to put a smile on my face as soon as I walk in the door. My family and I are truly honored to be part of the Wildcat tradition."
Cunningham played football, basketball and ran track at El Dorado, earning All-American and All-State honors in track and field.
"I consider it an honor to coach at my alma mater," said Cunningham, who volunteers in track, specializing with the jumpers and sprinters. "In some small way, I feel as though I am giving back to the place that gave me so much."
Perry played baseball and football for the Wildcats.
"It's huge," said Perry, who is Barton's eighth grade head football coach. "There's a pride that comes with it but also a desire and expectation of not only to compete with but also be one of the top teams in the state in every sport. It's personal to me, in everything we do at every level."
Having pride in a work situation usually leads to a more productive employee. For a lot of El Dorado's coaches, starting their careers at their alma mater isn't a stepping stone.
"We're proud to get 'em back here," said Phillip Lansdell. "I guess it's kind of like your kids leaving and then coming back home."
Sponsor Content
Comments