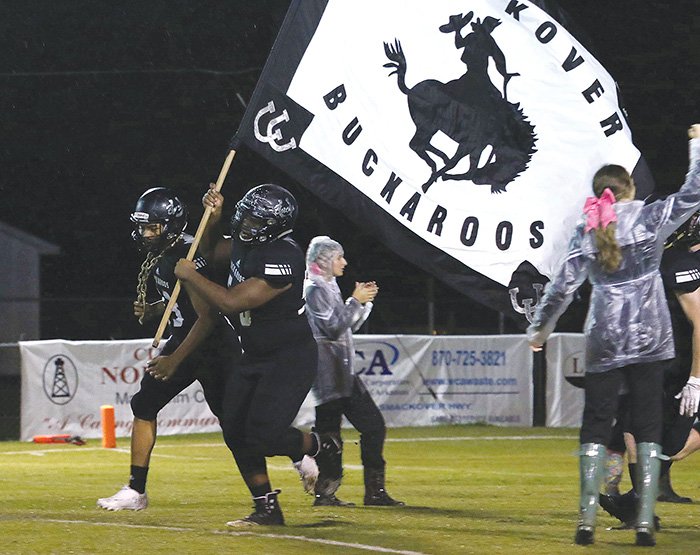 Siandhara Bonnet/News-Times Smackover takes the field prior to taking on Genoa Central in a 5-3A contest at Smackover during the 2019 season. Smackover has a new football coach with David Osborn taking over for Brian Brown.
Suffice it to say that the first three weeks David Osborn has been on the job as Smackover's football coach are ones he won't forget anytime soon.
Last week, Osborn was busy doing offseason work with the team while also coaching Smackover's track teams, but with the coronavirus outbreak, everything has come to a halt.
"Everything got announced and we started our offseason," Osborn said. "We started putting everything in, had the weights going up pretty good, started doing a little bit of football as well. I felt like we were getting quite a bit accomplished, and then this hit now and we're kind of in a hold like everyone else in the state."
This is the first varsity head coaching job for Osborn, who will also become the school's athletic director in June.
"It's a position that I've wanted for a while," Osborn said. "I've been at Smackover for around 10 years now. In the past, I've been the offensive coordinator and the defensive coordinator here. It came open this time, I decided to put in for it and it worked out for me. It's just something that I've really been building up to."
Osborn said he is working on how to construct his coaching staff.
"We're still kind of looking right now," Osborn said. "For the most part, I think our staff is going to stay intact. We're just trying to decide where we're going to put people to get them in the best spots."
One immediate area where the Bucks saw a gain was in their numbers.
"With us right now, we're up to about 32 or so," Osborn said. "We finished last year with about 25, so we've picked up a couple of kids coming in, and we're expecting to get a few more to come back and play."
As far as schemes go, Osborn said he didn't want to make too many changes from what the Bucks have run.
"It's going to be a change with me, but we're going to try to keep things similar, not a drastic change," Osborn said. "Defense, we'll still probably be a four-front. Offense, we're going to be multiple. We'll be spread. We're probably going to bring a little I back, goal-line-type stuff. I'd love to run no huddle, but until our numbers come up a little bit better, we're just going to play that at times, but we'll slow it down at other times. We don't want the kids to go through their fourth system in four or five years. With me doing defense and having the offensive experience, defense is going to stay really similar and offense is going to stay similar as well, just going to add a few pieces back from when I used to do offense."
One area that has Osborn excited are the skill players the Bucks have.
"A lot of kids with ability," Osborn said. "We need to get the ball in their hands as much as possible, and it's not just senior-high level, but ninth-graders moving up to the 10th grade next year. We've got some quality kids in that class."
Presently, there is much uncertainty as to when activities will resume, but Osborn is hoping the spring sports squads will get the chance to return to action.
"It's a difficult situation overall for everybody," Osborn said. "We definitely want to try the best we can hopefully to get to finish those seasons before anything else happens. We're just hoping that it passes over quick and these seniors and these kids can finish out their year."
Now that he is in charge, Osborn said he is ready to tackle the challenges in front of him.
"It's great to finally get the opportunity," Osborn said. "I've been waiting for the chance to prove myself with that. I had the junior high for several years. We had a lot of good runs with them. In the past, it hadn't worked out for me, things didn't fall right.
"Now that it has this time, it's something I've really been looking forward to. I want to take this opportunity and run with it. They tied the AD in with it too, so that's in there as well. We're going to try to not just keep the football program rolling along, but try to get all of our programs going."
Sponsor Content
Comments