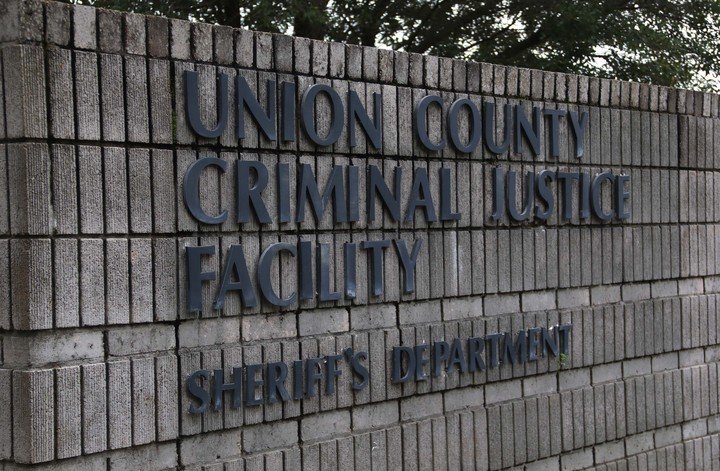 Union County Detention Facility - Photo by Terrance Armstard
Sheriff Ricky Roberts said multi-level plans are in place to keep inmates at the Union County Detention Facility healthy during the coronavirus pandemic.
"This is nothing new to us other than that the virus is new," he said. "As far as the flu, if you get one person in here with the flu, it runs through the jail pretty quick. … So we're treating it like a bad case of the flu."
Roberts said since Friday, the full-time nurses on the jail's staff have regularly checked inmates' temperatures and for the common symptoms of COVID-19, the novel coronavirus, which include coughing, shortness of breath and fever.
He said so far, no inmates have exhibited symptoms of the coronavirus or even the seasonal flu. To keep it that way, he has limited outside contact for inmates and has asked other local law enforcement agencies to consider whether suspected criminals can be cited out instead of arrested for minor, non-violent crimes.
"We've asked them to help during this time," he said. "Instead of bringing them to jail, if they could be released on citations to appear in court for any non-violent felonies."
For now, those who are arrested are screened before they're allowed to enter the jail. Roberts said any detainees will be checked for fever and other coronavirus symptoms at the docking port outside the jail before they're booked inside. After that, they'll be held in one-person booking cells for a period before joining the general population.
The only outside contact currently detained inmates have during this period is with jail staff. Person-to-person visits with loved ones were phased out at the jail about a year and a half ago, Roberts said; but loved ones can still visit the jail to use the video call kiosks available for visits, or have them from home, though he noted it costs more to call from one's home.
He said a similar system is set up for attorneys to consult with their clients in the jail. They can schedule meetings at their convenience then use the video call system to converse with clients. Roberts said that system has been set up for some time.
Additionally, the jail is stocked with food and toiletries for the next month, Roberts said.
"We hope this thing is well over by then, but we have a task to protect these individuals detained here and that's exactly what we're going to do," he said.
If someone does exhibit coronavirus, or even seasonal flu, symptoms, a contingency plan is in place to isolate those inmates from the general population. Two pods, which are large cells that can hold up to 30 people, have air conditioning and heating systems that serve only those pods and not the rest of the jail; anyone exhibiting symptoms will be isolated and treated there, Roberts said, as is currently the case for those who come down with the flu while incarcerated there.
"Worst case scenario — say we did get somebody in here and inmates started coming down with the flu or the virus, we'd be able to house up to 60 in this one section, and we have another pod we could probably hold up to 20 in," he said. "More or less, we'd be able to isolate about half the population and contain it that way. We've got two full-time nurses and a doctor on staff and they're constantly monitoring these inmates. If they need to see the doctor, they'll see our's and she would give us direction on what we need to do."
On Monday afternoon, 195 people were being housed at the jail.
Several judges in the 13th Judicial District, which covers all of Union County, have canceled criminal docket calls through March and into April. Roberts said that if an outbreak of the coronavirus were to occur, they might consider citing out some who are incarcerated on very minor offenses.
"We've talked to Judge (Jack) Barker about it; should it become something like that, the misdemeanors that may be in here doing 30 days or in for owing a fine, we'd see that we could clear some of those out," he said. "But most are here on felony offenses or probation or parole revocations … I wish we could say 'criminals, don't be committing any crimes' and not have to worry about it, but you know that's not going to happen. … Nothing is off the table, but we're not just going to open the door and let them all leave."
Roberts noted that the jail currently holds some inmates destined for incarceration at the Arkansas Department of Corrections — prison.
He said he is also working with other area law enforcement agencies so that if an outbreak were to occur, they could consider working together to house healthy and sick inmates separately.
"If it gets to where it starts taking over the jail, I'm sure there are other options we can look at, even as simple as shifting the ones who don't have it to another detention center and making ours an infirmary, just to get these guys and ladies back healthy to be able to proceed on as normal," Roberts said. "There's still a lot of unknowns. We're taking it and tackling it day-to-day and making the best decisions we can for our community, our staff and our inmates."
Jail staff, and even inmates, have worked to keep the jail sanitized and disinfected. Roberts said items like blankets and mats, as well as surfaces inside the jail, are disinfected weekly now, with cleaning inside the jail taking place regularly. In addition, he said he has set up fans to help circulate the air in the jail with fresh air.
Roberts said he is taking his duty to keep the inmates at the jail safe seriously.
"We're hoping that the precautions we've already set in place will help us in the long run and keep our inmates safe," he said. "We're having to learn as we go, but we're putting our best foot forward … We're trying to find our way in what's best for the inmates and best for the public."
Caitlan Butler can be reached at 870-862-6611 or [email protected]
Sponsor Content
Comments