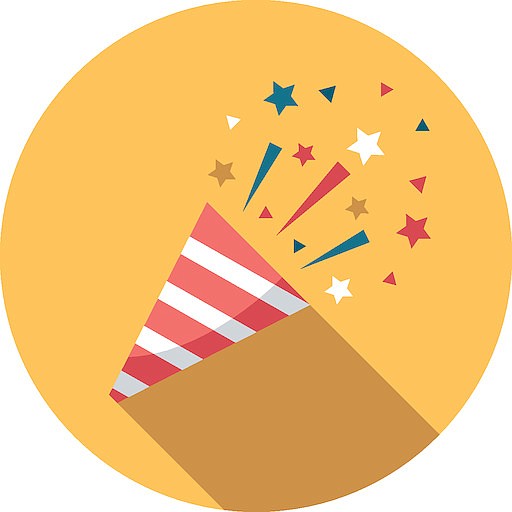 The community is invited to a bevy of activities that will kick off Thursday in El Dorado to celebrate the city and Independence Day.
Earlier this month, Mayor Veronica Smith-Creer and Terry Davis — an El Dorado native and owner of MyStiQue Entertainment, an event management company based in Atlanta — announced a weekend's worth of activities that will be held at venues across the city with the theme of "The Year of Perfect Vision."
A major part of the announcement was news that the city will host a public fireworks display, the first to be held in El Dorado since 2012.
Smith-Creer said she had been working on the project for a year and that the fireworks have been made possible by generous donors.
The mayor and Davis also previously announced other activities that have been scheduled for the weekend.
The activities were planned with El Dorado Days in mind.
El Dorado Days is a biennial homecoming celebration that has been going for nearly 60 years.
Organizers previously announced that the celebration has been canceled this year due to the coronavirus (COVID-19) pandemic. The event brings scores of El Dorado natives to town every two years.
Smith-Creer, Davis and other event organizers who are not a part of the original El Dorado Days group had already planned a host of other activities to complement El Dorado Days.
Because of COVID-19, Davis said some activities were canceled but organizers decided to push forward with others, with modifications and under the El Dorado Days banner.
They also invited other groups who have planned activities for the weekend to be a part of the overall schedule of events.
Smith-Creer and Davis have since announced additional activities that have been attached to the event schedule.
Davis said newly added activities were planned with children in mind.
"When people come to town for El Dorado Days, most of the events are adult-oriented. People bring their families with them and they have children and grandchildren and there's nothing for the children to do," he said.
In 2018, Davis included a youth football clinic and a youth empowerment program into the schedule of events to coincide with El Dorado Days.
The football clinic was canceled this year because of COVID-19, so organizers came up with other ideas to reach out to youth.
All events, paid and free, are open to the public. COVID-19 health guidelines will be enforced.
The weekend schedule includes:
July 2
• 5 p.m., Throwback Thursday Meet and Greet, B's Place, 508 S. Washington. The event will include light refreshments, music and photos. Attire is casual and attendees are encouraged to wear gear that represents Washington High School, El Dorado High School, their favorite high school/college or university sports team, sorority or fraternity or a local business or organization.
The cover charge is $5 and a business card to be used for shout-outs during the event and to be entered into a drawing for door prizes.
• The ELKS Lodge, 1525 E. 19th, will host nightly parties July 2 - 4. Doors open at 9 p.m. and the party starts at 9:30 p.m. Admission is $7 until 11 p.m. and $10 after 11 p.m. Entertainment will be provided by BMoe and CEO.
July 3
• 9 a.m., Friday Fun Day with the 23rd annual L.C. and Hazel Ross Scholarship Foundation Benefit Golf Tournament at Lions Club Municipal Golf Course, 1500 E. 19th.
The entry fee is $25. Proceeds will go to the scholarship fund.
• 5 p.m., Alumni Mixer, ELKS Lodge, 1525 E. 19th. The event will include a DJ, food and fellowship. Attire is casual and attendees are encouraged to represent their (graduating) class. Admission is $10 toward the ELKS' scholarship fund.
• 6 - 8 p.m., Horseplay: Meet the Horses and Ride a Mare with the Mayor! at Stallion Enterprises, 6747. The event will include fishing, four-wheelers, horseback riding and "Let's Talk", youth mentoring and empowerment. Hot dogs and hamburgers will be served. Horseplay is open to participants ages 10 - 17 and registration is limited to the first 50 children. Health guidelines will be enforced due to COVID-19.
• 7 - 10 p.m., Kickback: Kids Edition, El Dorado Municipal Auditorium, 100 W. Eighth St. Presented by BlackTay Promotions and Productions, LLC, the event is open for children in fourth - eighth grade and will feature DJ BMoe. The event is limited to 100 people, including children, chaperones and entertainers. Carryout plates will be available.
• 5 p.m., Alumni Mixer, ELKS Lodge, 1525 E. 19th. The event will include a DJ, food and fellowship. Attire is casual and attendees are encouraged to represent their (graduating) class. Admission is $10 and proceeds will go toward a college scholarship fund for local students.
July 4
• 11 a.m. - 1 p.m., Soul Saturday Brunch/Day Party at B's Place. The party will include live music. Brunch will be catered. Attire is "All White is (All Right). Add Some Flare if You Dare!" Admission is $10.
• 7 - 11 p.m., The Suga Shack at B's Place. Music from the 1950s - 2000s will be played. Admission is $10.
• Dusk, fireworks display at the Union County Fairgrounds, 1430 E. 19th.
• Gates open at 8 p.m. for Saturday Night Live Fourth of July Concert, featuring Rodney Block and the Collective and Front Cover in an outdoor show at the Union County Fairgrounds. Attire is "Dress to Impress But Not to Rest." Tickets are $15 in advance and $20 at the gate.
July 5
• 2:30 p.m., El Dorado Days Memorial Service at St. James Baptist Church, 608 S. Martin Luther King. The service will also be live-streamed on Facebook.
• 5 - 9 p.m., Family Fun Day. Families are encouraged to visit city parks.
• 5 - 11 p.m., Super Soul Sunday, a concert featuring blues, southern soul and R&B singers Kenne Wayne, Adrian Bagher, Coldrank and Luster Baker and DJ Magic Mike at The Good Times Backyard Plaza, 1814 Junction City Road. Mr. Mike's Productions is presenting the show. A limited amount of early-bird tickets are on sale. Advance ticket prices will later go up to $25. Tickets will cost more at the door. VIP tickets are $50. Attendees may bring lawn chairs and coolers. Tickets are available at Mr. Mike's CDs and Tapes in El Dorado; Special Touch in Camden; and LBK's in Farmerville, Louisiana.
For more information or to purchase tickets for the Saturday Night Live concert, call Davis at 404-542-1565 or visit www.eldoradodays2020.com. For more information about the Super Soul Sunday show, call Michael Jackson at 870-866-7441.
Sponsor Content
Comments