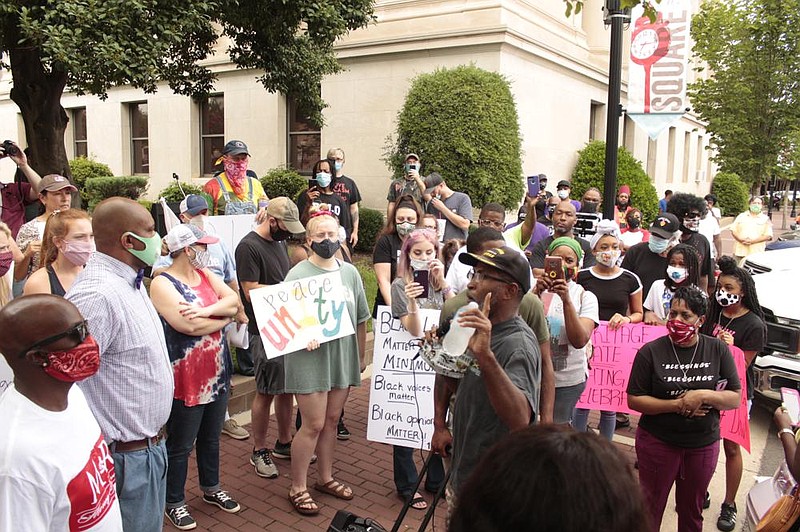 Demonstrators in favor of the removal or relocation of the Confederate monument on the grounds of the Union County Courthouse gathered Monday, June 29, to voice their thoughts. Richard Dunlap is pictured speaking. (Caitlan Butler/News-Times)
Demonstrators gathered signatures for a petition to remove the Confederate monument at the southwest corner of the Union County Courthouse at a gathering that brought an estimated 200 people out Monday.
Last week, a Monument Committee formed by members of the Union County Quorum Court and including one local resident, met at the Courthouse, where they agreed to explore the legalities and public opinion on the potential removal or relocation of a Confederate monument at the Courthouse.
The meeting was packed, and over the weekend, demonstrations on both sides of the issue were held. On Saturday, demonstrators reported an altercation between a large man who has not been officially identified and Abigail Jerry, a 20 year old Union County resident who organized the counter-demonstration opposing the monument that day.
Originally, Union County residents were asked to write letters to County Judge Mike Loftin's office voicing their opinions on the matter. El Dorado Mayor Veronica Smith-Creer said Monday signed petitions will also be accepted.
On Monday, several local residents spoke about their feelings on the monument, the demonstrations and racism in the community in general.
"My grandfather was forced to join the Army; his slave master made him fight," Richard Dunlap, a local veterans activist and a veteran himself, said. "I volunteered so I could protect each and every one of you. We're all one."
"Being a retired Army vet, I fought for freedom-loving America. This statue, those men, only fought to oppress. This statue symbolizes hatred," he said. "There's got to be something better. This is inappropriate. It's 2020 -- time to move on."
El Dorado City Council member Andre Rucks said removing or moving the monument would send a positive message to younger generations.
"We are here in 2020 because we want to be one family. It's about you and the next generation," he said. "So yes, this statue does need to come down. … Why do we want this in our city, that doesn't stand for love?"
Erica Hinton was at Saturday's demonstration; she was driving by when she saw Jerry in danger, she said, and was compelled to stop. She organized the demonstration Monday.
"We've got a lot to do. What's going to happen when we take this down?" she said, asking if others would still call Black people and those who stand with them slurs, as she saw Saturday.
"Let's get in the middle of this mess -- because if you don't knock it down, nothing's going to change," she said. "Don't give nobody on this Square any money until this comes down."
Jackie Jackson, who was also there Saturday after she saw the aggression toward Jerry on her way to the grocery store, said she'd received a lot of Facebook messages since the demonstrations on Saturday. She urged her friends and acquaintances to voice their support publicly instead.
"We've got to stop moving behind the scenes. We've got to be bold," she said. "If you're right, come out and say it. We can make a difference. We can make a change. It's time for a change."
Many in attendance urged others to register to vote and become politically engaged, particularly at the local level. Kensel Green, who is running for El Dorado City Council for the Ward 4, Position 2 seat, said she hopes local residents will attend City Council and other local government meetings more.
"I just think it's very important that we come together as a strong, united unit. It needs to come down. … I understand that for some people, it stands for southern heritage, but for others, it stands for a hurtful thing that happened to our ancestors," she said.
Green also commented on the potential economic consequences the monument could bring.
"It's going to be hard to recruit young people, who don't see color, when we're upholding something like that," she said.
DeKaree Smith, 14, held a sign that read "Am I next?" in reference to police killings of Black people, for which protests have been ongoing around the country since the Memorial Day killing of George Floyd, of Minneapolis.
"It means everything to me (to be here protesting), because we all have a voice," DeKaree said.
Erykah Kenner brought her two children, Zoriah, 3, and Zykiah, 2, to the demonstration.
"We came here to protest for Black lives," Kenner said. "I don't think I -- we -- should have to worry about our lives being in danger."
Tyrell Berry held a sign that read "My son is black. His life matters."
"My children are mixed race. I'm all about multi-racial (society) -- I love blacks, whites, every color. I'm against racism," he said. "My kids are too young to come with me to this, but I wanted to make sure they knew that."
Stephanie Owens was also in attendance with her children and nephew. She helped to collect signatures with other demonstrators.
"I feel that the statue represents a lot of pain. We're here for unity, and I think that represents the opposite of that," she said. "We're the city of pride and progress."
David Johnson, another veteran, carried a white flag of surrender at the demonstration; he said it "was the only Confederate flag that mattered."
"This whole situation of having a monument to the losers of the war on public property -- they took up arms against the United States of America and as a veteran, I find it disgusting that people want to support this," he said. "At West Point, they -- (Robert E.) Lee and the rest -- they took the same oath I did."
Jessica Pendergraph wore a shirt that said "Unapologetically black and smart." She said she would like to see the monument relocated to a museum.
"We're not saying it needs to be put in the trash. It needs to go in a museum; just like we have to go to a museum to see what happened during slavery," she said. "They need to too. We pay taxes here too."
A small group of people gathered across the street, in front of LaBella's, and watched the demonstration. Groups of police officers, from both the Union County Sheriff's Office and El Dorado Police Department, stood around the Courthouse and near the smaller group at LaBella's throughout, and broke up one instance where demonstrators approached the group across from the Courthouse without incident.
Everyone gathered at LaBella's declined to share their name with the News-Times. Several said they were "just strolling" or on their way to dinner. One claimed his name was "Buckwheat."
"You're taking down our Confederacy, our Southern pride. You've got to be proud of your Southern heritage," one man, with a Confederate flag in his back pocket, told a News-Times reporter. "Obviously black lives don't matter. … Black Lives Matter is a terrorist organization. They don't care about black lives, white lives. … You eliminate history, it repeats itself. They just want another Civil War."
Jerry encouraged white Union County residents to stand up for their Black neighbors and friends.
"If you are white, and you are letting your family be racist in front of you, that makes you racist too," she said. "People said I need to know who Jesus is and I need to read the Bible -- I have! That's why I'm here."
The demonstration ended with a prayer and demonstrators began to clear out around 7, though some remained past then.
Jake Smith, who gathered signatures for a petition to have the statue removed during the demonstration, said he counted 331 Monday night. Other signatures were also collected during the demonstration.
See more photos from Monday's demonstration here.
A condensed version of this story appeared in the Tuesday, June 30 edition of the News-Times.
Sponsor Content
Comments