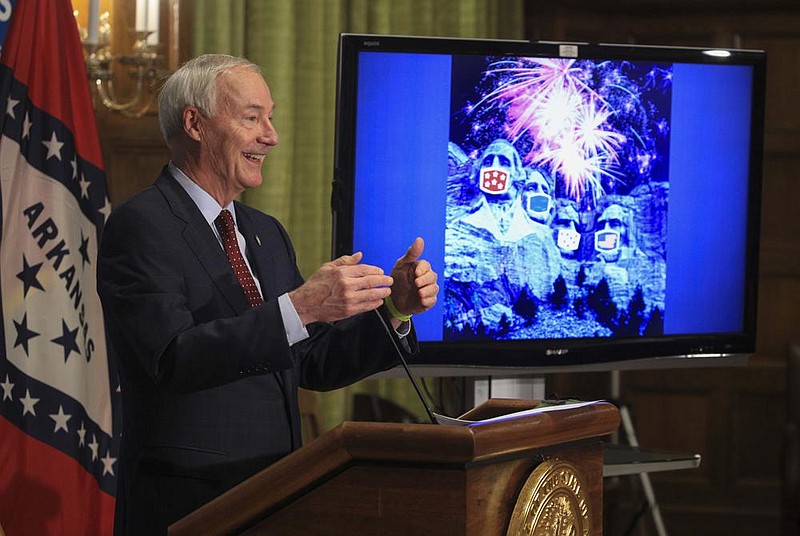 Gov. Asa Hutchinson speaks Tuesday June 30 at the state Capitol in Little Rock during his daily COVID-19 briefing about the importance of wearing a mask this holiday weekend as he shows an image of the presidents at Mt. Rushmore with wearing masks. (Arkansas Democrat-Gazette/Staton Breidenthal)
The Arkansas Department of Health reported one new local COVID-19 case Tuesday, bringing Union County's cumulative case total to 248.
Of those, 201 were considered recovered Tuesday, up one from Monday, while 34 cases remained active. Active cases represented 13.70% of the county's cumulative number of cases Tuesday.
The ADH reported one health care worker at Oak Ridge Nursing and Rehab having tested positive for COVID-19. On Wednesday, a spokesperson from the ADH clarified, saying that Oak Ridge does not actually have any positive cases within the facility.
At Courtyard Healthcare and Rehabilitation, the first local nursing home to report COVID-19 cases inside the facility, two residents still have active cases of the virus. In all, 35 residents there have tested positive for it; 26 have recovered, while seven have died as a result. Twenty-two workers also tested positive for the virus there, and all have since recovered.
At Advanced Health and Rehab of Union County, two workers have tested positive for COVID-19. Five workers at Timberlane Health and Rehab have tested positive. Nine residents and three workers at Community Living Arrangements have tested positive.
No new local deaths were reported Tuesday; in all, 13 Union County residents have died as a result of COVID-19.
The ADH reported 16 new negative test results returning from Union County on Tuesday. The ADH has received results for 3,256 COVID-19 tests performed in Union County, with 3,008 negatives. The overall local positivity rate is 7.61%. According to the ADH, 81.9 tests are performed for every 1,000 Union County residents.
Arkansas added 520 new COVID-19 cases to its cumulative total, which was 20,777 on Tuesday. Of those, 14,531 were considered recovered Tuesday, leaving 5,976 cases — 28.76% — active statewide.
Five Arkansans died as a result of COVID-19 between Monday and Tuesday, bringing the state's death toll to 270, indicating a state mortality rate of 1.29%. There were 290 Arkansans hospitalized due to the virus Tuesday, with 67 on ventilator support.
Gov. Asa Hutchinson announced Tuesday that the state will end the fiscal year in a better position than forecast at the start of the COVID-19 pandemic, with $560 million more than expected, which will allow the state to give more funding to public schools, including $121 million for schools around the state $42.4 million for higher education institutions, and health care, which will add $72.2 million to the Medicaid Trust Fund.
The new forecast for the state's fiscal year is $5.6 billion. There is a projected balance of $255 million in the state's unallocated reserve funds and $152 million in the long-term reserves.
State employees will also receive a 2.2% merit pay increase, Hutchinson said, with the money coming from unallocated funds.
Hutchinson said he doesn't foresee the state moving to a third phase of reopening until cases have decreased in Arkansas. He noted that contact sports will have to hold off until Phase III begins sometime in the future.
The ADH reported 311,203 total test results returned in Arkansas Tuesday, with 290,426 negatives. The overall positivity rate for the state Tuesday was 6.67%.
Johns Hopkins University reported 2,623,217 COVID-19 cases in the United States Tuesday. Of those, 705,203 were considered recovered Tuesday, leaving 1,790,756 cases — 68.26% — active nationwide. There had been 127,258 deaths attributable to COVID-19 in the U.S. at 6 p.m. Tuesday, indicating a national mortality rate of 4.85%.
Johns Hopkins reported 10,393,467 COVID-19 cases worldwide Tuesday afternoon. Of those, 5,292,901 were considered recovered, leaving 4,592,174 cases — 44.18% — active around the world. There had been 508,392 deaths attributable to the virus by Tuesday afternoon, indicating a global mortality rate of 4.89%.
UPDATE 1:02 p.m.: The Arkansas Department of Health's daily congregate settings report distributed Tuesday included Oak Ridge Nursing and Rehab as having one positive worker case; however, on Wednesday, an ADH spokesperson said that there are no positive cases within Oak Ridge's facility. The story has been updated to reflect that.
Sponsor Content
Comments