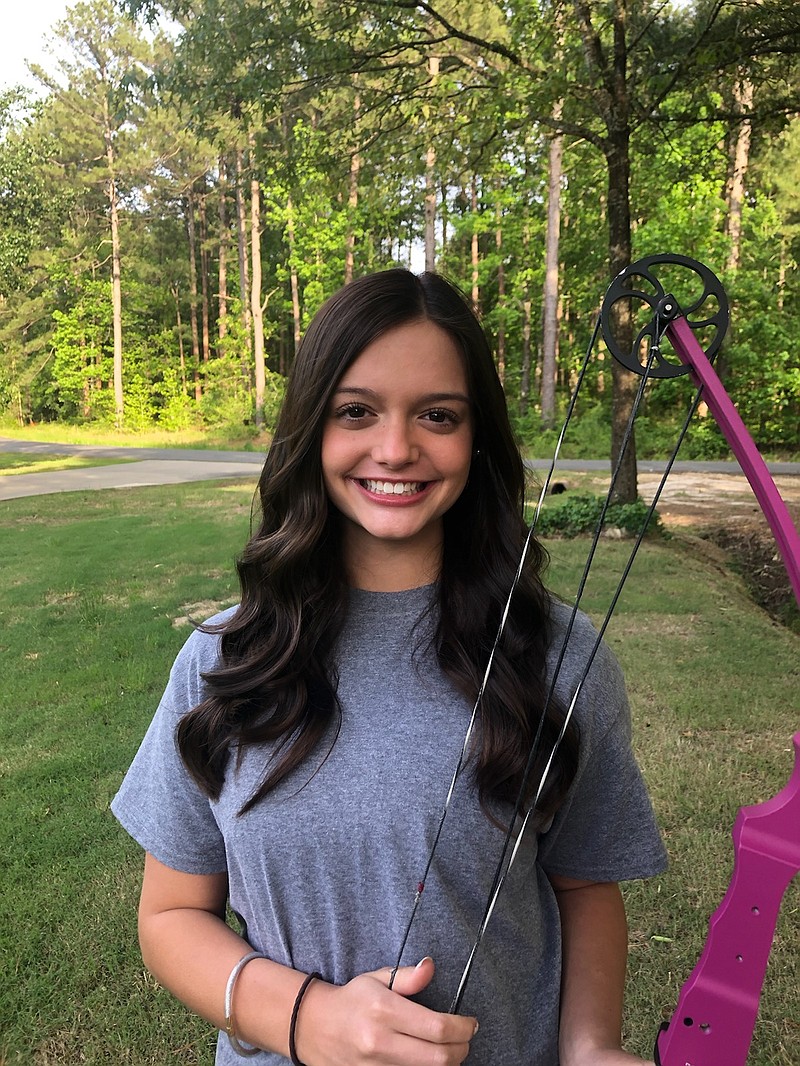 El Dorado High Schooler Lynley Smith was the top archer in Arkansas this year. Smith starts her sophomore year this fall, and will continue in the sport, along with her other love, dancing. (Contributed)
As a freshman, El Dorado's Lynley Smith proved to be the best archer in the state, shooting 295-of-300 to win the Arkansas National Archery in the Schools Program State Tournament in March. But when asked what she considered herself first, dancer or archer, she didn't hesitate to answer.
"Dancer; I've been doing that since age three."
Smith has already shown herself to be a multifaceted athlete. She played on El Dorado's high school tennis team as a freshman, teaming with Caroline Byrd in doubles.
"She tried a lot of different sports," said her mother Rhonda. "She goes to Bravo Dance Center and they compete. They go to Hot Springs or Little Rock and they compete."
Dance has been, nearly, a life-long endeavor for Smith, who said her favorite form of dance is lyrical because, "It is a dance style that blends elements of ballet and jazz. It is also more upbeat than ballet.
"I love my dance instructor Mrs. Amber Michael at Bravo Dance Centre because she is supportive, encouraging and a wonderful role model and mentor. I also love the great friends I've made along the way while taking dance since I was three."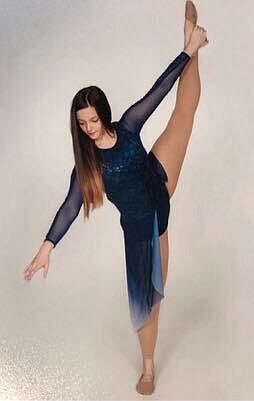 Grace: Lynley Smith is honing her skills in both dance and archery, two sports which might seem unrelated but have a key overlaps that have helped her to become a top performer in both. (Contributed)
Dance and archery could be considered worlds apart both in activities and social groups. Smith said she has two different sets of friends between the two.
As far the skills required, she said some translate into the other.
"Concentration is critical for both. In dance it's recalling the steps and for archery, it's remembering and adjusting the aiming point," said Smith, who said archery could also help her tennis game.
"Both require hand-eye coordination and focus, but It's different because the ball is moving in tennis and the target is steady in archery."
Dancing might be in Smith's blood, but archery came surprisingly natural to her as well. Even if it was a sport she sort of stumbled upon just a couple years ago.
"It's just so strange because my family doesn't hunt. Just for P.E., they decided to bring out the bows and let us try," Smith said. "Coach Major saw that I might've had good aim or something. He said, 'Oh, you have really good aim.' He asked me to stay later after school and he helped me, critiquing me and it went from there."
She began competing a year later, taking first place in both individual and most bullseyes in the 2017 Norphlet Tournament, scoring 284 out of a possible 300.
Still, performance in March at the ANASP State Tournament in Hot Springs waas one for the ages.
Smith's 295 beat all the girls and boys in the competition. Jacob Moore of Acorn was second with 292. She also had more bullseyes than every other archer with 25.
"She's a competitor in everything she does. And works hard for what she gets," said Barton coach Scot Perry. "The top high school girl archer in the state couldn't happen to a better person. She has worked very hard for that spot and will not give it up without a fight in the years to come."
Smith said her confidence started to build after winning her first tournament in Norphlet. That same confidence has been key to her improvement.
"I think the best thing about how she shoots is not getting rattled if a shot doesn't land well," said El Dorado coach Brent Smith. "She knows she is capable of making the shot and just shoots one arrow at a time."
In archery, the sky could be the limit for Smith, who pocketed $2,500 in scholarship money for her performance at the state tournament. But dance is her passion and she's devoted to tennis as well.
If she had to focus all of her attention on just one sport, well, that would be a nightmare.
"That would be terribly difficult, but I guess I would choose dance," she said. "Thankfully, I won't have to make that choice."
Sponsor Content
Comments