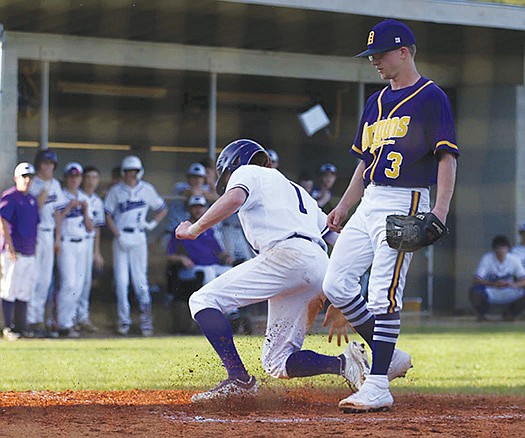 Siandhara Bonnet/News-Times El Dorado infielder Chase Webb scores as Junction City's Keelan Hodge covers the plate during their showdown earlier this season. Webb lost his junior and senior years with the Wildcats due to Tommy John surgery and the outbreak of the coronavirus pandemic, but has returned to the diamond this summer with the Arkansas Sticks.
Perhaps no one has as much appreciation for getting back onto the baseball diamond as El Dorado's Chase Webb.
Over the last two years, Tommy John surgery coupled with the outbreak of the coronavirus pandemic back in March robbed him of his final two years with the Wildcats.
"I felt terrible," Webb said. "I feel like I had a spell put on me."
Webb, who signed with Arkansas Rich Mountain, had gotten off to a fast start.
In the season opener against Magnolia, Webb went 3-for-3 with two RBIs.
He followed that performance by going 3-for-4 with two runs scored against Woodlawn.
Against Benton (La.), Webb had a double and two RBIs.
But then everything came to halt and the entire spring sports calendar was soon canceled.
With the season over, Webb stayed in shape by running.
"I've been coming out to the field and I work out," Webb said. "I usually run some sprints, run a couple of miles, hit in the cages a little bit, throw."
As restrictions from the pandemic have been eased, Webb has quickly gotten back to work with the Arkansas Sticks.
Thus far this summer, Webb has been to Louisiana on two occasions, as well as Memphis and Jackson, Miss.
In two weeks, he heads to Alabama to start his final month of play before heading off to college.
Webb said his first tournament was a little awkward at times after not seeing live pitching for over two months, but he has settled in.
"At the first tournament, it was kind of weird seeing live pitching," Webb said. "By the second game, I figured it out."
He is also relishing his time with the Sticks.
"It's crazy," Webb said. "The pandemic ruined my senior year, but I just have to overcome that and get out there and start working and start looking forward to the fall."
Webb added that he has been swinging the bat well for the Sticks.
"I've been swinging it good," Webb said. "I've hit three home runs this summer, a couple of doubles."
Webb plays at shortstop and second base for the Sticks, and he said he has had no issues throwing the ball in the field from elbow surgery.
"It's been going good," Webb said. "It feels great to be playing baseball again."
Webb said that he has been in touch with coaches Lance Spigner and Jeff Burson at Arkansas Rich Mountain on workout plans and throwing programs, but once summer baseball became a reality, he said he had to slowly work his way back into baseball shape.
"I had to start off very light," Webb said. "I lost a lot of strength during the pandemic."
However, that has changed.
"I've already gained 12 pounds this summer," Webb said. "I've been working out a lot, and I've been gaining strength. I want to keep getting stronger."
Exit velocity, which measures the speed of the baseball as it immediately comes off the bat when contact is made, has been a statistic that has been closely watched in recent years, and Webb wants to improve in that aspect before the summer ends.
"I want to hit 98 exit velo before the summer is over," Webb said. "I've hit 93."
Sponsor Content
Comments