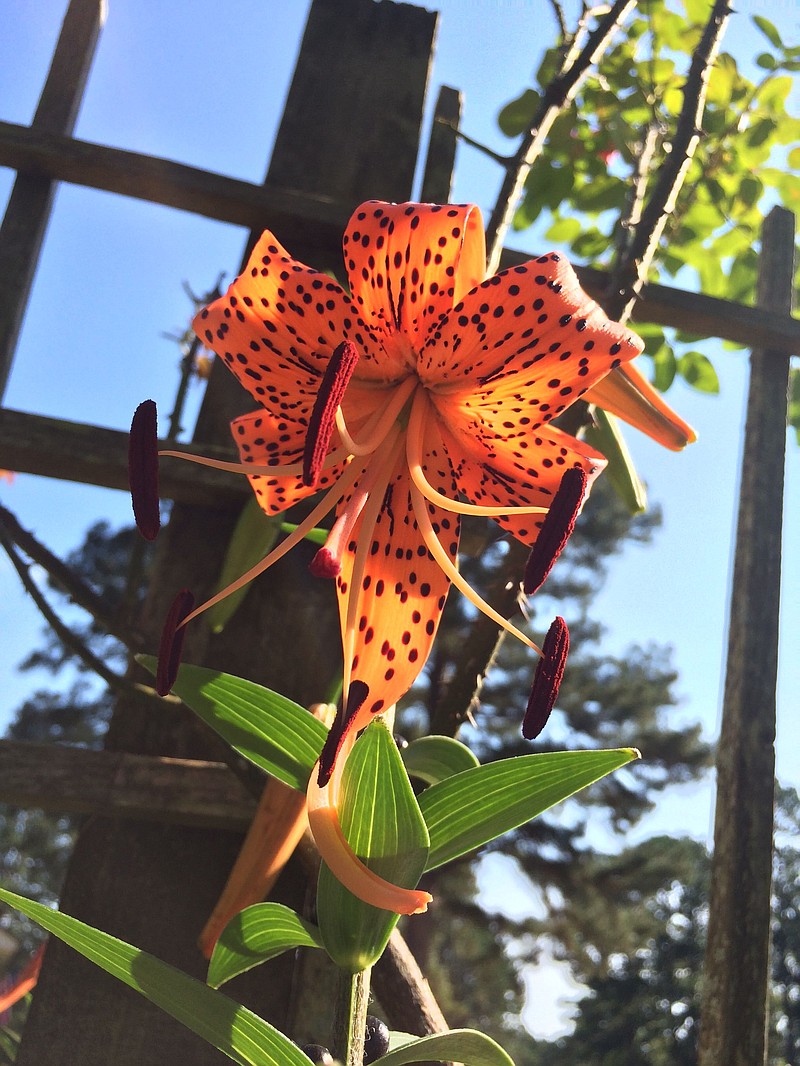 An orange tiger lily grows in El Dorado. (Caitlan Butler/News-Times)
Union County Master Gardener Barbie Luther said earlier this month anyone who is interested in planting this time of year still has time to do so, noting that fall gardening begins in late June and July.
"You can do it, as long as you find plants to plant. If you're putting things in the ground, make sure you're diligent about watering because it's so hot and dry," Luther said, adding, "We've had some cool mornings, though."
"We had such a wet spring that some of us, even those of us with the Master Gardeners, were lulled into not staying on top of things," she continued.
She advised plant lovers to explore local nurseries to learn which plants works best for the South Arkansas climate, reiterating, "Watering is the most important thing this time of year."
Luther also stressed the importance of carefully reading instructions on seed packets when purchasing seeds and plant tags when buying plants and shrubs.
"Plant tags and seed packets have tons of information that we need to pay attention to," she said. "They'll tell you how big a plant will be, whether it needs to be in the sun or the shade or if it needs lots of water or a little water."
"You can buy a shrub in a gallon pot and five years later, it's a monster. But it's really not a monster; it's just not where it should be," Luther continued.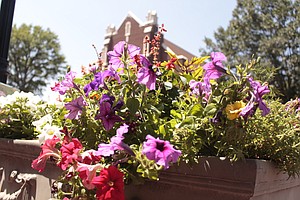 The Union County Master Gardeners care for the flowers in the planters downtown and at El Dorado City Hall. (Caitlan Butler/News-Times)
In April, Master Gardener John Seagraves offered planting tips, saying the time was ripe for planting tomatoes, cucumbers, squash, sweet potatoes, okra, eggplant, collards, sweet corn, watermelon, peas, beans and cantaloupe.
"Just to name a few. This is a prime time to put plants in the ground — when your soil heats up in the 60s, but right now is a great time," Seagraves said then.
He said herbs, such as lemon thyme, basil, chives and others, are also gardening options for the season.
For most vegetables, gardeners can expect their first harvest in 65-70 days, on average, Seagraves said.
Starting a garden can also assist with mental and physical health, especially during the COVID-19 pandemic when many people are finding themselves at home more often.
Seagraves said gardening provides outdoor activity and can help ease boredom.
For additional information or to join the UCMG, call the Union County Cooperative Extension Service at 870-864-191
Sponsor Content
Comments