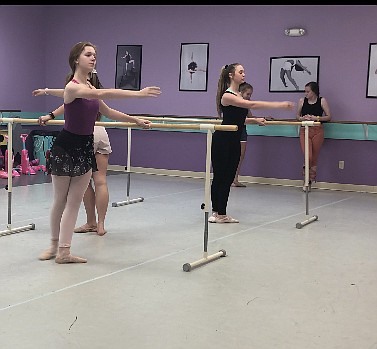 Members at Bravo Dance Studio practice the craft prior to the start of the ongoing COVID-19 pandemic. (Contributed)
Bravo Dance Centre, formerly Gayle's Studio of Dance, has been in business 51 years. Amber Michael, who serves as the owner, artistic director and instructor of the family-owned business, has had to get creative in order to maintain operation during the COVID-19 pandemic.
"Due to Covid, we began teaching virtually at the end of March," Michael said. "In addition to our live classes, we also provided video instruction for each student; classes that they could repeat each week and build on over the following months. We connected with the students in these ways through the first week in May. We had to get creative, which included Facebook challenges to bring families together, princess scavenger hunts, and much more. We also provided strong technical instruction through video as well."
Bravo Dance Centre teaches students aged 2.5 to adult, ranging from beginning to competitive level students. Instruction is offered in all types of dance, including ballet, jazz, hip hop, pointe, lyrical, clogging and gymnastics.
"We strive to teach our students the value of hard work, discipline, kindness and teamwork, along with becoming the best dancer they can be," said Michael. "We love our students as our own children and pour our hearts into their lives."
Michael said that concern for the students has only intensified during the coronavirus health situation. In fact, Bravo found itself faced with a difficult decision.
"Our dance family and their health and safety is of first importance to us, so for that reason, the decision was made in May to close out our dance year earlier than expected," she said. "We indefinitely postponed our yearly recital, and still don't know what that looks like for the future months. We love our students and staff, and at that time, based on the information we were given, felt it was too much of a risk to put on our recital."
Bravo Dance Centre is hopeful for a return to normalcy. In the meantime, Michael said the company did the best it could to give the current students the recognition they earned.
"We provided a reception to honor our 12 seniors, plus will have an intimate senior recital in July for the girls and their families," she said. "Although we are living in interesting and challenging times, we are looking forward to the new dance season with excitement. We miss our students very much and cannot wait to see them in the classroom and get back to developing them as dancers.
"We are prepared to take any and every precaution and follow all guidelines to ensure the safety of everyone at Bravo. Social distancing for dancers will be a challenge, but we are ready to meet it head on. Our studio has been a second home for so many wonderful children in our community, and we fully expect that to continue as we move into the next dance season."
Sponsor Content
Comments