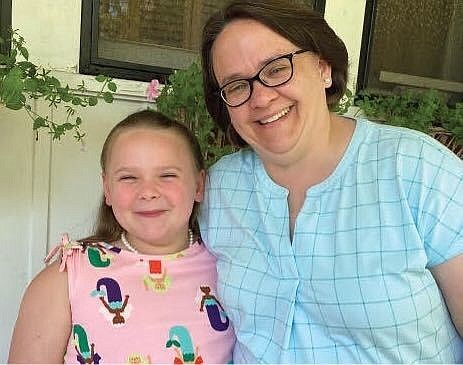 Artist Katie Harwell with her daughter Millye. (Contributed)
The South Arkansas Arts Center's virtual Summer Camp will continue June 29 through July 3 with videos from artist and new SAAC instructor Katie Harwell. Katie will work alongside her eight-year-old daughter, Millye, as she guides students through a week of virtual lessons focused on the principles of design and creative problem solving.
This summer, all of SAAC's camps are presented via the tuition-free virtual Summer Camp, which can be accessed via computer, tablet or smartphone. Each week, an additional artist's video lessons will be added to the library, available at SAAC's website at saac-arts.org. Lessons can be completed on your own schedule, and at your own pace.
Katie's videos will begin today, with an outdoor project called "Organic Mandalas," which uses items from nature to build a Mandala design. Next, students will "Wreck The Rainbow" using mixed media to discover the color wheel. On Wednesday, Katie will offer instruction on a crayon resist flower drawing. Thursday and Friday's lessons will delve into the work of two noted artists: Victor Vasarely and Paul Klee.
"I love watching students discover art, and I believe with my whole heart that creative problem solving is a critical skill that should be offered to every student," Katie says. "Art not only brings my students happiness and improves their self-confidence, but it also opens up a new world of career possibilities."
A native of El Dorado, Katie has 16 years of teaching experience and currently teaches Visual Art at El Dorado High School. She graduated from Louisiana Tech University with a bachelor's degree in Interior Design and worked as a Registered Interior Designer in Shreveport and Dallas before returning to her hometown to pursue her passion for painting, printmaking and teaching.
The final three weeks of SAAC's Virtual Summer Camp take a deeper dive into skill-based instruction. After Katie's lessons on creative problem solving, ballet instructors Elizabeth Wood and Cami Lowrey will facilitate a week of advanced ballet practice, and theatre instructor Jacob George will offer students a chance to hone their audition skills.
Visit the website at saac-arts.org to access the summer camp videos or register a student. By registering, SAAC will be able to keep you informed of new camp announcements and program updates. Students can enjoy summer camp at any time, choosing to complete the lessons day-by-day, week-by-week, or save them up to complete all at once. Each instructor will include a supply list of materials and all the information needed to complete the projects in their videos.
For more information about virtual Summer camp, call the SAAC office at 870-862-5474. SAAC is located at 110 E. 5th St. in El Dorado, Arkansas.
Sponsor Content
Comments