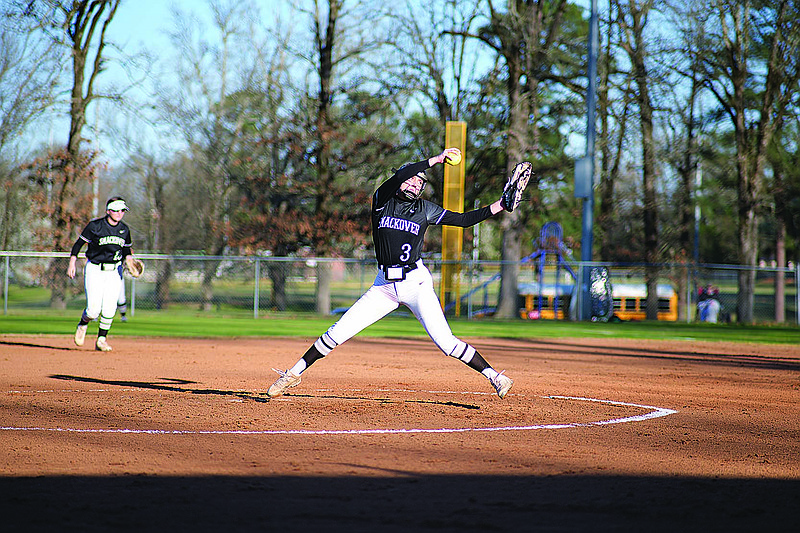 Smackover's Malorie Pullin winds up for a pitch in softball action this season. Pullin is currently competing on Tulsa Elite, honing her skills for the next high school season. - Photo by Contributed photo
Very few freshmen have a softball season like Malorie Pullin enjoyed at Smackover two years ago. After going 9-2 with 124 strikeouts and a 1.29 earned run average, she was set to take the next step this past season.
The COVID-19 pandemic wiped out Pullin's sophomore season, but she's determined to work around it this summer.
"The coronavirus really put everything on hold, especially since we couldn't go anywhere to practice," Pullin said. "Normally we could go up to the high school field and work in the cages or on the field but with everything on lockdown it was impossible."
Pullin said she tried to take advantage of the physical break before she joined Tulsa Elite (Jaramillo), a travel softball club.
"I had previously joined Tulsa Elite and after our high school season ended and we could get back to softball, we started having small group indoor practices to work on skills," she said. "Then we finally got to practice on a field with the whole team and are now playing tournaments, showcase and competitive.
"We are just now starting somewhat of a season but had a great showing at a showcase tournament in Broken Arrow, Oklahoma and won first place in the FASA state this past weekend and will play USSSA state this weekend. For now, we are keeping our tournaments more local due to restrictions on some college divisions with coaches not being able to attend at this time."
Pullin is playing in Cabot this weekend. Pitching against 18U competition, she had 13 strikeouts in a shutout win Saturday morning. The Elite has other tournaments scheduled, including the USA Elite Select Summer Nationals in Kansas City in mid-July. The more games the better, especially after sitting on the sideline and watching her high school season disappear.
"It really was disappointing because I really think we had a good shot at winning state this year and that chance was taken away," she said. "So now, I want to work harder and hopefully be given the chance to do this next year."
As for this summer, it isn't only about winning games but also honing her craft. She has a list of specific items to improve before Smackover's softball campaign next spring.
"As far as softball, I'm just working on my control, mechanics and speed," Pullin said when asked for summertime plans. "As far as everything else, I'm just going to try to have fun and make the best of the summer."
Sponsor Content
Comments