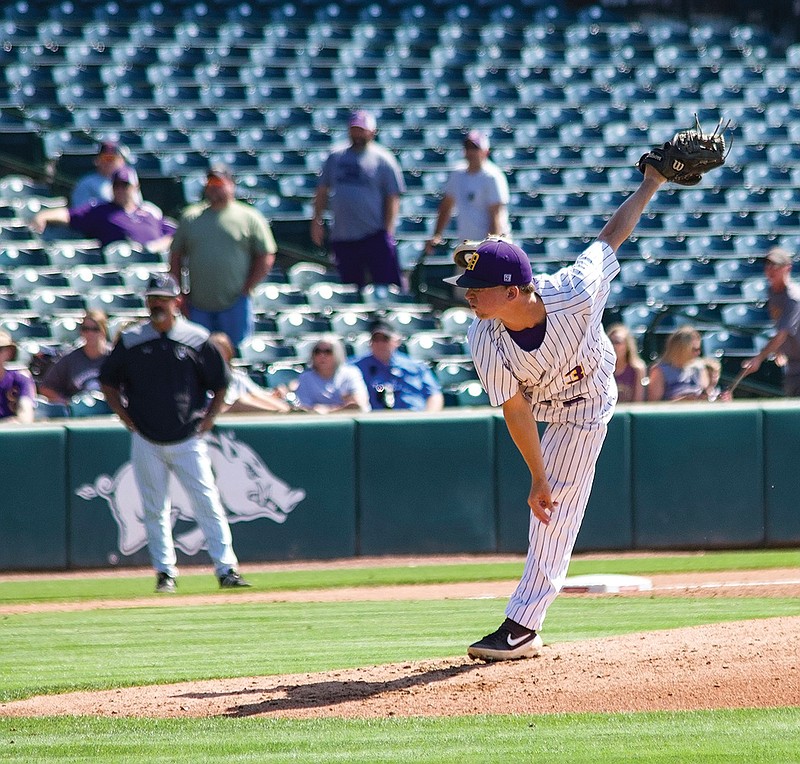 Elizabeth Green/For the News-Times In this file photo, Junction City's Keelan Hodge throws a pitch during the 2019 2A state finals against Woodlawn in Fayetteville.
Heading into the 2019 baseball season, Junction City was one team that many prognosticators had pegged as a favorite to win the 2A state title.
It can be difficult for some teams to handle those expectations, but Junction City did that with aplomb.
With a lineup that could score runs in a multitude of ways and a solid pitching staff, the Dragons had an unusual mix for a 2A team.
"Even when we started practice in January and February before we began playing, just looking at it on paper, we were loaded," Junction City coach Joe Paul Hammett said. "Defensively, every spot was taken by somebody that could really play. We really didn't have a weak link in the field.
"You put that together with the pitching we had, not just 2A, but I'd say any class, it's hard to get three quality starters on one team, and we happened to have that.
"That was our biggest asset going into the season knowing that we had some arms that had pitched, had experience and done well, then we had some guys the year before that could come in certain situations, so we felt good.
"A lot of things can happen during the season like injuries, but we were fortunate not to get any serious ones."
Junction City caught fire in the second half of the season, winning 22 of its last 24 games with winning streaks of 12 games and 10 games, including an unblemished 9-0 record in the postseason.
"Usually at Junction, I don't know but it's always been our thing about after spring break, we usually don't play real well during spring break for some-odd reason, but as soon as it ends, we always seem to pick it up just a little bit and get going," Hammett said.
"Whether we win a state championship or not, we always seem to get better at that time of year and just continue to climb.
"I don't know why it doesn't happen earlier, but anything that happens before spring break, we don't worry a whole lot about it because we always come out after spring break. That's been our case just about every year."
But while the Dragons could light up scoreboards with their offense, a huge reason for their postseason success came from their pitching staff.
Keelan Hodge, the MVP of the state finals, was brilliant in the postseason.
In five starts, Hodge went 4-0, allowing just 10 hits and six runs in 22 1/3 innings. He walked 12 and struck out 35.
T.J. Bale won all three of his postseason starts and got the save in the state finals.
Ty Disotell's lone start of the postseason was a memorable one, as he took a shutout into the seventh and finished with a four-hitter to beat Horatio in the state semifinals.
"Some coaches' philosophies are different," Hammett said. "They don't pitch their No. 1 today, but maybe tomorrow or in the finals. My philosophy is going into the district tournament, you're trying to win that first, even through the regionals and state, that first game is the biggest one as far getting to stay or go home.
"We always started out with Keelan, who was our No. 1. Some people would say I would save him, but my thinking was, 'Hey, we need to win the first one before we need to think about the second one.' Our rotation was pretty set from the No. 1 spot, but two and three, we sort of looked at matchups as far as we who we were playing.
"Ty or T.J. was a good choice, but we tried to match them up with a team hitting-wise that I thought they would be effective, and it worked out pretty well.
"It played out every tournament similar to that. Very seldom you plan something and it happens like you plan. Those three guys stepped up and did a good job.
"Ty on that semifinal day, that's a big one for sure, all of them are, but that was a big one to get us to the finals. I think all three of them during the state tournament probably pitched their best game all year.
"That's unusual that all three of them would shine like that, but we needed it most definitely."
After winning the district tournament crown by topping Harmony Grove and Parkers Chapel in lopsided fashion, the Dragons headed into the regional tournament aiming to remove the bad taste from their mouths from 2018 when they were upset by Prescott and saw their season end.
They did just that with a 16-0 win over Foreman. Once their spot in the state tournament was assured, Hammett said his team simply focused on baseball.
"Once we got that first win in regionals, we sort of relaxed and played because the year before when we had gotten beat at Horatio by Prescott, that left some kind of bad taste we hadn't tasted in a long time," Hammett said.
The Dragons then beat Woodlawn 1-0 in a thriller on a walk-off single by Jack Smith with Bale throwing a two-hit shutout.
In the regional final, Junction City overcame an early deficit to top Parkers Chapel with Disotell and Tanner McLelland combining for 6 2/3 scoreless innings in relief.
Charles Hoof went 6-for-11 with four RBIs in the regional to lead the Dragons' offense with Smith also driving in four runs while going 3-for-8 with four walks.
The Dragons continued their momentum in the state tournament, beating Carlisle 9-0 with Hodge throwing a one-hit shutout with 13 strikeouts. Smith supplied the offense by connecting for a solo homer with three RBIs.
The Dragons then beat Salem 11-1 in five innings with Bale turning in a solid outing on the mound and Bryce Ware picking up three hits.
That set the stage for Disotell's gem in the semifinals against Horatio where he made a three-run third inning hold up in a 3-1 win.
The state championship game against Woodlawn was another classic between the conference rivals.
The Dragons fell behind early, but fought back to grab the lead on McLelland's sacrifice fly and Gabe Richard's RBI triple.
Hodge and Bale made the lead stand up, giving the Dragons their ninth state title and first since 2014.
"To do what we did to come back and win the whole thing the next year, I only lost two seniors and I had the majority of the team back, that was probably one of the best feelings for us and the players because we had been so disappointed in 2018, and then to turn around and win it in 2019, it's a tribute to the kids," Hammett said.
"From Day One, they went to work and didn't stop until we finished. Everything just sort of fell into place, but after you win two or three and you get that first one in regionals, all teams are feeling pretty good, but we seemed to click at the right time."
Hammett looked back on the team with fond memories.
"We were loaded not just in the field, but hitting-wise, we had some seniors that could hit the deep ball," Hammett said.
"Then we had other guys that could run a little and make contact. For a 2A team, we were pretty solid from top to bottom. A lot of times, one through nine in the batting order, the bottom is pretty weak, especially in smaller schools, but I had confidence that one through nine was going to hit the baseball. It was a fun group, a hard-working group.
"My seniors led and I had a bunch of them. It's unusual that you have five, and all five of them get to start, so that made it even better. I think that chemistry started with them and it just trickled on down.
"Naturally, if you're getting to play, you're going to feel better about yourself, you're going to work a little harder and you're going to pull together. I credit my seniors for helping us lead there and finishing the job."
Sponsor Content
Comments