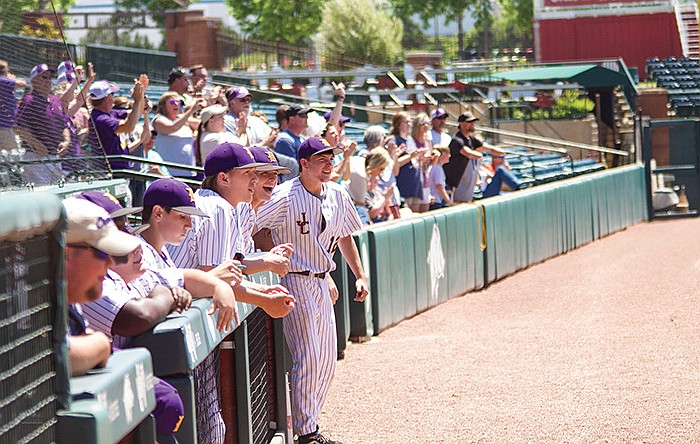 Elizabeth Green/For the News-Times In this file photo, members of Junction City's baseball team look on during the 2019 state championship game against Woodlawn in Fayetteville. With a powerful offense and an outstanding pitching staff, the Dragons went 9-0 in the postseason to win the state crown.
On May 17, 2019, Junction City captured the 2A state championship.
It's always a special moment whenever a team wins a title, but it holds even more meaning for Junction City's players and coaches since the coronavirus pandemic ended their hopes of potentially repeating as state champions back in March.
"We ended the 2019 season as state champions. We had those aspirations again in 2020, but the virus hit, and it happened so fast," Junction City coach Joe Paul Hammett said. "It started out as two weeks, and then even before those two weeks were up, they canceled the season.
"I know all over the country, kids and coaches felt the same way, but it was pretty disappointing just from the fact that we had a bunch of seniors and a bunch of pitching.
"A lot of teams did, but that was on my mind more than anything that, 'Man, we had a good group together,' and the season got taken away. I realize that's what needed to be done, and it's still going on, so it's definitely something serious.
"A roundabout feeling was at first we couldn't believe it that all of this was taking place, but it sunk in after awhile. It was hard to swallow because we had a good chance.
"You don't really know what's going to happen until you play, but we had a good chance to get back to the state championship game. The virus took away any of that chance."
Earlier this month, Junction City got some closure when they played Parkers Chapel on consecutive nights to honor their respective senior classes who played key roles in each school winning state titles.
"It did and it didn't," Hammett said of getting closure. "If all of my seniors could've participated, I probably would've felt a little different. The ones that I had that did participate and were able to play, it did that for me and them. It gave us a little closure.
"I thought it was good, not just for us, but for Parkers Chapel, too. It would've been a little bit more satisfying if all of my seniors could've participated."
Hammett added he was surprised by how long being away from the field affected his team.
"It had been so long since we had practiced," he said. "It was unreal from when we stopped playing to when we started again how far behind we were."
Junction City captured its ninth state title last year and first since 2014 with a squad that was dominant with two winning streaks spanning 10 or more games.
Between March and April, the Dragons won 12 straight games, outscoring their foes 127-11.
After losing consecutive games to Parkers Chapel and Smackover, the Dragons closed the season on a 10-game winning streak with a perfect postseason record of 9-0.
They outscored their foes 88-12 over that stretch.
The state championship game was a thriller with the Dragons outlasting Woodlawn 2-1.
Trailing 1-0 in the fourth, the Dragons tied the game on Tanner McLelland's sacrifice fly before Gabe Richard gave the Dragons the lead for good with an RBI triple.
Keelan Hodge, the game's MVP, kept the Bears at bay before giving way to T.J. Bale, who closed it out.
It's been just over 13 months since the Dragons celebrated their state title in Fayetteville, and Hammett said the moment is extra special considering the circumstances.
"Most definitely because as disappointed as we all were with everything being canceled, I think with us winning it, especially my seniors losing their senior season, but with us winning it in their junior season, I wouldn't say easier, but they understood the reason why they had to cancel it," Hammett said.
"They finished their careers with a state championship was at the same time sort of satisfying. If we had gotten beat in the finals, I think our feelings would've been even worse.
"I think it carried over since we didn't get to play, and I told the guys that we're not going to get another trophy, but I told them we're still the state champions for two years in a row.
"That doesn't make you feel a whole lot better, but at the same time, the seniors can still say, 'Hey, we're still state champions until somebody beats us.' I think it made it a little easier, and probably a little more special because we realize that this can be taken away at any time.
"I know the kids I have returning realize that, so hopefully that helps us even more. We don't want to waste any time.
"We want to do all we can and enjoy it at the same time because this year proved that it can end in a day, and that's basically what happened."
Sponsor Content
Comments