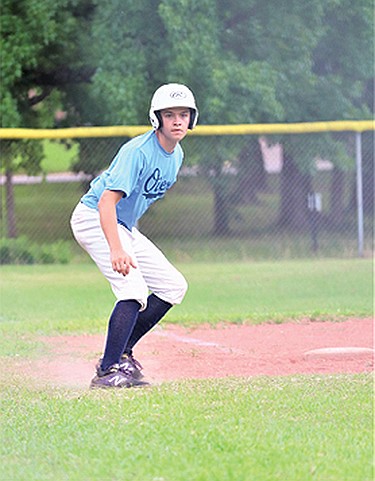 Beth Robertson/Special to the News-Times Hunter Lawrence of the El Dorado Oilers takes a lead down the third-base line during a game earlier this season. The Oilers and El Dorado Drillers will be competing in a tournament in Texarkana this weekend.
It seems Mother Nature is the only thing that can cool down the El Dorado Oilers and the El Dorado Drillers of late.
The Oilers (8-2), winners of eight of their last nine games, and the Drillers (7-6), who have won six of their last nine games, have been idle since last weekend due to this week's slate of games getting rained out.
Both teams are hoping to return to the diamond this weekend in Texarkana for a tournament that will see the Drillers take the field at 6 p.m. tonight against Sheridan.
"Sometimes you win, sometimes you lose, sometimes it rains," coach Greg Harrison said. "That being said, we're definitely looking forward to this weekend. We're definitely looking at getting some innings, getting some reps. We've already split with Sheridan once, so that's who we've got on the docket."
The Drillers are also slated to play Longview (Texas) and DeQueen over the weekend.
"Longview was in the Crossett Tournament this past weekend," Harrison said. "We never got an opportunity to play them, so we're definitely looking forward to that. Longview finished eighth in the bracket, so two of the teams that we beat had beaten them.
"We did get an opportunity to see what they had in the field and what they had as far as pitching, so they won't be a complete stranger whenever we step out on the diamond, but DeQueen will be. I know DeQueen has always had a pretty salty baseball team from two decades ago, so it will be interesting to see what they bring to the table."
The Oilers have one game Saturday against Sheridan's AA squad before taking on Sheridan's AAA team and Texarkana on Sunday.
Harrison said playing matchups and the emergence of the deep pitching staffs have been a big reason for the success of both teams.
"Right now, the main thing has been working our matchups," Harrison said. "Just seeing the opportunities that we have to get certain guys in there. For example, when we play (Arkansas) Pulpwood, we definitely have a better understanding of the players that they have. Our pitching has come on a little bit after the first couple of games, getting everybody about an inning on the mound, just wanting to try and make sure we bring them in gradually.
"We've tested them out a little bit more. We've had a few guys, especially on the junior team, that will go two or three innings instead of just going one inning, and that's good for them because they're able to get more of a rhythm. The first game or two, we tried to spend more time just getting everybody out on the field, just getting them the feel for being back out there."
Getting back into a regular routine has also been a factor.
"One thing that we've been able to focus on more now is getting more of our guys continual reps, as well as our pitchers that we have," Harrison said. "Whether they're playing in the field or getting multiple times at the plate or on the mound, we're able to help them get more continual reps where they can get into a rhythm and get a feel for what they need to do, so it's been more successful for us lately as we're trying to ramp back up. The same can be said for the Oilers.
"We're really trying to test their arms. Instead of just going 30 to 40 pitches, seeing what they can really do and try to stretch them to 50 to 60 pitches. Of course, we ran Ty (Disotell) to 75 pitches the other day, so if we can build endurance back in their arms, they can gain more consistency in the field and at the plate, I think we'll continue to do even better."
Sponsor Content
Comments