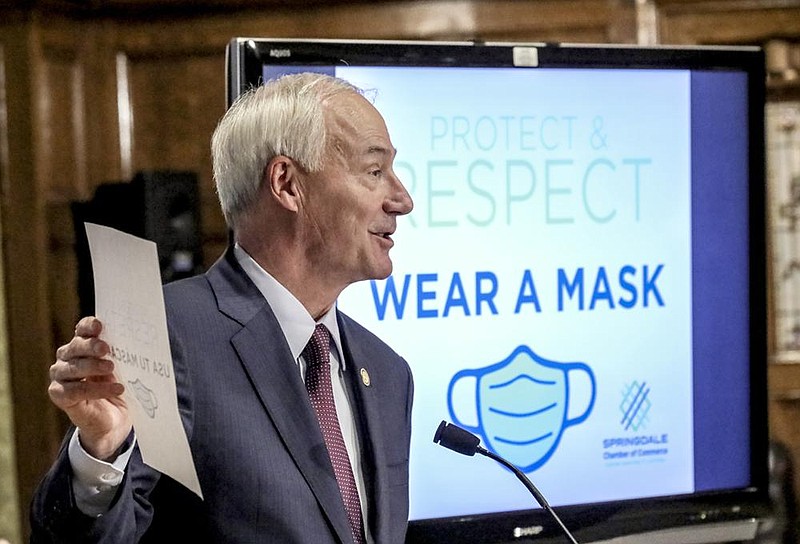 Governor Asa Hutchinson talks about an initiative by the Springdale Chamber of Commerce encouraging Arkansans to wear masks. He and other state officials briefed the press on the states COVID-19 response. The event was held at the Governors Conference Room at the state Capitol in Little Rock on Thursday, June 25. (Arkansas Democrat-Gazette/ John Sykes Jr.)
The Arkansas Department of Health reported five new COVID-19 cases in Union County Thursday, bringing the county's cumulative case total to 237.
Of those, 185 were considered recovered Thursday, an increase of two from Wednesday; the ADH reported 39 active cases in Union County on Thursday, up three from Wednesday and representing 16.45% of the county's cumulative case total.
No new local deaths attributable to COVID-19 were reported Thursday; in all, 13 Union County residents have died as a result of the virus.
No changes were reported in any of the local congregate living facilities where COVID-19 has been identified Thursday, which include Courtyard Healthcare and Rehabilitation, Advanced Health and Rehab of Union County, Timberlane Health and Rehab and Community Living Arrangements.
The ADH reported 41 new local negative test results returned on Thursday. In all, 3,130 test results have returned for Union County, with 2,893 negatives, indicating an overall local positivity rate of 5.57%.
Arkansas saw another large increase in COVID cases, adding 687 between Wednesday and Thursday to make the state's cumulative case total 18,062. Of those, 12,137 are considered recovered, and 5,695 cases — 31.53% — are still active.
Two Arkansans died as a result of the virus between Wednesday and Thursday, bringing the state's death toll to 242, indicating a state mortality rate of 1.33%. The number of Arkansans hospitalized due to the virus grew by 17 between Wednesday and Thursday to reach 284.
Testing is ongoing statewide. In Union County, testing is available at the South Arkansas Medical Association (SAMA) and with a doctor's referral at the Medical Center of South Arkansas. The Union County Health Unit also offers testing each week day for any who request it, with no out of pocket charges, though insurance will be billed if the patient has coverage.
Gov. Asa Hutchinson said Thursday he would not move forward with a third phase of reopening the state's economy and businesses due to the ongoing surge in cases. Since Memorial Day on May 25, active COVID-19 cases in the state have increased by 242% and hospitalizations have tripled, according to the Associated Press.
"We're clearly on pause here in the state in terms of moving to lift further restrictions until we're comfortable where we are in controlling the spread," Hutchinson said.
Hutchinson said he does not have plans to reimpose any restrictions that were previously on businesses prior to the start of the state's reopening on May 4.
The ADH reported 277,380 test results returned statewide by Thursday, with 259,318 negatives, indicating an overall positivity rate for the state of 6.51%.
Johns Hopkins University reported 2,411,413 COVID-19 cases in the United States at 6 p.m. Thursday; of those, 656,161 were considered recovered, leaving 1,622,770 cases — 67.29% — active nationwide. There have been 122,482 deaths in the U.S. attributable to COVID-19, indicating a national mortality rate of 5.07%.
Johns Hopkins also reported 9,523,858 COVID-19 cases worldwide Thursday evening; of those, 4,799,790 were considered recovered Thursday, leaving 4,239,188 cases — 44.51% — active around the world. There had been 484,880 deaths attributable to the virus by Thursday evening, indicating a global mortality rate of 5.09%.
Sponsor Content
Comments