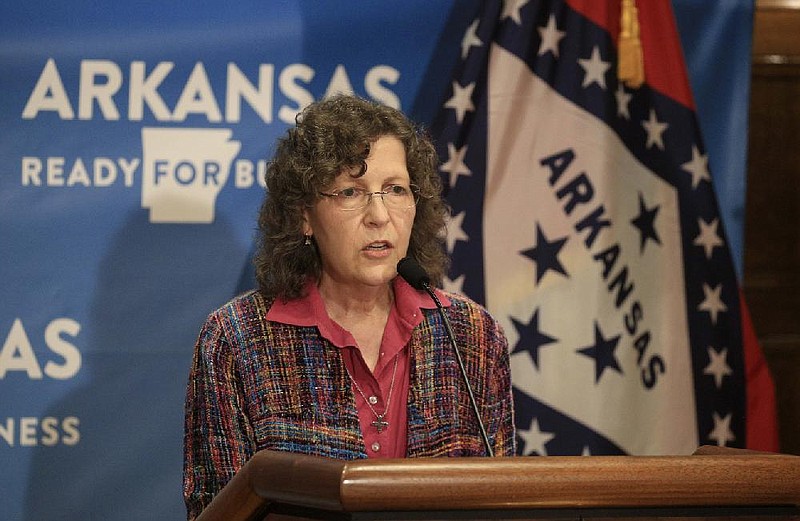 Dr. Jennifer Dillaha, State Epidemiologist, speaks Friday June 5 during the daily COVID-19 briefing at the state Capitol. (Arkansas Democrat-Gazette/Staton Breidenthal)
There was hardly any change in Union County's COVID-19 numbers, from cases to deaths to recoveries, reported Sunday by the Arkansas Department of Health.
No new cases were reported locally from Saturday to Sunday; in all, 188 Union County residents have tested positive for the virus since the first case was identified in March. Of those, 11 people have died, indicating a local mortality rate of 5.85%.
Another local resident was considered recovered Sunday, meaning 151, or about 80%, of all Union County residents who have contracted COVID-19 have recovered successfully. There are still 26 active cases, representing about 14% of all cases that have been identified locally.
Ten negative test results returned to the ADH between Saturday and Sunday, bringing the county to 1,431 test results returned in all, 1,243 of which have been negative. Overall, the local positivity rate is 13.1%.
A free testing event held by the ADH in cooperation with the Union County Health Unit brought many Union County residents to the fairground on Saturday. El Dorado Mayor Veronica Smith-Creer said 517 people were tested at the event in a post on her Facebook page Saturday evening.
Statewide, the number of confirmed COVID-19 cases increased by 325 between Saturday and Sunday, according to the ADH, reaching a total of 9,426 cumulative cases.
On Saturday, Arkansas broke 9,000 cases with the addition of 450 new COVID-19 diagnoses, 400 of which were in the community. The other 50 were from inmates at the Federal Correctional Institution in Forrest City who were re-tested after previously testing negative, Dr. Jennifer Dillaha, an epidemiologist at the ADH, said.
Washington and Benton counties have been hit hardest by new cases this past week. Washington County broke 1,000 local cases Sunday and Benton County was nearing the milestone as of Sunday afternoon. Many cases in those counties and Northwest Arkansas more broadly have been linked to outbreaks at chicken processing plants in the region.
Of the 9,426 cases statewide, 6,424, about 68%, are considered recovered, while 2,848, 30%, are still active. No new deaths were reported Sunday; so far, 154 Arkansans have died as a result of COVID-19, indicating a statewide mortality rate of 1.6%.
This week, the ADH plans to begin the process of hiring additional contact tracers, who will trace COVID-19 infections to learn about potential community spread and inform the contacts of someone who has tested positive that they have been exposed.
ADH Secretary Dr. Nate Smith said Friday there are currently 240 ADH workers assigned to contact tracing, and that they were "stretched." He said the ADH is looking to hire 350 more workers for the purpose, in addition to training 100 volunteers starting this week.
The Department of Human Services announced that bonus payments for nursing home workers, assisted living facility employees and other long-term care facilities will be extended through the month after initially expiring on May 30.
Paid out with money from the federal CARES (Coronavirus Aid, Relief and Economic Security) Act, direct care workers at such facilities with cases of COVID-19 reported have received $500 extra per week, while other workers at those facilities have received half as much. Direct care workers at facilities that do not have any cases of COVID-19 have received $250 extra each week, while other workers receive half that amount. The extension results from the state's number of active cases being greater than 1,000.
On Friday, the ADH reported cases of COVID-19 in three congregate living facilities in Union County: Courtyard Healthcare and Rehabilitation, where five residents have died and 55 cases, 35 in residents and 20 in staff members, have been confirmed altogether; Advanced Health and Rehab of Union County, where one worker has tested positive; and Community Living Arrangements, where nine residents and three workers have tested positive. Courtyard has also reported 13 recoveries, two in residents and 11 in workers.
The ADH also reported 3,191 new negative test results Sunday, making 150,847 negative test results returned statewide as of Sunday afternoon. In all, 160,237 tests have been performed in Arkansas, indicating an overall positivity rate of 5.88%. The one-day positivity rate in Arkansas between Saturday and Sunday was 9.2%.
In the United States, 1,931,325 COVID-19 cases had been reported by 5:15 Sunday afternoon. Of those, 500,849, about 26%, are considered recovered, while 1,320,366 cases remain active. As of Sunday afternoon, 110,110 COVID-19 deaths in the U.S. were reported, indicating a national mortality rate of 5.7%.
The World Health Organization reported 6,799,713 COVID-19 cases worldwide Sunday afternoon, with global COVID-19 deaths at 397,388, indicating a global mortality rate of 5.8%.
Sponsor Content
Comments