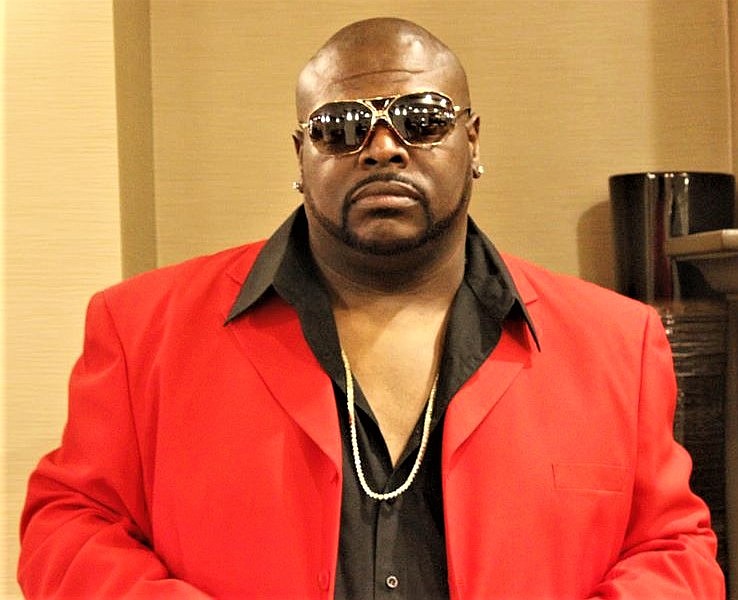 Yunglife Studio's music video for Benito Glosson's "Baby, I'm Sorry" has been nominated for an LA Music Video Award. Michael Young, filmmaker, cinematographer, music producer and owner of Yunglife Studios, and Glosson, seen here, are both Union County natives. (Provided)
So much has happened in the year since singer-songwriter Benito Glosson sat down with a News-Times' reporter and reflected on a 30-year career in music.
Glosson laid out a timeline detailing how he got his start in show business in 1989 by touring, performing and recording with legendary rapper MC Hammer.
Following a four-and-a-half-year stint with Hammer, Glosson launched a solo effort that resulted in an R&B album, whose title song, "Show Me Some Love," helped Glosson achieve a modicum of success in the mid- to late-90s.
The album also marked a period in which Glosson grew increasingly disillusioned with music and took a step back from the entertainment industry.
By the start of 2019, Glosson had gleaned a new outlook for his art and his passion.
He rededicated himself to music full time and publicly announced upcoming plans in a social media post that celebrated three decades as a professional entertainer, promoted new music and proclaimed "The Return of Benito."
A flurry of new singles and an album were released, showcasing Glosson's musical versatility as a vocalist who can belt out the blues, southern soul, R&B and gospel.
Several of the songs were accompanied by music videos that were shot locally.
A video for one of the songs, a zippy zydeco tune called "The Teddy Bear Zydeco Bounce", was filmed in Mattocks Park.
The song introduced a new line dance of the same name and one of the dancers who helped to demonstrate the steps in the video was El Dorado Mayor Veronica Smith Creer.
Glosson said the zydeco-flavored ditty is a nod to his cultural roots as a Pleasant Hill, Louisiana, native. The song also helped to usher in his new brand as the self-proclaimed "Teddy Bear of Southern Soul."
Another single, a ballad that was released last year, serves as a cautionary tale about romantic relationships and infidelity.
"Baby, I'm Sorry" is a passionate plea that is driven by Glosson's raw, untamed vocals.
"It's illustrating a man apologizing to his woman. There are not too many songs where a man is apologizing for something," Glosson said. "Usually, the man tries to be so hard and is portrayed as not having compassion."
"Here, he's saying, 'I'm sorry for leaving, I made a mistake and I'm trying to make it better,' because men never explain to a woman why they treat them the way they treat them and hurt their hearts," he continued. "It's about relationships and reality and how we need to fix it."
The video for "Baby, I'm Sorry," was shot at Comfort Inn and Suites on Junction City Road.
It features LaTwana Scott, Glosson's sister and owner of Sweet Mama T's soul food restaurant. (The popular East Hillsboro eatery, which has been closed for nearly two months because of the coronavirus [COVID-19] outbreak, is expected to reopen within two weeks, Glosson said.)
Scott also joins Glosson on the chorus.
Lady Q, a Louisiana native and popular performer on the blues and southern soul circuit, plays the role of the jilted wife in the video.
Glosson shared the details of his music career with a News-Times' reporter on the final day of May in 2019.
A year later, almost to the day, Glosson learned that the video to "Baby, I'm Sorry" has been nominated in the Soul Music category for the 2020 LA Music Video Awards, a film festival and music contest that spotlights independent musical artists and recognizes the best music videos that have been released within the past year.
According to the LA Music Video Awards website, the awards focus on visual storytelling and interpretations of the songs.
The third annual festival and awards ceremony are scheduled for Sept. 12 in Covina, California.
Finalists were announced last week. Winners are determined by industry insiders and fan votes.
Winners in each category will receive an LA Music Video Awards trophy and potentially a feature story by Rockwired.com, a website that is dedicated to rock and roll, entertainment and pop culture.
Glosson said he found out about the nomination June 1 after being notified by local music producer, cinematographer and filmmaker Michael Young Sr., who directed and produced the "Baby, I'm Sorry" music video and a host of other music videos for Glosson and other local artists.
With his Yunglife Studios, Young has also shot weddings and other events and ads for local businesses.
Yunglife Studios
Young is no stranger to the entertainment industry. In fact, he is a veteran in the game, with El Dorado serving as his home base.
Originally from the Batts Chapel community, which lies between Strong and Huttig, Young graduated from Strong High School in 1993.
His earliest musical memories are of his mother, Onethia Young, a singer and a DJ, who inspired him to follow a similar path.
Upon high school graduation, he immediately enrolled in truck driving school and over the course of his 20-plus-year career as a trucker, Young developed other ventures based on music and film production.
In 1996, he launched his own record company, Black Kingz Records, which operated from his home studio in El Dorado.
Local rap acts the Black Kingz, El Dogg Hoggs and Skulla B, were the first products of BKR who made a name for themselves around the region.
Songs by the Malvern Riders — a music collective and label out of Malvern that performed rap, R&B and other genres of music — were also produced by Black Kings Records, Young said, noting,"We produced about 50 albums around the state."
Those experiences unexpectedly pointed Young toward another field that he could add to his curriculum vitae.
"With my mom, I was raised around music all my life. What got me into cinematography, being in music back in those days, we didn't have anyone to shoot the (music) videos, so I decided to teach myself," he explained.
Through Young's work in music and video production, he connected with Glosson in the early '00s in El Dorado and helped produce Glosson's album, "Arkansas' Finest."
Young learned about the LA Music Video Awards by previously submitting his own work — two films, a short called "AMELIA (A Victim's Revenge)" and a feature-length effort-turned-web series called "HellFire," both of which feature local actors, including Young's mother, and El Dorado locales.
"I had two films to go through this program and I noticed they do music videos as well and I wanted to try putting a music video in this program and (Glosson's) video happened to be selected," Young said. "We won't know what others have been selected until we show up at the awards ceremony."
He submitted the video in 2019 and upon receiving the notification from the LA Music Video Awards, Young said he immediately contacted Glosson with the good news.
"This is big for me. This is my first LA film festival and that's major," Glosson said.
Young understands just how major.
"HellFire" was shot as a feature length film in 2015 and released in 2016.
Young entered it into film festivals in Miami and Bangladesh, where Young said he picked up his first awards for the film, including Best Feature Film in the International Open Film Festival.
The film was denied entry in the El Dorado Film Festival but in 2019, Young's second film, "AMELIA", was accepted, which marked a milestone for Young and the sixth annual festival.
"It didn't win but to be accepted was big jump for me. I was the first black film producer in the El Dorado Film Festival, so it was a big accomplishment for me," Young said.
Both films weave harrowing tales of revenge and murder and delve into the supernatural with vengeful spirits.
In "HellFire", a woman kills her husband and a woman who is presumed to be his mistress when the wife catches the two in bed upon returning home from a business trip.
The pair appeared to be asleep and the wife set her and her husband's house ablaze with the "adulterous" pair still in bed.
Young explained that the mistress, a neighbor, had intended to seduce the husband while his wife was away and stage the bedroom scene but the woman's plans went horribly awry.
"HellFire" also examines the effects of knee-jerk reactions that are committed in a fit of anger and cannot be undone.
Young said "HellFire" was inspired by an active subconscious.
"The idea came from a dream or, I guess, I could you call it a nightmare. It was just so vivid that I had to write it down," he recalled.
"AMELIA" is filled with similar themes that are anchored by the story "of a young woman's soul coming back to possess another woman to avenge her murder."
The short film adds a racial element: the young woman who is murdered is white and the body her vengeful spirit inhabits is that of an older black woman.
Both films are available for viewing by going to Yunglife Studios' Youtube page.
Young said that by the time filming wrapped on "AMELIA" in 2018, he had begun working on new music and music video projects for Glosson.
"We wanted to build his career up so we did not go any further with 'AMELIA,'" he said.
Young said he is preparing to enter another Glosson music video into another festival and there are plans to submit "Life After MC Hammer: The Benito Glosson Story," a documentary that was produced and released in 2019 by YungLife Studios, to two other film festivals this year, Young said.
He said he and Glosson are anticipating the LA Video Music Awards ceremony in September.
"To me it was big because I really want to help build Benito's career back to where it once was," Young said. "I feel like he learned so much in the past that when he gets there now, he'll stay there and he'll be able to help others get there."
Glosson's music videos are also available for viewing on YouTube.
Sponsor Content
Comments