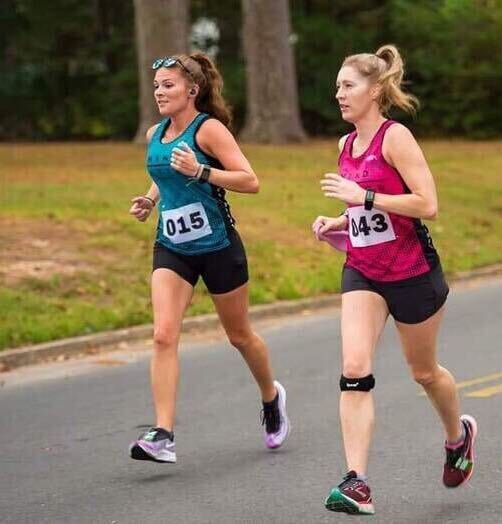 From left to right, Carrie Jackson and Leslie Darden run the MusicFest 10k in El Dorado.
The COVID-19 pandemic has turned a dream-come-true into an agonizing few months of uncertainty and frustration for area runners Leslie Darden and Carrie Jackson.
The duo qualified for the 2020 Boston Marathon last year. It was to be the first time running in Boston for each.
But the 124th Boston Marathon, originally scheduled for April 20, was postponed to Sept. 12 due to the COVID-19 pandemic. This year's event was then canceled last week.
"I was extremely disappointed back in April because I had already been training," said Jackson. "This time I expected it so I'm not very disappointed and honestly I didn't want to run a marathon in September or run long training runs in the summer. I prefer cold-weather marathons where I can train during November to March. It's tough on the body running in the heat."
Of course, it's just a race. Right? It happens every year. Right?
"There are bigger issues than my race getting cancelled, but I can be disappointed and angry at the situation," Darden said. "It is just a race but one me and many others have worked hard to get to and not get the chance to run is heartbreaking being my first chance to go. I never thought a world pandemic would take it away. I feel silly sometimes being upset about it. There are weddings people had to move and babies being born without family and friends, funerals, graduation, and spring sports for those seniors. I am just as heartbroken for them."
The women have no other options other than to keep things in perspective and to take the news in stride. It's tough, though. A lot of work went into qualifying for the Boston Marathon. And the logistics of travel and lodging also required months of planning ahead.
"I started training in December. I was so excited to get the chance to do this," said Darden. "AirBnB booked, plane tickets bought; I had six weeks left in an 18 week training plan when Boston first got postponed to September, more than halfway in. So close and dang COVID took it away."
"I recently got the news that the postponed Boston for September would now not be happening and once again I have to cancel Airbnb and try to get flight credit, can't seem to get a hold of Delta … lots of money also gets tied up into this," she added.
The Boston Athletic Association announced the 124th Boston Marathon will be held as a virtual event.
"Our top priority continues to be safeguarding the health of the community, as well as our staff, participants, volunteers, spectators, and supporters," said Tom Grilk, C.E.O. of the B.A.A. "While we cannot bring the world to Boston in September, we plan to bring Boston to the world for an historic 124th Boston Marathon."
"We have to run at home and submit proof of our run," explained Jackson, who said it's still being discussed if runners will have to requalify for the event in 2021.
Just qualifying for the prestigious race was the culmination of months, even years of training. The pandemic changed the plans for most people in all walks of life. Taking obstacles in stride, well, that's the life of a runner.
"I kind of expected that with how the COVID is going, no city wants to host a large event and with Major League Baseball not even playing yet I just didn't see it happening," said Darden, who had tickets to a Red Sox game in April with her husband. "I had just started over in round two of marathon training and they are offering a virtual run for Boston 2020 and to keep active this summer, I plan on running 26.2 in September at home. Man will it be a hot one but what doesn't kill you makes you stronger, right?"
"COVID has taken a lot of important things away from people and I'm thankful for my health and my family," she went on. "I worked hard to get the chance to go to Boston and it hurt not to get that chance to toe that starting line this year and to hopefully cross the finish line of a major marathon that many dream of doing."
Jackson was also able to put the disappointment into perspective.
"This virus and the world is just crazy right now. I hate seeing all the sadness and sick people," she said. "It makes me thankful for everything I have, especially my health. So, my goals have shifted from trying to be a fast runner to just trying to stay active because exercise is proven to help the immune system."
By the way, today is National Running Day.
Sponsor Content
Comments