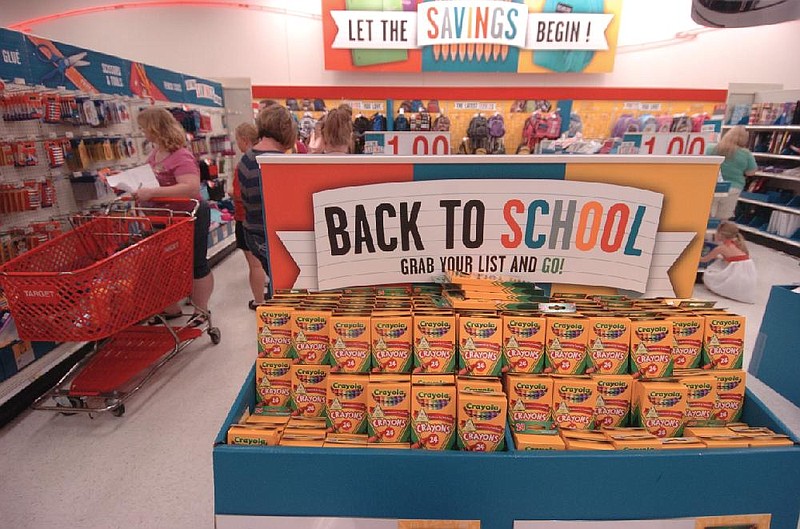 (File photo)
However schoolchildren will be learning come fall, whether online or on-site, the Arkansas tax-free weekend will be sure to help as the state and nation continue to grapple with the coronavirus (COVID-19) pandemic.
Tax-free weekend starts today in the state and will continue through Sunday.
Earlier this month, Gov. Asa Hutchinson announced that Arkansas public schools will resume classes Aug. 24 instead of the original start date of Aug. 13 in response to requests for more time from many school districts around the state.
Locally, the El Dorado School District is offering two options for students to attend classes in the fall:
• The Wildcat Online Academy (WOA), a fully digital learning environment for which students will be provided a Chromebook, with which to complete all course work.
• On-campus learning, in which students may go to their respective campuses during regular school hours. Available technology will be integrated into classroom instruction so that students will be able to grab their Chromebook and transition to learning from home in the event of a COVID-19 outbreak.
Students will still need supplies and tools to attend classes. School supplies, instructional material and school art-supplies are tax-free. The state and local tax moratorium also includes clothing that is valued at less than $100.
Beth Brumley, executive director of Main Street El Dorado, issued a reminder Friday about tax-free weekend to El Dorado businesses and residents.
Brumley encouraged residents to shop locally for school supplies and other necessities for learning as local business work to recover from the COVID-19 health crisis.
For the past several months, MSE, the Downtown Business Association and sponsors have teamed up to help keep downtown businesses afloat.
A gift-certificate giveaway that was held last spring called for participants to spend a minimum of $25 cash in downtown shops and restaurants to be eligible to win part of a prize package that included five, $200 gift cards to be spent like cash in participating businesses.
MSE has also assisted downtown merchants with applying for relief programs, grants and loans, that are available to help small businesses reopen and sustain and a virtual tip program to help those in the service industry whose jobs have been affected by the virus.
This week, MSE announced another grant that is available to help small businesses within Main Street and commercial historic districts who are facing economic challenges because of COVID-19.
Main Street America, MSE's parent organization, has partnered with The Hartford Financial Services Group, a Connecticut-based investment and insurance company, for The HartBeat of Main Street Grant Program.
The program was created to support brick-and-mortar businesses within commercial districts by helping them adapt to the public health crisis and guiding them through the reopening process, according to information provided by Brumley.
Brumley said she has begun to receive responses from some downtown businesses about the new grant program.
Sponsor Content
Comments