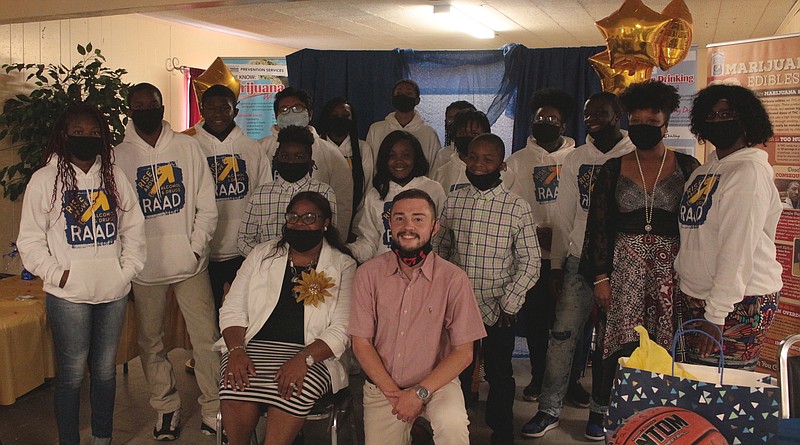 Stephanie Owens, seated left, and Alex Smith, to her right, led 14 students from El Dorado and Magnolia through the Community Anti-Drug Coalitions of America conference, which was held over six days in the last two weeks and ended Thursday. El Dorado Mayor Veronica Smith-Creer, second to the farthest right, made a proclamation designating Thursday 'El Dorado RAAD (Rise Above Alcohol and Drugs) Day. (Caitlan Butler/News-Times)
Students from El Dorado and Magnolia have gathered in the last two weeks to participate in the first-ever virtual Community Anti-Drug Coalitions of America (CADCA) conference.
For six days over the last two weeks, students between 9 and 20 years old met at Trinity Ministries to discuss drug prevention techniques, watch videos from other community anti-drug coalitions and learn about the dangers of alcohol and marijuana use.
"We just try to educate them; to give them the tools they need so if they encounter a situation where they're presented these substances, they're equipped to turn that down," said Alex Smith, a regional prevention representative who works with Rise Above Alcohol and Drugs (RAAD), a youth drug prevention effort directed by the State of Arkansas.
The students from El Dorado are all members of YAS, or Young Artist Studios, a youth coalition formed just a few years ago by Stephanie Owens. YAS may be known to the community for their plays and dances, which have been featured respectively at the South Arkansas Arts Center and the Union County Courthouse and which focus on spreading the 'Just say no' message. They also organize annual school supply giveaways, Christmas banquets that provide gifts to low-income children and other community events.
"I was talking to my mom (Stephanie Owens) and we thought 'we have a lot of youth here; we all have nothing to do. Maybe we could get involved in the community,'" said Kaitlynn Ford, who is President of YAS. "I'm drug-free myself, and I decided maybe I could get other kids involved."
Jasmine Easter said she learned a lot about the different ways drugs might be presented to people, from edible marijuana products to marijuana cigarettes, and her biggest takeaways from the CADCA conference were the communication and interpersonal skills she learned that she said she hopes will be able to help her stay on the drug-free path.
"I really learned how to get along with others and communicate," Jasmine said. "I'm not always a people person, but I've experienced a lot of good here."
Her sister, Shaleaya Easter, said she hopes to use what she learned this week to help others in her peer group get on the drug-free path.
"It's good to learn about what drugs can do so you can stop others from doing that," she said.
"There's so many young people nowadays who do drugs; I want to make an impact in my community," Emma Hill, another YAS member, said.
Thursday was the final day of the CADCA conference, and those who participated were presented with HP laptops to continue their research into drug prevention methods. El Dorado Mayor Veronica Smith-Creer attended to personally distribute the laptops and to read a proclamation naming July 30 'El Dorado RAAD Day.'
"That they showed up for something like this says a lot about them, their community and their community leaders," Smith-Creer said. "I think programs like this are needed more here. I'm grateful for them."
In a break between activities, Smith quizzed the students on some of what they'd learned this week, ranging from risk factors to prevention methods — which students said could range from anything like art and video games to family connections — to drug statistics, including the fact that someone in the United States dies from an opioid overdose every 11 minutes.
"These kids … are leading the way in making sure he community is safer and healthier and making sure these youth don't keep dying," he said.
The members of YAS and the other students who attended the CADCA conference presented Smith with a gift of his own — a basketball signed by all the students, which he said would have a place of honor in his collection of autographed sports memorabilia, and a special 'YAS' face mask.
"The kids have learned a lot about the dangers of drugs," Stephanie Owens said. "They're equipped with the knowledge to avoid situations that would make them more likely to try drugs."
"To be honest, it is hard being a young teen to be able to be drug-free. … When you have that peer pressure, you think maybe I can be like this or that if I try it," Kaitlynn said. "The main thing I learned this week is that if you step up to somebody and have the opportunity to tell people how cool it is to be drug-free, you should."
Sponsor Content
Comments