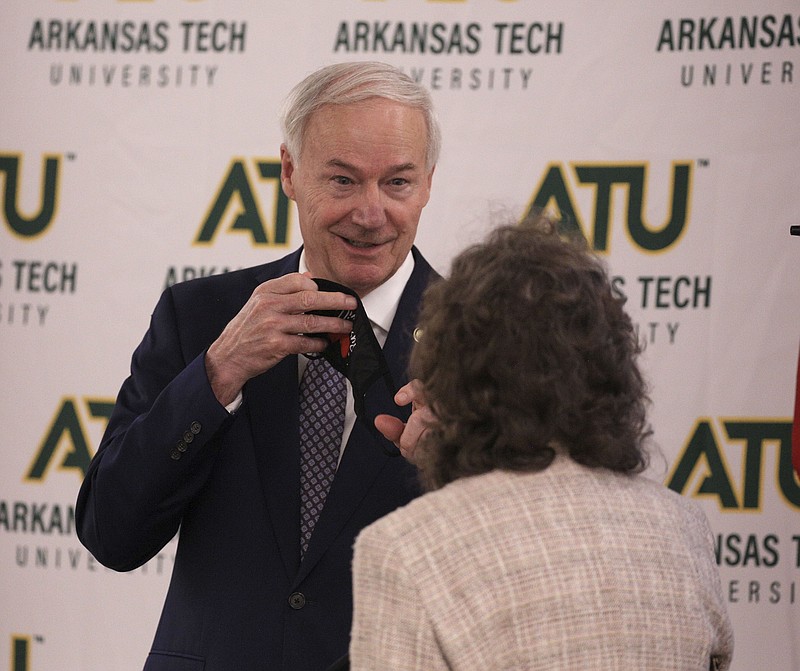 Gov. Asa Hutchinson, left, talks to Dr. Jennifer Dillaha, State Epidemiologist, Wednesday July 29 in Russellville before Dillaha answers a question during the daily COVID-19 briefing from Arkansas Tech University. (Arkansas Democrat-Gazette/Staton Breidenthal)
The Arkansas Department of Health reported three new confirmed cases of COVID-19 in Union County Wednesday, bringing the cumulative number of cases identified locally to 379.
Of those, 320 were considered recovered on Wednesday, an increase of six from Tuesday. There were 43 active cases in the county Wednesday, representing a decrease of four from Tuesday and 11.34% of the county's cumulative number of COVID-19 cases.
The death of a 16th Union County resident was reported by the ADH Wednesday; an ADH spokesperson could not confirm by press time Wednesday whether they were the Timberlane resident who was reported to have died as a result of the virus on Tuesday. The number of local residents who have died as a result of the virus indicates a local COVID mortality rate of 4.22%.
No changes were reported in any of the congregate living settings in Union County where COVID-19 has been identified. There remains one active worker case at Community Living Arrangements; and four active worker cases at Timberlane Health and Rehab. Active cases in congregate living facilities represent 11.62% of the total number of active COVID-19 cases locally.
The ADH reported eight new negative test results returned from Union County Wednesday, indicating a local one-day positivity rate of 27.27% based on the numbers of new cases and test results reported. In all, 4,236 COVID-19 test results have returned from Union County, with 3,857 negatives, indicating an overall local positivity rate of 8.94%.
Arkansas saw its cumulative number of cases grow by 787 Wednesday to reach 40,968. Of those, 33,938 were considered recovered Wednesday, leaving 6,596 cases — 16.1% of the cumulative total — active statewide.
The deaths of six additional Arkansans resulting from COVID-19 were reported Wednesday, bringing the state's death toll to 434, indicating a state COVID mortality rate of 1.05%. The ADH reported an increase of seven in the number of Arkansans hospitalized due to the virus Wednesday to make 508 total, along with a decrease of two in the number on ventilator support to make 108 total.
Dr. Jennifer Dillaha, State Epidemiologist, spoke during a news briefing on COVID-19 held Wednesday about the difference between "quarantine" and "isolation," which in this case are used as technical terms by the ADH.
Dillaha explained that quarantine is a term used to describe the 14-day period all who have been exposed to COVID-19 are asked to self-isolate and stay away from others. Regardless of whether they have tested positive for or exhibited symptoms of the virus, those who have been exposed to someone with the virus should quarantine for 14 days because that's the amount of time it can take to develop the virus, she said.
"If they're tested, they still need to complete 14 days of quarantine, because they could develop the illness after the test," she noted.
Isolation, on the other hand, applies to those who have tested positive for COVID-19 and is a period of time that can vary depending on the severity of a person's case, she said. Those with mild to moderate cases of the virus are expected to self-isolate for at least 10 days, starting either from the day they developed symptoms or from the day they were tested for the virus. Those with severe cases are asked to self-isolate for 20 days.
"The CDC (United States Centers for Disease Control) has looked at studies that show people are not known to shed the virus after 10 days if they have mild or moderate cases," Dillaha said. "More severe cases or people with weakened immune systems can shed the virus longer and need to isolate longer."
Governor Asa Hutchinson said 4,719 tests had been performed in the 24 hour period preceding the news conference held Wednesday. He noted that he had spoken to White House officials recently, who told him they expected commercial laboratories to be able to increase the number of tests processed there in August. Hutchinson has pointed to supply chain issues as part of the reason commercial lab test results returning to the ADH has slowed since July 4.
Since the state began testing for COVID-19, 495,605 tests have been reported to the ADH, with 454,637 negatives, indicating an overall positivity rate for the state of 8.26%.
According to Johns Hopkins University, there were 4,403,935 COVID-19 cases in the U.S. at 5:50 p.m. Wednesday. Of those, 1,389,435 were considered recovered Wednesday, leaving 2,864,341 cases — 65.04% — active nationwide. There had been 150,159 deaths attributable to the virus in the U.S. by Wednesday afternoon, indicating a national COVID mortality rate of 3.4%.
Johns Hopkins reported 16,852,522 COVID-19 cases worldwide Wednesday afternoon. Of those, 9,872,350 were considered recovered Wednesday, leaving 6,317,434 cases — 37.48% — active around the world. There had been 662,738 deaths attributable to the virus by Wednesday afternoon, indicating a global COVID mortality rate of 3.93%.
Sponsor Content
Comments