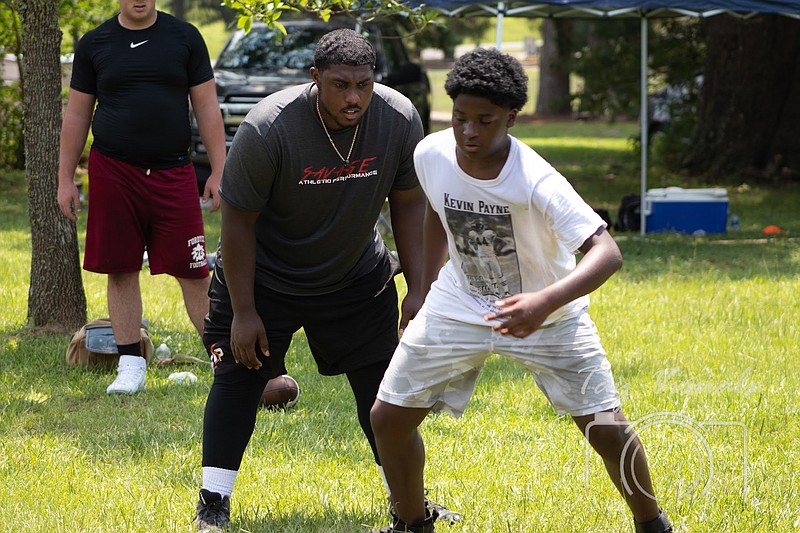 Smackover native and former Buckaroo offensive lineman Jeff Savage IV is working to create the premiere athletic training facility in the state at Savage Athletic Performance in Little Rock. (Contributed)
The big-picture goal for athletes is to use their sport and not let their sport use them. Years before he walked off the football field for the final time, Smackover native Jeff Savage IV already had the big picture in mind.
Savage played offensive line for four years at the University of Louisiana-Monroe. He graduated in December 2016 with a Bachelor of Science in Kinesiology with a dual focus in fitness and sports industries and exercise science.
Today, the 2012 high school graduate is the owner of Savage Athletic Performance in Little Rock.
"I have started my own business, training young athletes in the central and south Arkansas areas. I hope to continue to grow the business and expand to help as many kids as possible," said Savage. "My passion is working with and shaping young men to be the best they can be both on and off the field. I always try to ask my guys something about themselves that isn't football related because, like me, they don't have to be 'only football.'"
Ultimately, he'd like to excel in business just as he did as an athlete.
"I want to own the premier athletic performance facility in Arkansas. It would be a place, specifically offensive and defensive linemen, go to improve their game regardless of their age."
For Savage, football was never who he was but what he did. But he did it well through some natural athletic ability and a lot of hard work. His father was a running back at the University of Arkansas and his grandfather played football at Kansas State.
The IV at the end of Savage's name is important.
"It's a big deal for me and my family. My dad made a choice to name me after him and I made that same choice to name my son after me."
He said the transition from small-town football to the Division I level was another big step.
"The adjustment was challenging. I enjoyed playing football at ULM and it is definitely a step-up competition-wise from playing 3A Arkansas high school football. The life lesson there though is that hard work transcends where you come from," said Savage, who talked about the attitude of an offensive lineman and how it translates to everyday life.
"Offensive line, specifically, is a very selfless position. It's the only position where you don't acquire any statistics during a game, yet it is fundamental to the game of football. It forces you to become a humble person because the instant recognition is not there. It takes you completing something to get recognized and that is an important life lesson. You have to finish things."
Academically, Savage did a bit of exploring before settling on a field of study.
"I changed my major twice," he said. "Initially I was a kinesiology major focused only in fitness and sports industries with the hopes of going into college coaching. Then, I changed my major to accounting because I have an affinity for math. I didn't want to be a math major so accounting it was. Then I switched back to kinesiology and added the additional focus area. Since I found myself in sports as a coach, I never doubted my career path. My problem was finding the correct lane for me in sports."
Although he had a plan for after sports, Savage was determined to stay on his football path until the road came to an end. Walking away from the field, he admitted, was tough.
"April 2017, I was preparing for my pro day in an attempt to continue my football career after college down in Baton Rouge at Traction Sports Performance," he said. "I went to the NFL regional combine in New Orleans and pulled my hamstring running the 40-yard dash. That happened nine days before my pro day later that month and effectively ended my playing career. I cried thinking I'd never do what I loved again. I think on that a lot and where I am now and where I'm headed and smile, man. I do what I love daily. Help people chase the same dreams I chased."
Sponsor Content
Comments