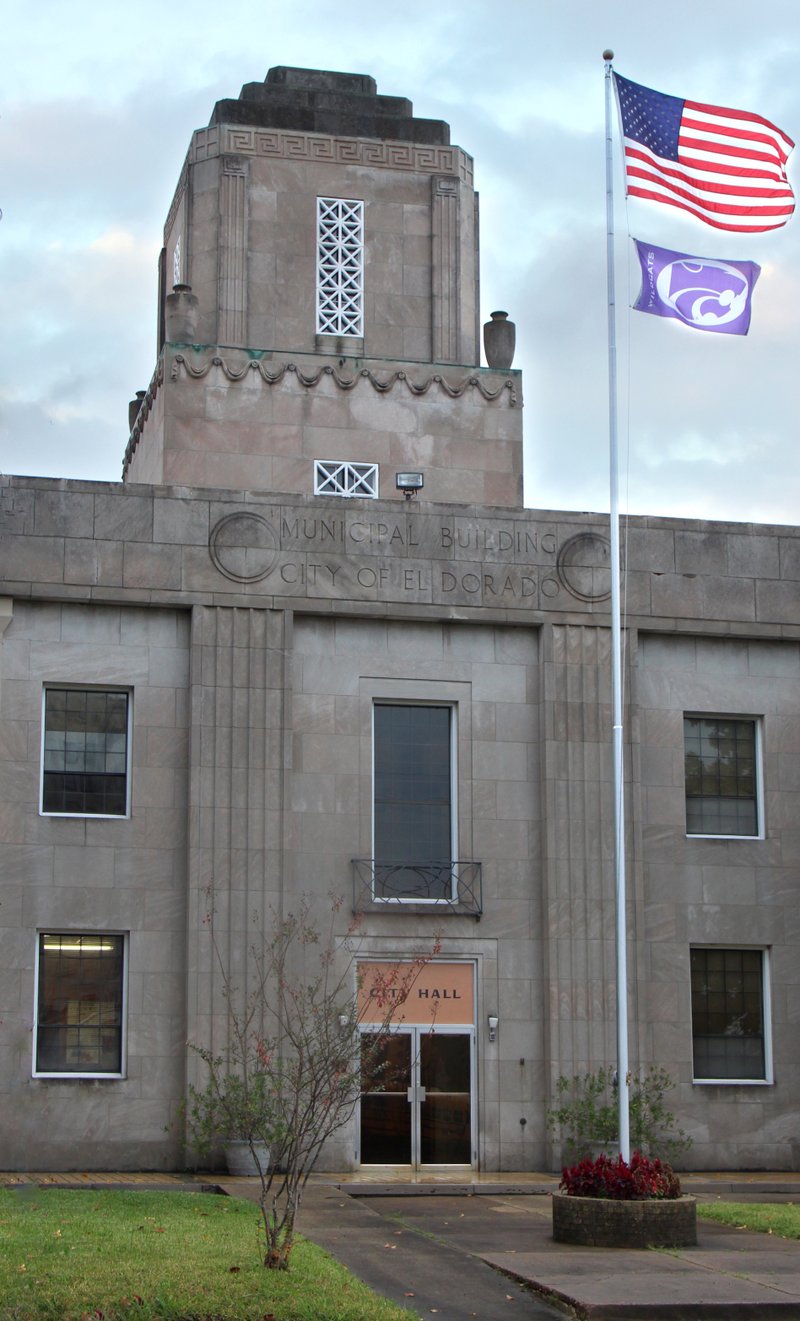 El Dorado City Hall -- News-Times file - Photo by Terrance Armstard
The El Dorado City Council will convene for a specially-called meeting at 2 p.m. today to consider resolutions to revise bank accounts for City Hall and the El Dorado Water Utilities.
The meeting will be held in the Council Chamber of City Hall and Mayor Veronica Smith-Creer said the meeting should be brief, explaining that the matter needs immediate attention due to several recent staff changes in City Hall and the EWU office.
City Clerk Heather McVay said two resolutions will be on the agenda, one for each municipal body, to add new names to and change titles on bank signature cards, which list city officials and employees who are authorized to take certain actions, such as signing and endorsing checks, on the respective bank accounts for the city.
McVay said four names are required for the signature cards.
Within the past several months, a new city treasurer, Trena Dean, has been appointed and Pierce Moore, formerly the administrative assistant in Smith-Creer's office, has been named the city's new human resources director, a position that encompasses the EWU.
At the EWU, the names of two former employees need to be removed from signature cards and two new names added, McVay said.
John Peppers, former EWU treatment superintendent, is now general operations manager and former administrative assistant Laurie Tissue has been recently named business manager for the EWU.
Tissue also previously served as administrative assistant in the mayor's office. She was succeeded by Moore last January.
The mayor and city clerk are also included on the signature cards.
The city council recently agreed to return to its regular meeting schedule of twice a month — the first Thursday after the first Monday of the month and two weeks later — after having altered the schedule to once a month because of the coronavirus (COVID-19) pandemic.
The council's next regular meeting is set for 5:30 p.m. Aug. 6, but Smith-Creer said she decided to call a special meeting to take care of urgent business regarding the signature cards, rather than place the item on the council's regular agenda next week.
Sponsor Content
Comments