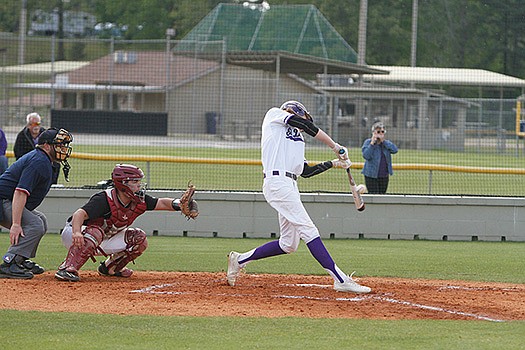 Terrance Armstard/News-Times In this file photo, El Dorado's Leighton Turbeville hits a pitch during a game against Texarkana. A freshman at Carl Albert State, Turbeville was recently tabbed as an NJCAA All-Academic Third Team selection.
Former El Dorado baseball standout Leighton Turbeville not only had a good collegiate debut on the diamond, he was stellar in the classroom.
Turbeville, who attends Carl Albert State in Oklahoma, was recently tabbed as an NJCAA All-Academic Third Team selection, an honor that is bestowed on a student-athlete who achieves a grade-point average between 3.60 and 3.79.
"I had to work for it, and it was worth it," Turbeville said. "I've never really been on an All-Academic team before. I just buckled down, got my head on straight and made some good grades."
Turbeville said it can be difficult to budget his time between baseball and the classroom.
"We're on the baseball field a lot," Turbeville said. "They don't really regulate the amount of practice time like the NCAA does, so we practice a lot more than your average college team.
"There's not really a whole lot to do. There's not as much to get caught up in, so it's easier to focus on grades. There's not a whole lot going on in a small town like that. If you're going to worry about something, worry about your grades."
Turbeville said he hopes to get into the nursing field, an occupation that runs in his family with one cousin already in the field and another working toward becoming one.
"With everything going on, the medical field is in heavy need of more nurses, and you can work pretty much anywhere in the United States," Turbeville said. "You live and work anywhere. It's pretty consistent."
The outbreak of the coronavirus pandemic ended Turbeville's freshman season back in March.
In 20 games, Turbeville hit .220 with three home runs and 13 RBIs in 50 at-bats. He also scored 10 runs.
"I did pretty well," Turbeville said. "I hit a few balls hard. I wish it would've lasted longer, but based off the way things were going, I'd say it was going pretty well. I hit the ball really well, played OK defense. I just wish it would've lasted longer."
The NJCAA ruled earlier in the spring that those student-athletes directly affected by the pandemic were granted an extra year of eligibility, hence Turbeville will be a freshman again in 2021, which has its advantages and disadvantages.
"It's a benefit. From an athletic point of view, it gives your body more time to mature and grow. It's definitely a plus," Turbeville said. "But what people don't think about is there are only so many classes you can take at a junior college because you're only designed to be there for two years.
"I almost have all of my pre-req classes done for nursing school and all of the medical field stuff, so I'm eventually going to run out of stuff to take there. I'd like to get out of there after one more year, but it will have really been my second year there in the classroom.
"At a certain point, you have to go somewhere where you can get into nursing school or at least move on academically. You can't keep taking the same general education classes."
Turbeville said trying to play baseball and focus on nursing school is something that is out of the question.
"You can't do both," Turbeville said. "That's something I've already had to deal with is you can't do both. You cannot be in nursing school and play baseball.
"That's something that's tough. You have to make a choice or just keep taking other classes until I'm done with baseball, but I want to play as long as I can.
"I've come this far, so baseball is the goal right now, and whenever I'm done with that, I'll go to nursing school. Baseball will be a deciding factor on wherever I go, if I do well enough to get picked up by another school."
On the recruiting front, Turbeville said he had been contacted by a couple of Division II schools in Oklahoma when the pandemic started, but hasn't heard back since then.
The summer has been an odd one for Turbeville, who has tried to get work in whenever he could despite the pandemic placing limitations on where he could work out at.
"I haven't been hitting as much as I usually do," Turbeville said. "This is the first summer I haven't played summer ball because of my age. I'm not eligible for leagues around here. I've still been going to the cage occasionally and lifting occasionally, but for a while, all of the gyms around here were closed due to COVID, so it's been hard until recently to find places to even workout. I've been doing a little bit here and there, but I'll be picking it up a little bit more the closer we get to going back to school."
Turbeville is hoping to get back into the swing of things soon.
He reports back to school on August 8, and even with the pandemic ongoing, there will be fall baseball starting September 8 at Connors State.
"Junior college plays a season in the fall and spring for baseball, so they voted on if we would be allowed fall season, and the NJCAA voted yes, even with everything going on, so we're going to get to play," Turbeville said. "Games will be coming up fast."
And while Turbeville may be caught up with his studies in the classroom, he wants the same for his work on the baseball diamond.
"I hope so," Turbeville said.
Sponsor Content
Comments