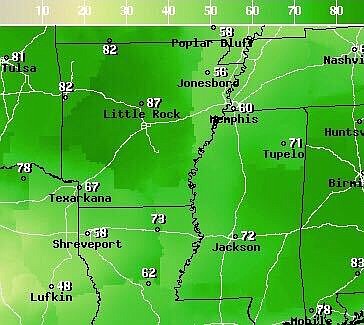 Rain is expected throughout the region this afternoon. (National Weather Service)
Showers and thunderstorms are forecast in Union County today, with chances rising as the day continues.
"It's more likely than not that it will rain," said Brad Bryant, a meteorologist at the National Weather Service office in Shreveport.
There was about a 60% chance of rain this afternoon on Tuesday. Bryant said while it's unlikely the weather will become severe this afternoon, he couldn't completely rule it out.
"It's not very likely," he said. "Typically, in the summer, there's not really enough wind shear in the atmosphere to organize really severe storms."
The expected rain isn't directly connected to Hurricane Hanna, which hit Texas on Sunday.
"In the summer, around here, it's kind of subtle stuff — it's more like heat of the day and moisture that contribute to the atmospheric instability that causes these showers to bubble down," he said. "There's a very weak disturbance that's moving down from the northeast."
The weather is expected to be a little cooler today than local residents have seen recently; for several days on end in the past three weeks, the county has been under heat advisories or even excessive heat warnings, where heat indexes surpass 105 and 110, respectively.
"Tomorrow we're expecting highs in the upper 80s, which is a little below normal for this time of year," Bryant said Tuesday afternoon. "Usually in the summer, when there's pretty high rain chances, there's enough clouds in the atmosphere to keep highs a little lower."
Bryant said things could cool off for several days starting Friday evening.
"Along about Friday, you could be looking at an actual cool front coming through the area and a little less humidity as we move into the weekend," he said.
On Thursday and Friday, temperatures will likely be high, but not high enough to reach heat advisory levels, he added.
"There might not be a whole lot of rain around and it's going to be humid as well before that front comes through," Bryant said. "Both Thursday and Friday we're probably going to see peak humidity above 100."
Sponsor Content
Comments