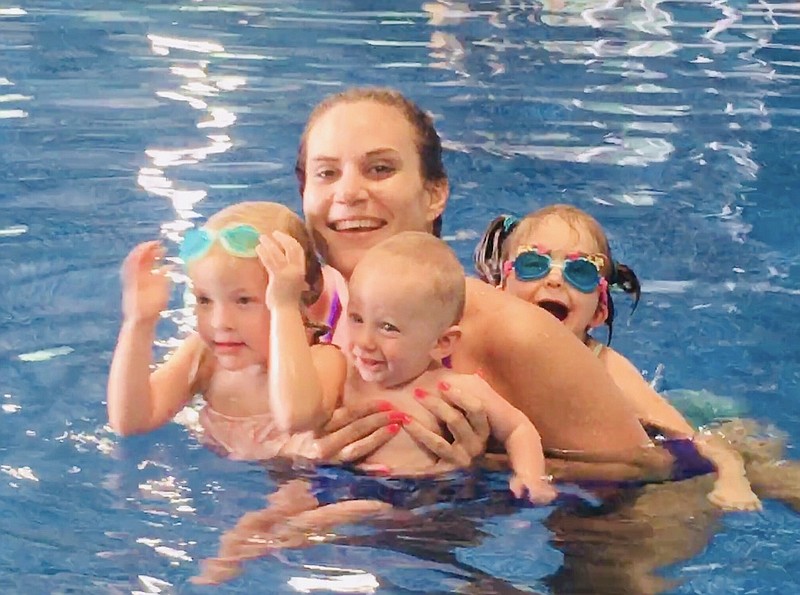 Mary Diana Bradly swims with nieces and nephew Lillian, Elizabeth and Nelson Geurin of El Dorado. (Contributed)
Some folks are just born to be in the water. They can function on dry land and survive in the air but at their core, they're water people.
El Dorado native Mary Diana Bradley played basketball in high school and was a powerlifter in college. But, first and foremost, she was a swimmer.
After dipping her toes into other successful career pursuits, Bradley has returned to her base and is currently working as manager and head swim instructor at her swim school, "The Pool School" in Baton Rouge. The Pool School is a 3,000 square foot indoor facility with a heated 25,000-gallon pool.
"I opened up after a long building process on March 14, 2018. I offer swim lessons, birthday parties, open swim times and specialty parties - pumpkin pool-ooza, a floating pumpkin patch, swim parties with 'real life' mermaids year around," Bradley said.
"I teach babies starting at 6-months-old all the way up to adults. Currently, I have lots of 6-month-olds and a few adults in their sixties."
That Bradley would have her own swim school wouldn't have been a strange prediction when she was in high school. She promoted her sport, often wearing a t-shirt that proclaimed, "Real athletes wear flip-flops."
But she left the pool and branched out in college. After graduating from El Dorado in 2006, Bradley attended Centenary College of Louisiana for two years and studied exercise science. She then transferred to the University of Louisiana at Lafayette.
"Best decision ever," she said. "I studied Kinesiology with a focus in sports management. I was more sure of this major, as I knew I wasn't as interested in the science of sports and exercise as I was in the management side."
While in Lafayette, Bradley joined the school's powerlifting team. She said that helped her "find a home away from home. I fell in love with the people and culture of south Louisiana."
Bradley powerlifted for two years.
"It was a serious commitment although it just a club team. We were required to work out with the team four times a week and lift in at least three meets each year. After my second year, I was invited to be on the USA Junior World Team. I got to travel to the Czech Republic to compete. I didn't do great at this meet, but I got the opportunity to feel like a world class athlete and that was the coolest feeling."
After graduating in 2010, Bradley worked at Long Island University, C.W. Post campus in Brookville, New York in the athletic department as an athletic operations assistant. After a year in New York, she headed back down south to her alma mater.
"I got what I considered my dream job. I somehow scored the position of Women's Athletic Coordinator for the Ragin' Cajuns," she said. "Not sure how I got this job, as the woman before me had been in this position for nearly 40 years and was at the top of the food chain in the department. But, I'll forever be grateful - what an experience. I was just 25 and was thrown right in. I loved it and hated it. College coaches can be brutal. But how cool it was to be around D-I athletes, coaches, facilities, et cetera. I could walk in and out of each venue with the security just waving me through. It was awesome. I was the tournament director for four NCAA regional and semi-regional softball tournaments where I got to work closely with the NCAA and ESPN.
"Again, I'm not sure how I even knew what I was doing. I even got to go to the Women's College World Series in 2014, which I'll never forget."
But after four years, Bradley decided to leave her "dream job."
"The main reason being that I could never see myself being able to hold that job and have a family one day. I wanted to start something that when it was the right time, I'd be able to grow a family as well as a business at the same time," she said. "My mom was/is the best stay at home mom ever. I used to think that's what I wanted to be but realized as an adult that I could work and still kind of be a stay at home mom. I still don't have the family of my own, but hopefully my business will be in a great position one day if I ever do."
So, even after finding success on dry land, Bradley dived back into the water. She said her swim school is still in the growing phase. This summer, it has maxed out at 22 lessons per day.
"Yes, my fingers and toes are very wrinkly after 10-plus hours in the pool," she said with a laugh. "By next summer I hope to have a bigger staff to increase the amount of classes to closer to 40 a day. My business has a ton of potential to grow. I even have an additional 2,000 square feet attached to my current building that can one day help me expand."
Bradley said she primarily teaches private one-on-one lessons and semi-private (2-on-1) but also has bubble babies group classes and a few other group classes.
"My last semester of college and then the summer after I worked at a swim school that had me teaching four children at a time, each 30-minute lessons. I told myself then that if I ever opened up a swim school, I wouldn't have those big group lessons because I felt that the children did not get enough one on one time," she said. "Some kids, me and my sisters, are born natural swimmers, and can learn quickly in a group setting. But most kids need more time and attention while learning."
Even while playing other sports, Bradley always knew her home was in the water. Her passion was always swimming. She's doing what she enjoys and it feels good.
"I am so thankful, and beyond blessed to be able to have started my own swim school. God, number one, and my parents after that is what I attribute all I have to," she said. "I am so very tired at the end of these long summer days, but I still love my job. Not many people in the world get to swim all day long. Even after thousands of lessons, I still get chill bumps when I finally get a scared child to realize that underwater is actually a cool new world, or when I get an adult that's never put their face in the water all of their 50-plus years to swim across the pool in just two lessons. It's just so cool.
"My goal is to keep on growing and to be a swim school in Baton Rouge that people know of and think of when they think of swim lessons. To get the kids here swimming with me that maybe couldn't afford other places, or that didn't respond well to their other swim lessons. To keep being the swim school that isn't just herding the kids in and out to make money, but to make every child and family feel like they are the most important person at that time for me to get them swimming and swimming safely."
Sponsor Content
Comments