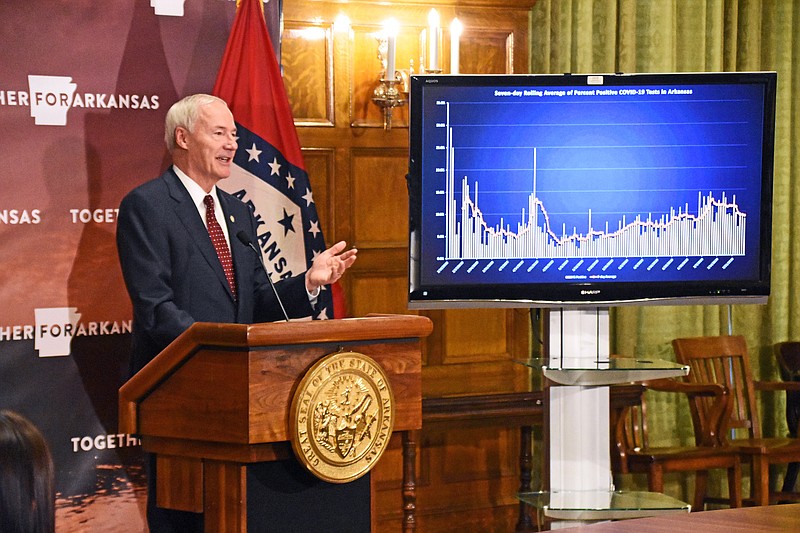 Gov. Asa Hutchinson reviews the latest coronavirus data Monday during a briefing at the state Capitol in Little Rock. (Arkansas Democrat-Gazette/Staci Vandagriff)
The Arkansas Department of Health reported four new confirmed COVID-19 cases in Union County Monday, bringing the cumulative number of cases identified locally to 373.
Of those, 305 were considered recovered on Monday, up five from Sunday. There was a net decrease of one in active cases; 53 cases remained active on Monday, representing 14.2% of the cumulative number of cases in the county.
According to a congregate living settings report produced by the ADH each week day that tracks COVID-19 cases in residential living facilities like nursing homes and jails, one new COVID-19 case had been identified in a worker at Timberlane Health and Rehab by Monday. In all, eight workers there have tested positive for the virus, half of whom are considered recovered.
No other changes were reported in any of the congregate living settings in Union County where COVID-19 has been identified, which include Courtyard Healthcare and Rehabilitation, where one resident case remains active; and Community Living Arrangements, where one worker case remains active. Two workers at Advanced Health and Rehab of Union County that had the virus have since recovered, according to the report.
No new local deaths attributable to the virus were reported Monday. Fifteen Union County residents have died as a result of COVID-19.
The ADH reported 32 new negative test results returned from Union County Monday, indicating a one-day local positivity rate of 11.11% based on the numbers of new cases and test results reported. In all, 4,210 COVID-19 test results have returned to the ADH, with 3,837 negatives, indicating an overall local positivity rate of 8.85%.
The number of cases in Arkansas grew by 824 to reach 39,447 Monday. Of those, 32,365 were considered recovered, leaving 6,674 cases — 16.91% — active statewide.
The deaths of seven Arkansans that resulted from COVID-19 were reported Monday, bringing the state's death toll to 408, indicating a state COVID mortality rate of 1.03%. The number of Arkansans hospitalized Monday grew by nine to reach 489 Monday, and the number on ventilator support grew by seven to reach 110.
Gov. Asa Hutchinson said 5,929 COVID-19 tests were performed statewide in the 24 hour period before his daily COVID-19 update Monday. So far in July, 164,001 COVID-19 tests have been performed in the state; interim ADH Secretary Dr. Jose Romero said he believed the state is on track to perform at least 180,000 tests this month.
Hutchinson also announced Monday that he had allocated $10 million to purchase 20,000 computing devices with unlimited high-speed data connections for 24 months to assist school districts in providing virtual education to their students for those without wi-fi access. The initiative is funded by the federal CARES (Coronavirus Aid, Relief and Economic Security) Act, he said, and use of the devices will be free to students and parents.
"The digital divide is real and it's deep … What has been announced today is monumental," said Sally Bennett, superintendent of the Riverside School District, who joined Hutchinson, Romero and Arkansas Department of Education Sec. Johnny Key, at the daily update. "It's truly going to make a difference for equity and access for our communities … We have an avenue now to fully serve our students for continued learning."
Hutchinson also encouraged residents to be diligent in following public health recommendations to ensure schools are able to open as planned on August 24.
"We want to work hard to wear our masks, to comply with the health guidelines so that we can set the right example for our students, so we can prepare them for school," Hutchinson said. "But also so we can reduce the spread in our communities so it'll make our schools a safer place to be."
Since the state began testing for COVID-19, 484,891 tests have been reported to the ADH, with 445,444 negatives, indicating an overall state positivity rate of 8.13%.
According to Johns Hopkins University, there were 4,276,856 COVID-19 cases in the United States Monday at 5 p.m. Of those, 1,297,863 were considered recovered Monday, leaving 2,831,690 cases — 66.2% — active nationwide. There had been 147,303 deaths attributable to the virus in the U.S. by Monday afternoon, indicating a national COVID mortality rate of 3.44%.
Johns Hopkins reported 16,360,298 COVID-19 cases worldwide Monday afternoon. Of those, 9,454,796 were considered recovered Monday, leaving 6,254,584 cases — 38.23% — active around the world. There had been 650,918 deaths attributable to the virus by Monday afternoon, indicating a global COVID mortality rate of 3.97%.
Sponsor Content
Comments