It has been two months since Dr. Ashley Plummer began seeing patients again after the outbreak of the coronavirus pandemic closed her dentistry office on March 18.
Getting back to a normal routine has taken some time, but everything is proceeding smoothly.
"Everything is speeding up now," Plummer said. "Our patients have been very understanding. No one has said anything."
However, there is one change that is on the horizon.
Her staff normally wears lab jackets, but they will soon be donning hospital gowns.
"I ordered gowns before we had started back," Plummer said. "They've been on back order, but through the state and the Department of Health, that's one thing I'm getting sent. We've never used them. I've always worn a lab jacket. Gowns, especially ones with each patient, we've never had to do that."
As one might expect, dentist offices go through plenty of gloves and masks throughout the day, and Plummer said that was something she had discussed with her staff.
"We were talking about that because I was wondering how much more we're using on masks because we double masks, and we change the top layer per patient and I'm checking hygiene," Plummer said. "There's usually 50 masks in a box, and I would say we go through several boxes a day. We're going through masks, paper towels, all of that."
When asked if they go through more masks or gloves, Plummer said it was the former.
"We probably go through more masks because we have masks up front because we have patients coming in," she said.
Plummer recalled the days leading up to her office being closed in March.
"I remember the week before we closed," she said. "We had a dental meeting in Little Rock and I went. That Friday was when they shut their schools down. I remember thinking someone had told me, 'I hope they don't start shutting businesses.' In the back of my mind I thought, 'There's no way they're going to start doing that.' It happened so fast. I was waking up and couldn't believe it."
During the shutdown, Plummer helped her kids with their online classes while also seeing patients in emergency cases.
"When we were shut down, we could see true emergencies, so I did see those," Plummer said, adding that she kept in touch with her staff through text messaging. "The majority of them either had to go to Dr. (Stephen) Smart, the oral surgeon for an extraction, or to Dr. (Joseph) Suffridge for root canals. But at least we were able to get them where they needed to be or get them on pain medicines or antibiotics.
"They were real picky about what we could do, which is understandable. But when you have a toothache, you want to be seen, and what we did is we would come up here probably every other day and check the answering machine and call patients back."
Although they have been back at work for two months now, the stark reality of the pandemic hits home when Plummer and her staff leave for the day.
"I have several lab jackets that I wear throughout the day. Our scrubs, we can change here and put them in a laundry bag. As soon as I get home, usually my kids would come up and hug me, but they know now not to touch me," Plummer said. "I wash everything and I get a shower as soon as I get home. They know."
Plummer said it's imperative for people not to ignore just your dental health, but your health in general.
"We're doing everything that we can to keep everybody safe, but also, you can't forget about your dental health," she said. "You've heard some physicians on TV talking about how people aren't coming in for regular exams or having issues not being seen. You need to take care of your health. Don't let this stand in the way of that. We have had patients that have not been anywhere, but have been here. They wanted to come here because they wanted to take care of an issue or stay up to date on their cleaning. This place is very well-sanitized."
Weeks after they reopened, Plummer's office passed an inspection conducted by the Arkansas Department of Health.
"It was good," Plummer said. "I knew we were doing everything that we were supposed to, but they don't tell you when they're coming. It's random. She walked around and asked several questions about the reception area, the treatment areas, the inventories of the PPE (personal protective equipment) and making sure we have enough, if we're having any trouble getting anything."
It's been four topsy-turvy months since the pandemic began, but Plummer and her staff are grateful to be back doing what they do best.
"We're thankful to be back to work," she said. "Our patients are thankful that we're back to work. Honestly, everybody has been going along with everything. We haven't had any complaints. Everybody's been nice as far as us asking them what to do, wear a mask, having to washing hands. They've all been understanding, very much so. It's good. As long as I can work, we'll do what we have to do."
Keeping things clean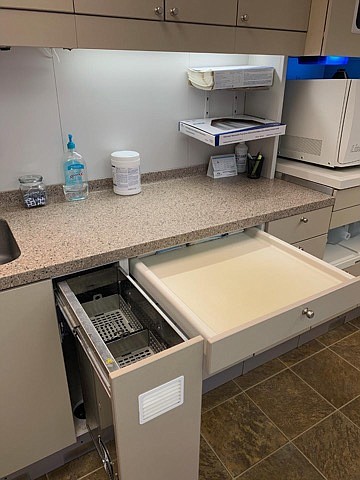 After the ultrasonic cleansing, the instruments go in the dryer and then are bagged in proper sterilization pouches. (Contributed)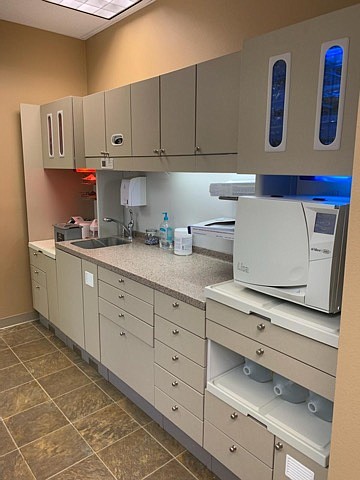 Next, the bagged instruments are placed in the autoclave. (Contributed)
The blue light is the clean area. (Contributed)