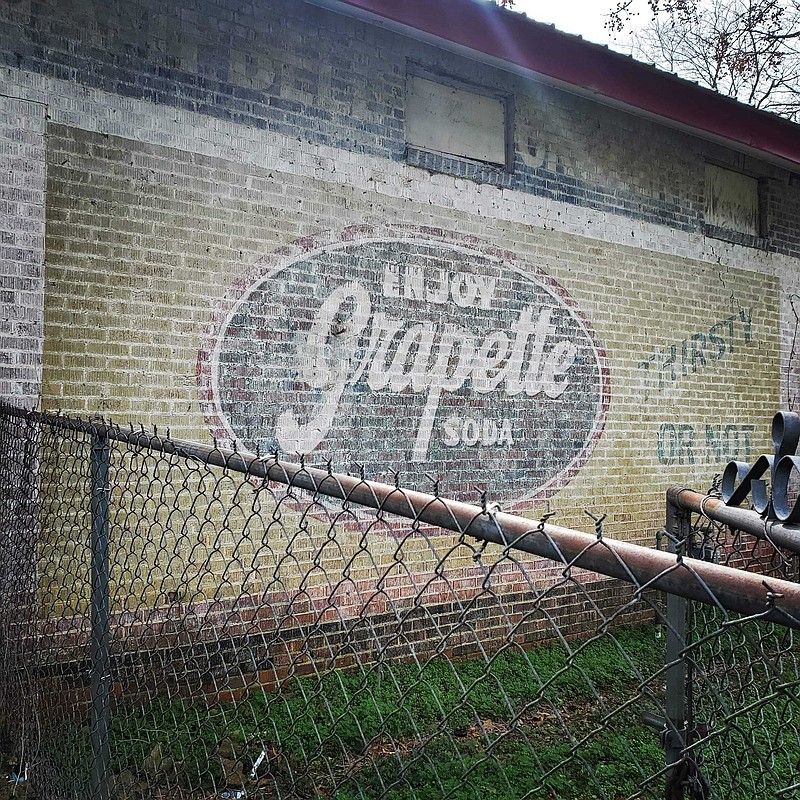 This ghost sign advertising Grapette can be found in Smackover. (Bradly Gill/Camden News)
Grapette soda was introduced in Camden in 1939 and soon took the world by storm. The Camden News has featured stories about the beverage, starting with its early beginnings and continuing into the present.
Prior to becoming an international success, B.T. Fooks was selling "Fook's Flavors" out of the trunk of his car. After purchasing the patent for the name 'Grapette,' the soda became well known, in part because of its unique bottles.
A June 25, 1949 article in the Camden News talked about the birth of the soft drink:
"Through the years following his baptism into the soft drink industry, B. T. Fooks became tremendously interested in grape flavors.
"This interest was stimulated by the large volume of business he enjoyed by his flavor company from sales of its various grape extracts and concentrates and in his opinion, because no good flavor reproduction of the taste of a fresh grape had yet been perfected, almost all grape flavors tasted the same.
"Another factor spurring the research of the B. T. Fooks Manfacturing Company was the knowledge that the grape is the most widely cultivated fruit in the world, comprising more than half of the world's total fruit production. People everywhere know and enjoy the flavor of grapes and grape flavored products.
"'It tastes just like Concord Grapes.' How frequently this remark or similar ones are made by individuals when drinking Grapette for the first time. Paradoxical, isn't it? That one should be surprised to find in a carbonate beverage the flavor suggested by its trade name? After all, who would be so foolish as to originate a grape drink without attempting to corporate therein the natural grape flavor?
"More methodical and persevering, however, than those who proceeded him with grape beverages, was B. T. Fooks. Whereas in their desire to get their product on the market they stopped short of the goal, he attained it before asking the public to pass on the merits of Grapette.
"After exhaustive experiments with many blends and combinations, a decision to combine grape juice with certain esters and other ingredients put the company on the right track. In 1939, the Grapette formula was perfected, resulting in a finished grape beverage unequaled for quality in the history of the beverage industry."
Going International
After the drink gained popularity, a 1946 story detailed the company's growth.
"Mr. Tom F. Green, Sales Director of the Grapette Company who has only recently returned to Camden following a serious illness, announced today that the Grapette Company had expanded it executive staff in order to accommodate the increased sales volume anticipated when supplies and materials are released.
"In an interview with the News, Mr. Green stated that Camden now has an industry that is international in scope inasmuch as the Grapette Export Division is making shipments of concentrate to South and Central America.
"Furthermore, in addition to the bottlers throughout the country now bottling Grapette, approximately two hundred and fifty new Grapette Bottling Plants are contracted to be opened as rapidly as conditions permit. This means that we must have adequate experienced personnel to handle the new business.
"Already several experienced businessmen have joined the company. From Chicago, Mr. Lester C. Moore well-known beverage executive has arrived in Camden.
"Mr. Moore will assume the responsibility of all field activity, having been appointed Director of Field Activity. At present he is training a crew of men who will represent the Grapette Company. Mr. Moore has purchased a home in Camden and is moving his family here.
"A Cooler and Carton division has been created and placed under the direction of Mr. Barker Preddy who has also purchased a home in Camden and is moving here from Dallas, Texas. Mr. Preddy is widely experienced in beverage work, having more than fifteen years experience in this type work.
"Streamlined Grapette beverage coolers are being manufactured now for bottlers, one of the models being a dry box which is a great improvement over the old water bath coolers.
"To handle publication of a magazine to be known as the Grapette Grapevine, the services of Mr. Jim Mankin, Kansas City advertising man, have been engaged. Mr. Mankin has purchased a home in Camden and is being joined by Mrs. Mankin. The magazine, which will more than likely be printed in Camden, will be widely distributed from coast to coast to various members of the Grapette industry and civic clubs.
The Price is Right
Fook's beverage even took center state on game shows in the sixties as a prize.
The following story from 1962 shows the drink being won on "The Price is Right":
"A long line of Grapette stretched across TV screens over most of the United States on January 18 and again on February 12 when the soft drink product originating in Camden was given away on 'The Price Is Right'.
Miss Sandra Miller, winner of the Grapette bonus on January 18, is a student at Columbia University in New York City where she is obtaining her Master's Degree in English. Miss Miller plans to go to Japan as a missionary and teacher of English upon graduation.
At Miss Miller's request, the prize Grapette was presented to her mother, Mrs. Jean Miller, at her home in Conover, Ohio. James Coe, Grapette District Representative in Ohio, delivered the Grapette on January 27.
On February 12 many local people also watched Mrs. Diana Sacchetti of Drexel Hill, Pennsylvania win a Grapette bonus.
The Grapette Company, Inc., of Camden, has contracted for participation in "The Price Is Right" throughout the summer months. Participation in other popular TV shows will begin in April, and will be announced later.
Food Network to feature Grapette
Grapette returned to the airways on the Food Network:
"Camden' original Grapette soda will be featured on the weekly Food Network show - Unwrapped." Grapette was introduced in Camden by B.T. Fooks in 1939 and became a national favorite by the mid-1950s with sales exceeding all other grape flavored soft drinks, according to information from the network.
The show, which airs at 8 p.m. Monday, includes a day-long shoot at Grapette International Inc., in Malvern, including a facility tour, a step-by-step demonstration of Grapette's production process, displays of historic photos and memorabilia and interviews.
"'The 'Unwrapped' segment reveals how the mystical Grapette flavor is the same as it was when it was created in 1939 – even though we've modernized our production processes over the years,' David Rice, Grapette International vice president of marketing, said in the release. 'We hear from so many people who have fond memories of drinking Grapette. They say every sip takes them back in time,' he said.
According to the news release, former President Bill Clinton is one of several who say they loved drinking Grapette growing up. Clinton has said that one of his favorite regular meals consisted of a chili-cheeseburger and an ice cold bottle of Grapette. For more information about Grapette, visit www.grapette.com. Other viewing times are 11 p.m. Tuesday, Oct. 11; 10:30 p.m. Friday, Oct. 12; and 1:30 a.m. Saturday, Oct. 13.
Grapette reintroduced
In 2005, Grapette made a return after a formula change:
"The Grapette soda that began in Camden in 1940s is once again available to the American consumer through an agreement with retailer Wal-Mart. The authentic formula will be sold as Sam's Choice Grapette.
"According to a release from the retailer, Wal-Mart founder Sam Walton wanted this soda in his stores as early as the mid-1980s, and now the vintage taste of Grapette and Orangette soda will be reintroduced.
"'To this day, we get e-mails with wonderful stories about childhood memories associated with Grapette,' said Paul Rice, president of Grapette International, Inc. 'Now with U.S. distribution exclusively through Wal-Mart stores, the brand that has been around since the 1940s will be re-introduced to the American consumer. No other company could possibly offer the distribution level that Wal-Mart brings to the table.'"
'"Wal-Mart saw the value of the authentic formula and the lasting quality of its brand and re-introduced it under the Sam's Choice label,' said Rice. 'The consumers who have remembered us through the years, Wal-Mart, and Grapette International, Inc. are all winners in the co-branding effort.'"
"It all began with Benjamin "Tyndle" Fooks of Camden who introduced Grapette soda in the late 1930s. By the mid-1950s Grapette was the seventh best selling soft drink in the U.S., exceeding all other grape flavored soft drinks. The Grapette Company was later sold and through a series of acquisitions became controlled by the manufacturer of a rival grape drink in the late 1970s. When the Grapette Company was sold, Grapette International, Inc. continued production of the original formulas in the U.S. and focused on selling its products overseas in Latin America, the Caribbean and Pacific Rim countries. The Grapette drink will be produced in Malvern."
The Grapette Guy
Camden native Tyler Hensley has been collecting Grapette bottles, along with other antique food and beverage containers with Camden ties, for several years. From an April, 2020 Camden News story, Hensely describes the history of Grapette's unique bottling conventions:
Grapette was marketed in a signature 6 oz bottle with a unique twist, literally. A twist shape in the glass was added so the bottle had a unique feel when thirsty hands reached for it in an ice feeled cooler.
But during a glass shortage, Fooks used whatever he could find to bottle his drink.
"He was reusing soda bottles and we have one of the one from 1928, it's an old Canada Dry Bottle," Hensley said.
In 1940 Fook's had another stroke of genius and began producing flavored syrups in glass bottles in the shape of animals and later clowns. The empty bottles could later be used as banks. Though the plan and execution were not without missteps.
One shape wasn't able to be filled properly, and another shattered on grocery store shelves.
Hensley said, ""One's called a slick eared elephant. When the elephants came out there were slender ones that were made of very thin glass that broke on the grocery store shelves."
"When they came out with the cat, they were off access and the robots couldn't fill them up correctly and they were sitting in the boxes chipping. For a little while after a glass shortage they used a Snowcrest Bear and an New England Syrup Company Pig. There are less of those than the slick eared elephant.
Hensley said that 500-700 of the original elephants were produced making them very collectible today. Posts on Ebay have the"slick eared variant" as anywhere from $500 to $600
Another container mishap is the reason for a hard to find piece of Grapette history. In the 70's Grapette used tiny tin cans to hold their syrup, with disastrous results."
Hensley said, "The rarest ones are the tiny cans. They did a national ad and yanked the production almost instantly. Can you imagine a tiny little syrup can like that and kids are sticking there fingers in there, sticking there tongues in them? They cut themselves on this tiny little syrup cans. All my soda people have never seen one in their entire life."
Grapette International has since evolved to include flavor and color matching operations, dry food mixes and sports drinks, according to the company's website. The former headquarters for Grapette in Camden is currently listed as one of the Most Endangered Places in Arkansas by Preserve Arkansas.
Editor's note: This story is part of a series commemorating the Camden News' 100th anniversary. Reporters there scour the archives each week for historic newspaper clips, some of which are included here.
Sponsor Content
Comments