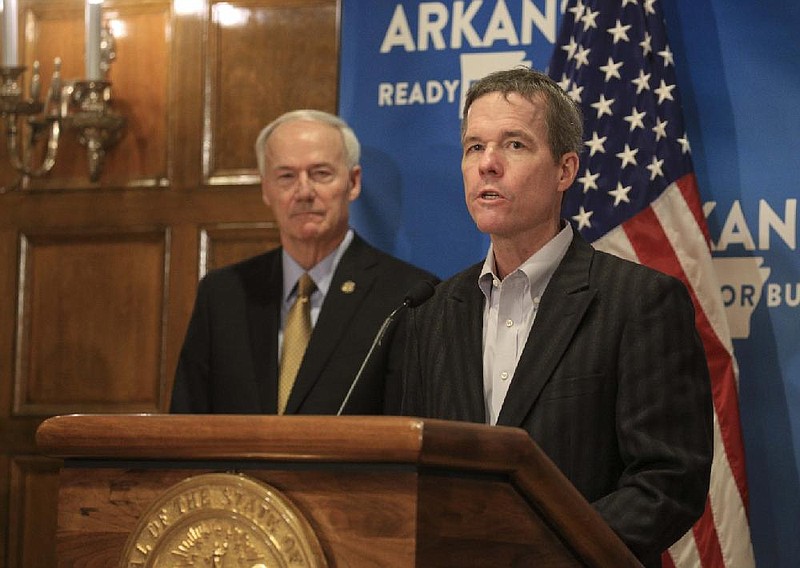 Dr. Cam Patterson, right, chancellor of the University of Arkansas for Medical Sciences, along with Gov. Asa Hutchinson speaks Friday May 8 during the daily COVID-19 briefing at the state Capitol in Little Rock. (Staton Breidenthal/Arkansas Democrat-Gazette)
The Arkansas Department of Health reported one new case of COVID-19 in Union County Sunday, bringing the cumulative number of cases in the county to 274.
One local COVID-19 recovery was logged Sunday, to make 226 county residents who have recovered from the virus. Active cases correspondingly stayed steady at 34, representing 12.40% of cumulative cases. Union and Conway counties rank 26th among the state's 75 counties in their number of active cases.
No new deaths attributable to the virus were reported on Sunday. Fourteen Union County residents have died as a result of COVID-19. Union County and Crittendon County have both seen 14 residents die, the fifth most in any of Arkansas' counties. Union County's COVID mortality rate was 5.10% Sunday.
The ADH reported 24 new negative test results returned from Union County Sunday. So far, the ADH has reported 3,562 test results returned from Union County, with 3,288 negatives, indicating an overall local positivity rate of 7.69%.
According to the ADH, 89.7 tests have been performed for every 1,000 Union County residents. Most of the county's tests have been processed by private labs, 86.15%. ADH Secretary Dr. Nate Smith said recently that private lab results can take up to a week to return to the ADH.
Union County's population was most recently estimated to be 38,682, according to the United States Census Bureau, so about 9.20% of the county's population has been tested for COVID-19.
Arkansas' number of cumulative cases grew by 503 Sunday to reach 28,367. Of those, 21,591 were considered recovered on Sunday, leaving 6,455 cases — 22.75% — active statewide.
Two Arkansans died as a result of the virus between Saturday and Sunday, bringing the state's death toll to 321, indicating a state COVID mortality rate of 1.13%. On Saturday, 411 Arkansans were hospitalized due to COVID-19, with 84 on ventilator support.
Saturday marked the largest one-day increase in cases in Arkansas, with the cumulative total climbing over 1,000. Gov. Asa Hutchinson said in a statement that he would discuss the growth on Monday.
"The record number of new cases is very concerning and may be the result of 4th of July celebrations," Hutchinson said on Twitter. "Regardless, it is a reminder of the challenge we continue to face."
Hutchinson and Smith have urged Arkansas residents to follow ADH recommendations to prevent the spread of the novel coronavirus, which include wearing a face mask in all indoor and outdoor settings where one is around non-household members where social distancing of at least six feet between oneself and others isn't possible; washing one's hands frequently and refraining from touching one's face; and maintaining social distance in all cases.
University of Arkansas for Medical Sciences Chancellor Dr. Cam Patterson said he believed a statewide order requiring face masks was necessary during an appearance on "Arkansas Week" Friday. He also said the UAMS intensive care unit (ICU) was full Friday
"At some point, while we may have the capacity across the entire state, we may have the resources across the entire state, to take care of every COVID-19 infected patient, those resources are not necessarily going to be in the right place," he said. "So as this progresses, we are going to see capacity constraints and limitations on our ability to provide care unless we effectively bend the curve soon."
It is not unusual for the UAMS ICU to be at capacity, and in-house UAMS patients can potentially be treated in an ICU-capacity within other parts of the hospital. A spokesperson for UAMS told the Arkansas Democrat-Gazette their ICU had 22 COVID patients.
"I think the chancellor's point was that we don't have infinite resources," the spokeswoman said.
The ADH reported 382,402 total COVID-19 tests reported on Sunday, with 354,035 negatives, indicating an overall positivity rate for the state of 7.41%. According to the ADH, 37,873 tests were reported between June 6 and Sunday; in the seven-day period before that, 47,425 tests were reported.
Hutchinson said testing had slowed over the Fourth of July weekend last week. He said he has a goal to test 200,000 Arkansans this month; so far, 71,199 tests have been reported to the ADH.
Johns Hopkins University reported 3,286,025 COVID-19 cases in the United States Sunday at 4:15 p.m. Of those, 995,576 were considered recovered, leaving 2,155,360 cases — 65.59% — active nationwide. There had been 135,089 deaths attributable to the virus in the U.S. by Sunday afternoon, indicating a national COVID mortality rate of 4.11%.
Johns Hopkins reported 12,813,864 COVID-19 cases worldwide Sunday afternoon. Of those, 7,046,535 were considered recovered, leaving 5,200,539 cases — 40.58% — active around the world. There had been 566,790 deaths attributable to the virus by Sunday afternoon, indicating a global COVID mortality rate of 4.42%.
Sponsor Content
Comments