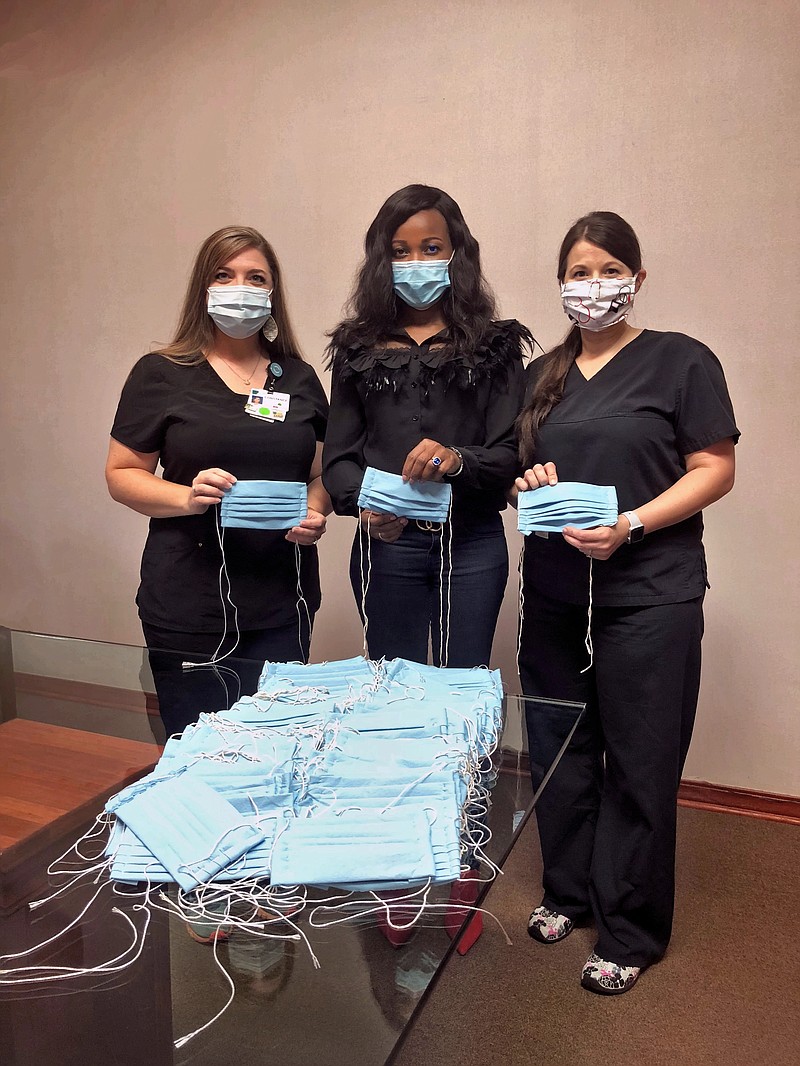 (from left to right) Constance Farris, RNC-OB; Ezinne Nwude, MD, MPH, FACP, co-owner Gold Cross Urgent Care; and Cassey Simons, RNC-OB, prepare for mask distribution to community starting July 13 at Gold Cross Urgent Care. Masks will be distributed on a first-come, first-served basis from 4 to 6 p.m. Monday through Friday. Farris and Simons made and donated the masks. (Contributed)
Nurses are known for their resilience, caring and courage. They know everything in health care can change in a moment and are trained accordingly. But few have experienced the demands of a world-wide pandemic.
After months on heightened alert for their patients, taking on extended shifts and family quarantine stresses, two local nurses made time to support the local community by making and donating critically needed face masks.
Constance Farris, RNC-OB and Cassey Simons, RNC-OB, nurses at Medical Center of South Arkansas Women's Center, say they were inspired by the founder of Holy Sews, an organization that donates bereavement packets to the Women's Center.
"This was a way Cassey and I could return their generosity while also giving back to our community," said Farris. "We want our friends in Union County to stay safe and healthy."
The two made over 100 masks from materials donated through Holy Sews, which receives grants from Arkansas Community Foundation, Arkansas Blue Cross Blue and You Foundation and Heart of Arkansas United Way.
Farris and Simons reached out to Gold Cross Urgent Care to distribute the masks free to the community through their Smart Restart initiative. Drs. Ezinne and Ugo Nwude, owners of Gold Cross Urgent Care and Gold Cross Family Clinic, launched their mask initiative in April when phase one of the economic reopening was announced. To date, the clinic has given away over 900 masks.
"This mask donation comes at a time when COVID-19 cases are spiking and our community is weary of the precautions necessary to prevent further spread of this contagious virus," said Dr. Ezinne Nwude when thanking Farris and Simons for their donation. "The time involved in making these masks must be over 2000 hours. It is astounding and commendable that they took their personal time to help protect our community. We need this reminder that the three basic steps to preventing COVID-19 are washing your hands, social distancing and wearing a mask in public. Those steps have become even more important as we now know COVID-19 is no respecter of race or age. We need to remain diligent to protect ourselves, our families and our community at large."
The masks will be available beginning July 13, from 4 to 6 p.m. Monday through Friday at Gold Cross Urgent Care, located at 701 N. West Ave. Masks are distributed on first-come-first-served basis. Visit facebook.com/GoldCrossUrgentCare for more details.
Sponsor Content
Comments