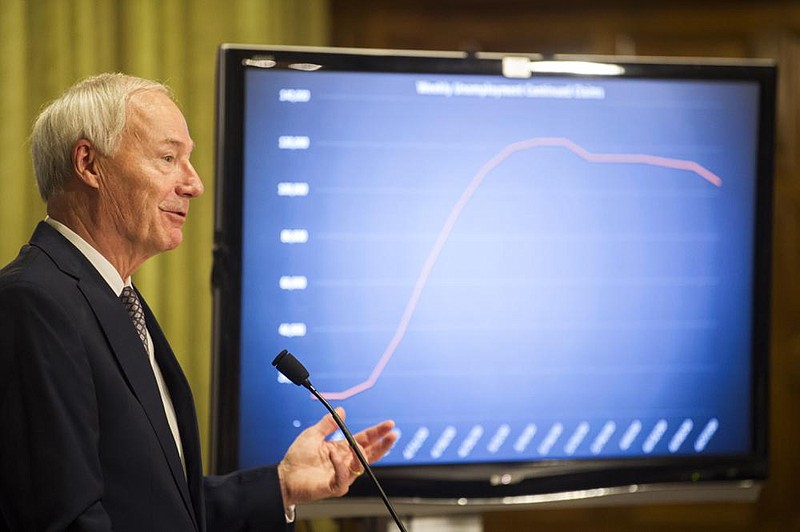 Governor Hutchinson addresses the media during his daily address on Arkansas' response to COVID-19 on Tuesday, July 7. (Arkansas Democrat-Gazette / Stephen Swofford)
An Arkansas Department of Health spokesperson said in an email Tuesday that three new cases of COVID-19 had been identified in Union County, bringing the county's number of cumulative cases to 256.
Of those, 219 were considered recovered, up two from Monday, the spokesperson said. Active cases in Union County grew by one to 24, representing 9.37% of the county's cumulative number of cases.
No new local deaths attributable to the virus were reported Tuesday. Thirteen Union County residents have died as a result of COVID-19.
The ADH spokesperson did not have the latest number of negative test results returned from Union County on Tuesday by presstime.
Arkansas saw its number of cumulative cases grow by 259 Tuesday to reach 24,512. Of those, 18,725 were considered recovered Tuesday, leaving 5,486 cases — 22.38% — active statewide.
Nine Arkansans died as a result of the virus between Monday and Tuesday, bringing the state's death toll to 301, indicating a state COVID-19 mortality rate of 1.22%. The state saw it's largest increase in COVID-related hospitalizations yet between Monday and Tuesday. By Tuesday afternoon, there were 369 Arkansans hospitalized due to COVID-19, an increase of 32 from Monday.
"That's a lagging indicator," Gov. Asa Hutchinson said Tuesday. "You remember the spike in cases we saw a week ago; now we're seeing some of the results of that through our increased hospitalizations."
Hutchinson also noted that five of the deaths recorded between Monday and Tuesday were in individuals under the age of 65. He said the state still has hospital capacity to handle the new hospitalizations seen this week.
According to the Associated Press, which cites the ADH, about 28% of the state's 8,926 hospital beds remain available, and 16% of the state's 982 intensive care unit (ICU) beds are available. Of the hospitalized COVID-19 patients in Arkansas, 158, about 48%, are in the ICU.
Hutchinson said testing lagged on Monday and that the state will need to increase testing to meet his goal of 200,000 tests performed in July.
The ADH had not updated its online COVID-19 statistics resource by presstime Tuesday.
Johns Hopkins University reported 2,991,351 COVID-19 cases in the United States on Tuesday at 7:30 p.m. Of those, 936,476 were considered recovered Tuesday, leaving 1,923,513 cases — 64.30% — active nationwide. There had been 131,362 deaths in the U.S. attributable to COVID-19 by Tuesday evening, indicating a national COVID mortality rate of 4.39%.
Johns Hopkins reported 11,787,953 COVID-19 cases worldwide Tuesday evening. Of those, 6,410,751 were considered recovered, leaving 4,834,739 cases — 41.01% — active around the world. There had been 542,463 deaths attributable to the virus by Tuesday evening, indicating a global COVID mortality rate of 4.60%.
Sponsor Content
Comments