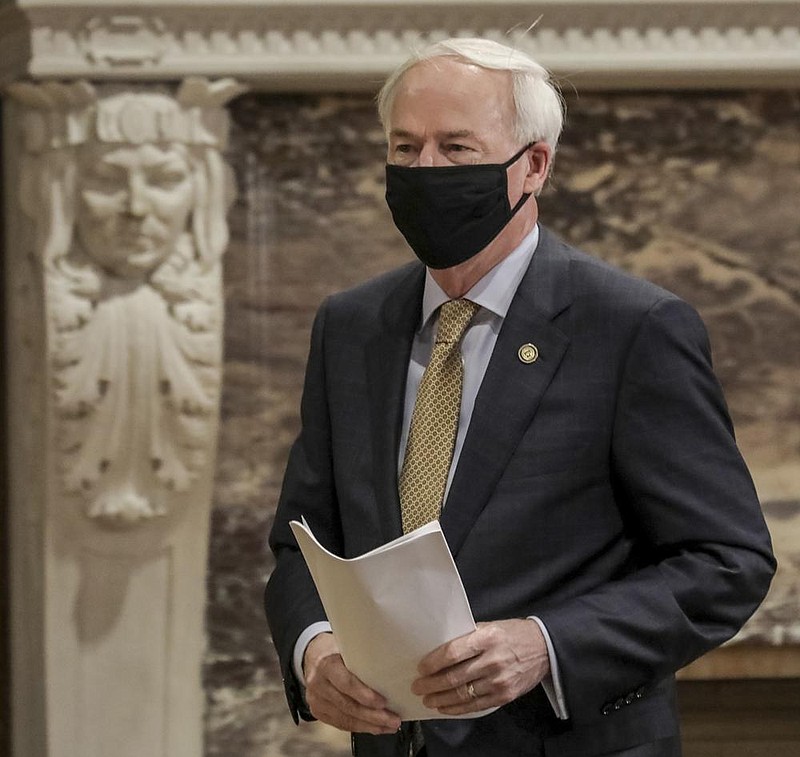 Governor Asa Hutchinson enters the Governor's Conference Room on Monday, July 6 to discuss the state's response to the ongoing COVID-19 pandemic. The event was held at the state capitol in downtown Little Rock. (Arkansas Democrat-Gazette/John Sykes Jr.)
The Arkansas Department of Health reported one new COVID-19 case in Union County Monday, bringing the county's cumulative number of cases to 253.
Of those, 217 were considered recovered, up one from Sunday. Local active cases correspondingly remained steady at 23, representing 9.09% of the county's cumulative number of cases.
No local deaths attributable were reported Monday. Thirteen Union County residents have died as a result of COVID-19.
No changes were reported in any of the congregate living facilities located in Union County where COVID-19 has been detected. Those include Courtyard Healthcare and Rehabilitation, where 22 workers who tested positive have recovered from the virus, seven residents have died as a result of it and 25 others have recovered, leaving three active cases at the facility; Advanced Health and Rehab of Union County, where two workers have tested positive; Timberlane Health and Rehab, where six workers have tested positive; and Community Living Arrangements, where nine residents and three workers have tested positive.
The ADH reported 23 new negative test results returned from Union County Monday. In all, 3,382 COVID-19 test results have returned to the ADH, with 3,129 negatives, indicating an overall local positivity rate of 7.48%.
In Arkansas, cases grew by 439 Monday to reach 24,253. Of those, 17,834 were considered recovered Monday, leaving 6,127 cases — 24.97% — active statewide.
Five Arkansans died as a result of the virus between Sunday and Monday, bringing the total number of Arkansans who have died due to COVID-19 to 292, indicating a state COVID mortality rate of 1.19%.
Gov. Asa Hutchinson said Monday that testing had slowed over the holiday weekend. He said he was raising his goal for testing in July to 200,000.
He said public health guidelines seemed to be taken seriously by most revelers over the Independence Day weekend, but that he would wait towards the end of the week to see if the state sees an uptick in cases that could be related to holiday celebrations.
The Associated Press reported Monday that a bar in Little Rock was shut down by the state due to failing to comply with ADH guidelines after a cluster of COVID-19 cases was traced back to it. According to the AP, Brewski's Pub will remain closed until representatives appear before a state panel.
Inspectors found the bar exceeded two-thirds capacity outlined by the ADH and failed to ensure patrons wore masks and socially distanced themselves, the AP reported.
Johns Hopkins University reported 2,922,000 COVID-19 cases in the United States at 5:45 p.m. Monday. Of those, 924,148 were considered recovered, leaving 1,867,644 cases — 63.91% — active nationwide. There had been 130,208 deaths attributable to the virus in the U.S. by Monday afternoon, indicating a national COVID mortality rate of 4.45%.
Johns Hopkins reported 11,565,414 COVID-19 cases worldwide Monday afternoon. Of those, 6,258,471 were considered recovered, leaving 4,770,293 cases — 41.24% — active around the world. There had been 536,650 deaths related to the virus by Monday afternoon, indicating a global COVID mortality rate of 4.64%.
Sponsor Content
Comments