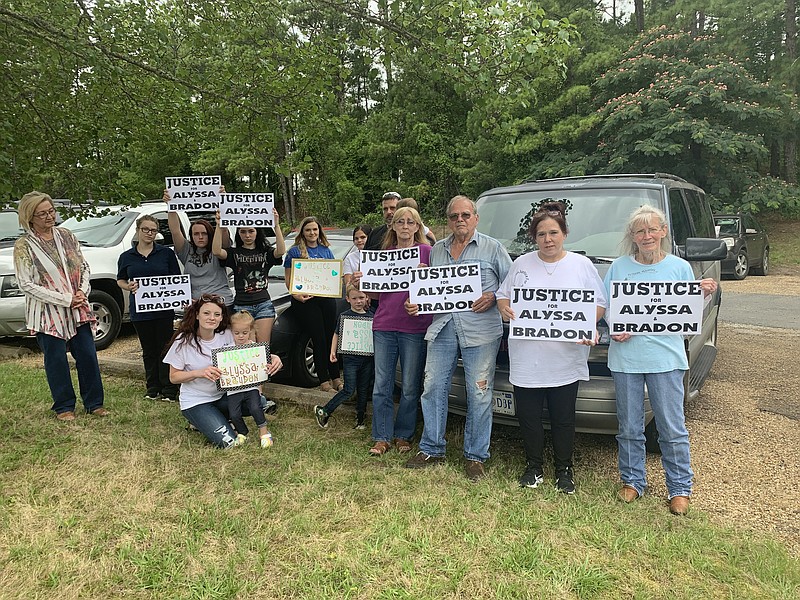 Angela Cannon and her family gather at the Camden Police Department on June 25 seeking justice for Alyssa Cannon and Braydon Ponder, who were discovered dead one year prior. Jory Worthen, the CPD's prime suspect in their murders, are still at large. (Patric Flannigan/Camden News)
More than a year has passed since a double homicide changed the lives of a local family.
On June 25, 2019 family members of Alyssa Cannon and her son - Braydon Ponder - contacted the Camden Police Department to report the mother and son missing. Later that day, CPD found Cannon and Ponder dead in Cannon's home on Ronald Drive in Camden.
Soon after, the CPD, Ouachita County Sheriff's Office, U.S. Marshals and law enforcement agencies throughout the country began actively searching for Jory Worthen as the suspect.
Over the last year, Worthen was reportedly spotted in Georgia and was believed to be in the Wichita, Kansas area but no further developments followed. The white Honda Accord that authorities believe he fled the scene in was found on a parking lot in Seattle Washington in January. Last July, Montez Woods was arrested and accused of helping Worthen escape by giving him $400 in Cash. Woods plead guilty to Hindering Apprehension and received five years probation.
Worthen is described as a white male, age 24, 6'2" in height, 157 pounds with brown hair and brown eyes.
"We have been reaching out. We have the FBI and the Arkansas State Police are assisting us in trying to locate Jory," CPD Chief Boyd Woody told the Camden News shortly after the crime was committed last year. "There's been a lot of speculation on Facebook that he's went out and killed himself, but we don't anything that would prove that, so right now we are actively searching for him… It's a big world. We're trying to get assistance from as many agencies as we can," Woody said, "We're getting a lot of help from other agencies that are trying to get the word out."
Last Thursday, on the anniversary of finding out about her daughter and grandson's death, Angela Cannon and more family members gathered outside the CPD with signs demanding justice for Alyssa and Braydon. Cannon said that the demonstration wasn't an indictment on the CPD, but it was more about making sure people remembered that Alyssa and Braydon's killer is still out there. Cannon encouraged anyone with information that could help the case to call the CPD.
"It's been a year," Cannon stated emotionally. "I wanted to make sure that Camden didn't forget about Alyssa and Braydon. We also wanted everybody to know that we are not up here to disrespect the police department or say that they are not doing their job. They were the ones that told us and gave us a lot of support. We weren't coming up here to protest per say but we just wanted to bring awareness."
Anyone with any information regarding the death of Alyssa and Braydon can contact the CPD at 836-5755 and can also be directed to the anonymous tip line.
Sponsor Content
Comments