The pinks and reds that line the interior of The Classic Dress shop in Smackover can't help but lead patrons, new and old, to the back of the store to be greeted by Laura Kinard and Augusta Gray, also known as Bea and Gussy.
With 51 years of ownership and work in the same building under their belts, the classic yet trendy store will close its doors at the end of February.
"It's just time. It's time," Kinard said. "It's going to be sad. But like I said, bittersweet."
Kinard, 85, said part of the reason it's time is because she and Gray are getting older. At 92 years old, Gray still makes it to the store almost every day.
Although Gray now owns the store, and has for the past 46 years, Kinard opened the shop in 1969 after she and her husband were relocated to Smackover.
Kinard said her husband returned to South Arkansas after being transferred to Montana for about five years.
When they came back, Kinard said Smackover was a bumbling town.
"We didn't have the [Highway 7] bypass, so I told my husband, 'I think Smackover needs a little dress shop,'" Kinard said. "He was agreeable and said, 'OK, you know what to do?' And I said, 'Yeah,' and I did everything."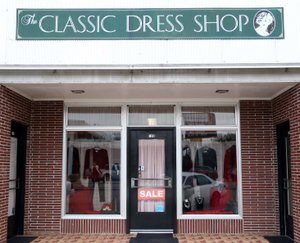 Photo by Siandhara Bonnet
The outside of The Classic Dress Shop Jan. 17. Augusta "Gussy" Gray has owned the store for about 46 years. Laura Kinard opened it in 1969.
Kinard said she had the shop for about a year and three months when her husband told her she'd have to sell the shop — they were being transferred to Hattiesburg, Mississippi, a city of about 45,000 people in the southern part of the state.
She sold the boutique to Billie Glover of El Dorado, who owned it for about four years.
When Kinard and Gray's older sister Mary Alice Williams returned to town, she and Gray approached Glover, purchased the store and have owned it since.
"We've made so many friends here. Not only customers for money, but friends," Gray said. "[We] just appreciate all the lovely people we've had through the years."
Kinard said The Classic Dress Shop has always carried lines of clothes that no one else carried.
She said they used to travel to the Dallas market for clothes, but in recent years have gone to markets in Memphis and Tunica, Mississippi, since they're a little closer and easier on Gray.
"You wouldn't meet yourself on the street," Kinard said. "Being in a small town, we'd have to argue a lot of times with salesmen. 'This is a small town, we don't want six pieces of that. We want four,' and some of them would make us buy three pieces."
She said they kept up with the trends and styles as times changed.
Kinard also said the shop carried all the accessories from scarves to purses and jewelry.
She and Gray said they had customers from Tulsa, Oklahoma, to Virginia Beach, Virginia, come to the boutique.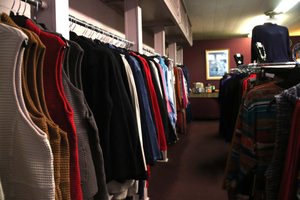 Photo by Siandhara Bonnet
Clothes racks in The Classic Dress Shop Jan. 17. The shop, owned by Augusta "Gussy" Gray, will close by the end of February. Until then, items will be on sale for 50% off and then 60% off in February.
And no matter what they bought, or didn't buy, they were treated the same — with a smile, greeting and kindness.
"I hate to walk in a store where they don't acknowledge me," she said. "I won't go back."
Kinard said she can't say how different life will be without the store, it's just bittersweet.
She said they hope to be sold out, wall-to-wall by the end of February, but they're not sure.
At the moment, the boutique is having a sale of 50% off most items, aside from their Slimsations line. When February begins, it will be 60% firm, cash or check only.
Whatever doesn't sell will be donated to charity.
"You've got to have a deadline when you're closing your doors," Kinard said. "This is all new to us. We've never closed, see."
Kinard said the shop has some money out on the books and doesn't know what she and Gray will do if they can't collect.
She said they will make a statement this week about closing and if people owe Classic money to send it Gray.
"It's not a money-making thing at all," Kinard said. "People think you're going to make money in the clothing business, forget it. You don't. There may be some shops that would gouge people and mark [the clothes] way up there, but we didn't. We did not do that."
Kinard said when Gray had a larger clientele, Classic could turn a profit, but since business has dwindled, it's been tough.
She said she doesn't know what will happen to the building after the business closes and that the final details are still being worked out.
The Classic Dress Shop is open from 10 a.m. to 5 p.m. Monday through Saturday and is located at 723 S Broadway St. in Smackover.