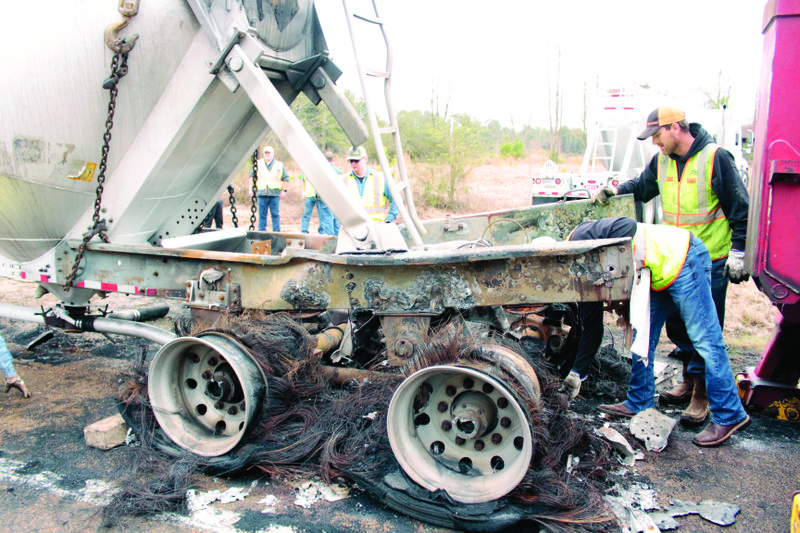 A tanker truck caught fire on the 5900 block of Highway 82 Monday night after hitting a small animal and knocking off a brake line. The truck remained parked on the highway throughout the day yesterday as the driver waited for a second truck to off-load his cargo. - Photo by Caleb Slinkard
A tanker truck caught fire on the 5900 block of Highway 82 Monday night after striking a small animal in the roadway.
Bobby Braswell, director of the Union County Office of Emergency Management, said the 18-wheeler, owned by Vernon Milling Company, was headed to Alabama from Oklahoma when it struck an animal and knocked off a brake line.
"He had a fire on his rear axels back there, the rear tires," Braswell said. "It was just a fire and it burnt up all eight tires on the back of the trailer."
Braswell responded to the accident, along with the El Dorado Fire Department, the Parkers Chapel Volunteer Fire Department, the Union County Sheriff's Office, the Arkansas State Police and the Arkansas Highway Department.
EFD Fire Marshall Chief Jason Evans said firefighters were notified of the fire at 11:04 p.m.; arrived on scene at 11:13; had water on the fire by 11:30; and had the fire under control by 11:33. He said Pro Med also responded to the incident.
The tanker was carrying steel scrap, a waste product resembling ash or soot, Braswell said; he described it as a dust that can be hazardous if it is breathed in. None of the product was spilled in the road, though, Braswell said. "It didn't have anything to do with what he was hauling; that wasn't hurt."
"The road wasn't compromised. That wasn't a problem," he said.
Luckily, when the truck caught fire on Monday, it came to rest on the road shoulder. Yesterday, the outer lane of Highway 82 was closed as Braswell and the truck's driver waited for another truck from Vernon Milling to off-load the cargo; the other truck, which traveled from Mississippi, arrived around 4 p.m. yesterday, and Braswell said he expected the off-loading process to take about three hours.
Braswell said the driver was uninjured and that nothing besides the tanker itself was damaged.
Caitlan Butler can be reached at 870-862-6611 or [email protected] Caleb Slinkard contributed reporting.
Sponsor Content
Comments