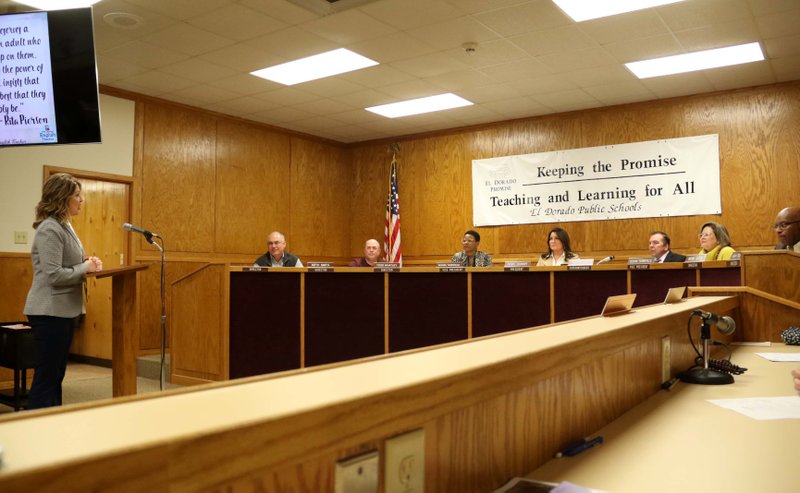 Rep. Sonia Barker recognizes the El Dorado School Board at its Jan. 13 meeting as part of Arkansas School Board Member Recognition Month. - Photo by Siandhara Bonnet
El Dorado School District has two new buildings on the rise, as well as a few other projects in the next six years.
Superintendent Jim Tucker discussed the district's 2020 six year master plan of facilities at the El Dorado School Board meeting Monday, which includes a new Barton Jr. High and a new elementary school to replace Yocum.
"Mr. Tucker noted that while these buildings have been very well-maintained, they are aging and will need to be replaced in the coming years," said Katie Sandifer, digital media and marketing manager for the district, in an email to the News-Times.
Tucker said in an email to the News-Times that a portion of the current junior high would be razed with the rest used as a new location for the district's Alternative Learning Environment Program and for Adult Education.
"If we are able to build two new schools they could possibly be located at the old high school location and the property north of the new high school on either side of Bob Watson Drive," Tucker said in the email.
Three projects that have been submitted to the Arkansas Department of Education for partner funding include replacing portable buildings with permanent construction at Hugh Goodwin and Northwest elementary schools, replacing the HVAC system at Northwest and replacing the roof on the Barton cafeteria.
Tucker said the projects will proceed even if partner funding isn't granted. He also said these projects were the next in line for completion.
"Every year we work to keep our buildings in great condition but when an opportunity arises to apply for help with funding we try to capitalize on those opportunities," he said in an email.
He also updated the board and community members in attendance on the maintenance, transportation and food services facility. Tucker said crews broke ground for the facility.
The board approved the $2.7 million bid from Moser Construction in Bryant at its November meeting. According to a March News-Times report, the building would be about 15,025 square feet and occupy a parcel of land behind El Dorado High School, south of Parnell Road and east of the Highway 82 bypass.
Projects completed in 2019 included the new stadium press box, the multipurpose facility at EHS, stair tread replacement at Yocum and the walking trail at Washington.
The following projects were also done on facilities in 2019, according to a list provided by the district:
Railing was installed at the top of the home side bleachers at the stadium
Concession area was remodeled and railing installed outside the concession area
Hillside south of the football practice field at EHS was repaired, installed French drains, irrigation and sodded the entire hillside
Concrete slab was poured where football coach's park and drainage issue repaired to eliminate standing water
High School interior alterations were completed last summer, concrete removed, plumbing repaired, French drain installed and concrete re-poured
Interior alterations at Retta Brown were completed
Land on Parnell road was cleared for new facility
A section of roof was replaced at Retta Brown
Several bad sections of EHS parking lot were replaced
Gravel was added to parking lot at Northwest
Foundation issue on portable building at Hugh Goodwin was repaired
Storage room was remodeled for a new office at Washington
Bullet resistant glass window and new doors were installed at Central Office
Store front doors were installed at Hugh Goodwin to courtyard
Carpet was removed and replaced with VCT at Barton Library, Murmil recreation room, Hugh Goodwin library and a couple of offices
Music portable building got vinyl plank flooring at Hugh Goodwin
New A/C units were installed in recreation room at Murmil
Driveway was paved at Yocum Primary and back entrance at Barton
Several rooms and hallways were repainted throughout the district over the summer break
Retrofitted old fluorescent and incandescent lighting to LED in several areas throughout the district
North end of Yocum primary was replaced from the car running into the building
Sponsor Content
Comments