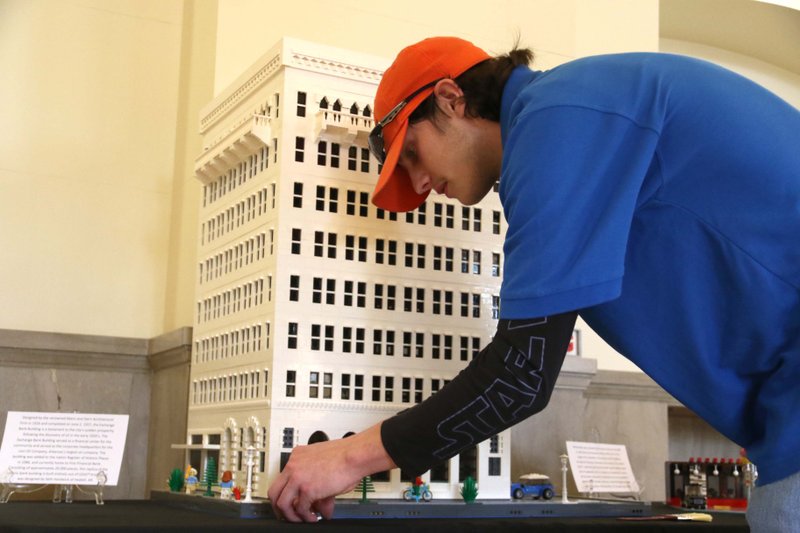 Seth Hardwick adds finishing touches to his First Financial Bank replica of the 1920s version of the bank Jan. 13. The bank replica will be on display in the lobby through Feb. 17. - Photo by Siandhara Bonnet
After they were displayed at the state Capitol, two LEGO replicas of El Dorado's First Financial Bank and Minute Man are available for viewing in the First Financial lobby from today through Feb. 17.
Seth Hardwick of Haskell, Arkansas, set up the two builds Monday afternoon. Jason Hall of Fayetteville is a grandson of Wes Hall and built the Minute Man replica. Hardwick spent about 80 hours constructing the First Financial Bank.
"I enjoy building historic 1920-style downtown buildings. I've built lots of small buildings before and I decided I wanted to build something tall," Hardwick said. "I literally went to the Wikipedia page for Arkansas and started looking for the tallest buildings in the state and I came across that one and went, 'I like that one. I think I'll try and build it.'"
Hardwick and Hall are members of Arkansas LEGO Users Group [ArkLUG], an officially recognized group for adult and teen LEGO enthusiasts.
Hardwick said although he's enjoyed building with LEGO pieces since he was a kid, joining ArkLUG has allowed him to be more creative in his LEGO designs and building techniques. He said there are members of the group from all over the state.
Hardwick said initial design for the First Financial Bank was in 2016, but got serious about it in spring 2019. It finally made its debut Father's Day weekend at Brick World Chicago, a LEGO convention. Its first Arkansas debut was in September in Hot Springs at Spa-Con.
"In all, it took about 3-4 months from main designing to actually completing the structure," Hardwick said.
He said there are approximately 20,000 LEGO pieces used for the building, which came from LEGO sets, an online marketplace called BrickLink and out-of-state LEGO stores since Arkansas doesn't have its own.
Hardwick said he and his fellow ArkLUG members don't get paid for the pieces they create and that it's just a hobby.
"Most of the time we just do it for the fun of going out and showing the world what we're able to build with LEGO," he said. "For me LEGO is often times just a stress relief, a fun thing to busy myself with."
Hardwick said building with LEGO pieces can become a pretty expensive hobby. To fund it, he works part-time at the fire department in Haskell.
He also said one of the things he likes to build are LEGO fire-related things like fire trucks or classic stations.
Although receiving recognition for his builds is nice, Hardwick says what he really enjoys is seeing kids being able to relate to his pieces and the off-chance another adult gets encouraged to build.
Hardwick said some of the builds end up being recycled so the pieces can be reused, but there are no plans in the near future for the bank to be demolished. He did, however, say that he plans on adding a sign to the building.
More of Hardwick's builds can be seen on his Facebook page at Hardwick's Bricked Replicas.
The bank and Minute Man replicas can be seen in the First Financial Bank lobby at 214 N Washington Avenue in El Dorado.
Sponsor Content
Comments