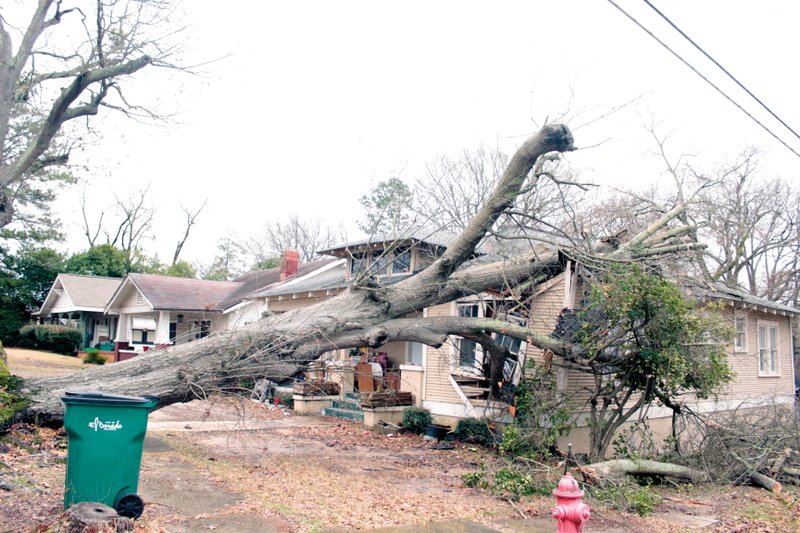 Severe storms downed this tree in west El Dorado, knocking out power for almost 300 residents.
While Union County avoided the most severe weather from storms that moved through the area early Saturday morning, the high winds and heavy rain did result in power outages throughout the county and several downed trees.
Throughout the Midwest and Southern United States, the line of severe storms killed at least 11 people, including two first responders in Lubbock, Texas, according to the Associated Press. Gov. Asa Hutchinson declared a state of emergency Saturday in an effort to help crews working to restore power across Arkansas.
The storms resulted in thousands of Union County residents without power, according to Entergy's Chris Wasson.
"After last night's storm, we had approximately 2,580 customers out of power in the El Dorado/Camden area," he said. We were able to restore power to approximately 1,750 customers by 7:25 a.m. Power will be restored to 96% of customers in Union County by the end of [Saturday]. Approximately 100 customers scattered across the county will be carried into tomorrow. We expect to restore power to the remaining 100 customers by 6 p.m. on Sunday."
A downed tree along Flenniken Avenue south of Mt. Holly Road destroyed part of a house and knocked out power to 290 residents. Across the state, Entergy Arkansas reported nearly 42,000 power outages Saturday morning, mostly in the southeastern part of the state. The Arkansas Department of Transportation reported that portions of several state highways across the state, particularly in the southeastern portion of Arkansas were closed due to downed trees and power lines and to flooding, according to the Associated Press.
A tornado near Carrollton, Alabama killed three people Saturday, according to the National Weather Service in Birmingham. Two people were killed in Bossier Parish, Louisiana after high winds moved their trailer 200 feet from its foundation. NWS Shreveport reported a tornado touched down in Bossier Parish. A 75-year-old man, Raymond Holden, was killed in Oil City, Louisiana, when a tree fell on his home. Deaths were also reported in Oklahoma and Iowa.
Hundreds of thousands of people across Alabama, Georgia, Louisiana, Mississippi and Tennessee were without power Saturday.
Union County was under a tornado watch for most of the early morning hours, but none was reported, and no injuries have been reported as of press time Saturday.
Sponsor Content
Comments