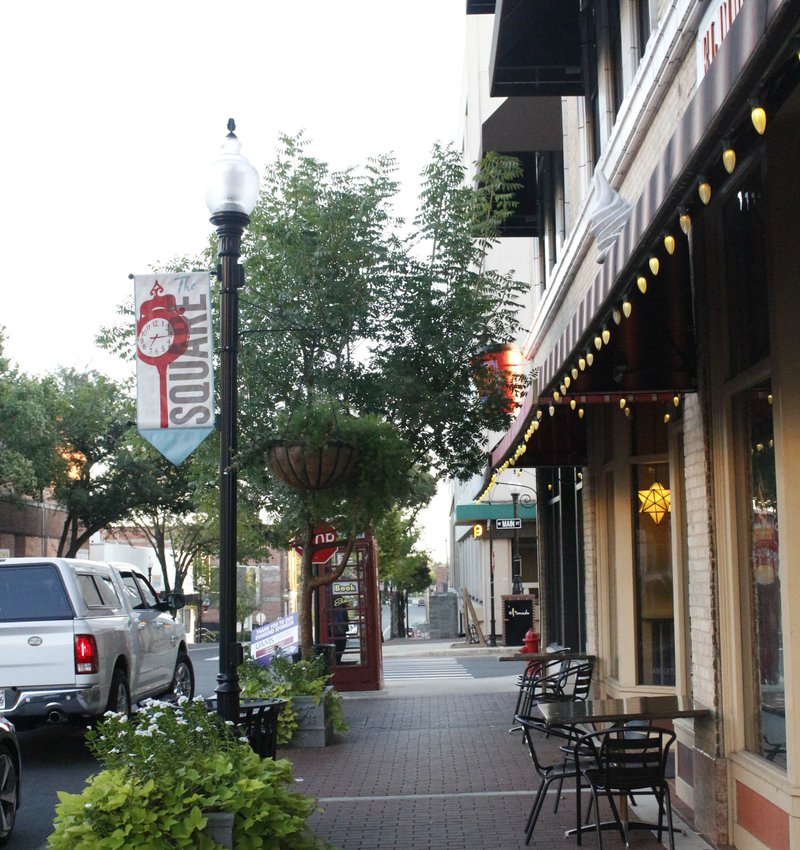 A view of the intersection of Main Street and Washington in downtown El Dorado. Main Street El Dorado announced $6,500 in mini-grants.
Half of the funding has been approved for a proposed project to install public restrooms in downtown El Dorado and while El Dorado City Council members said they agree with the concept, some have requested that other potential locations be scouted within the Union Square District.
A downtown property owner has also expressed opposition to placing the restrooms in Oil Heritage Park, which takes up the northwest corner of the intersection at Jefferson and Cedar, and has threatened legal action against the city.
Fifty percent of a preliminary estimate of $130,000 for downtown restrooms is being covered by the El Dorado Forward tax, a one-cent, city sales tax that is earmarked for economic development, municipal infrastructure and quality-of-life projects.
On Dec. 10, the El Dorado Works Board, who administers the tax, approved a $65,000 funding request from Councilmember Paul Choate, who is initiating the project.
Greg Downum, chairman of the EWB, presented the funding request to the city council Jan. 9 for final approval.
Choate, also a member of the El Dorado Advertising and Promotion Commission, has already approached the commission, who, he said, is on board with committing the other half of the $130,000 estimate
A&P commissioners have not yet voted on the matter.
City council members raised questions and concerns about the project
Councilmember Andre Rucks from which category of the El Dorado Works tax would the $65,000 be pulled.
Downum said the funds would come from the construction, maintenance and non-designated category, which takes up 26 percent of tax revenue — 20 percent for construction and maintenance and 6 percent for non-designated.
Downum also explained that the restrooms would be open during normal operating hours for downtown retail shops and the city will provide day-to-day maintenance.
Robert Edmonds, director of public works, said plans are to open the restrooms from 7 a.m. until 8 p.m. each day and possibly install smart locks on the doors.
During special events downtown, event organizers who request the use of the public restrooms will have to make sure they are adequately stocked and maintained during the hours of the events, Choate said previously.
Such arrangements may be worked out with the city for a cost, he said, noting that city employees are typically paid $20 per hour to work special events after-hours and on weekends.
Choate has said the restrooms will be low maintenance, measure 360 square feet with a footprint of approximately 10 feet x 32 feet and come with an antique-brick finish.
He also said that after scouting different locations downtown, he found that the "most logical" spot is Oil Heritage Park.
Another location
On Jan. 9, Councilmember Billy Blann asked where the restrooms would be placed in OHP and Choate said the northeast section, which backs up to an alley behind the Black Cat Cafe.
"I would like to see it in that west corner … To me, that would hide it and it's less vegetation and less landscaping that I thought would be involved there," Blann said.
Choate has the restrooms would be just off the sidewalk along Jefferson Avenue and would maintain a low-profile statuary, with signs directing visitors in their direction.
Also up for consideration is a request by Entergy to move a transformer out of a vault underneath the sidewalk in the area to a spot behind the restrooms, said Edmonds.
"Why do they want to move that thing?" asked Blann.
"Well, they're trying to get all of their transformers out of those vaults," Edmonds said, adding that the transformer would be mounted onto a pad behind the restrooms.
Edmonds also said Entergy plans to formally present a proposal to the city about the project.
Placing the restrooms in the northwest corner of OHP would block access to the second floor of La Piazza, Choate pointed out. The second-floor space formerly operated as Einstein's and Pandora's, both nightclubs.
"We really don't want to block access to a potential business," Choate said.
Councilmember Willie McGhee said he was in favor of building public restrooms in the city's Central Business District.
"I don't know about the location but me, personally, I think we need bathrooms down there," McGhee said.
"Robert (Edmonds) and I have walked the entire downtown area looking for space. We did have someone approach a private landowner and he was not willing to give up property and that location was a lot less hid than this one will be," Choate said.
He also said the Downtown Business Association, Main Street El Dorado and many others in the community support the project.
Doing his due diligence, Choate discussed the project with the El Dorado Historic District Commission hours before the city council meeting Jan. 9.
During the EHDC meeting, commissioners said their interest is that the restrooms meet the design review guidelines for the city's commercial historic district, which covers much of downtown El Dorado, including OHP.
Choate told commissioners that he plans to submit a Certificate of Appropriateness request to the EHDC next month. COAs are required for most exterior project within the commercial historic district.
Blann said the city spent approximately $550,000 to reconfigure OHP, adding seasonal plantings, benches, brick pathways, lighting and plaques to existing monuments that detail El Dorado's oil boom history.
The money came from the former El Dorado Forward tax — 1-cent sales tax that preceded the El Dorado Works tax and was used for economic development projects — and was part of a $9 million commitment to
El Dorado Festivals and Events, Inc., the private, nonprofit organization that launched the Murphy Arts District.
EFE used the money to purchase and reconfigure the property.
After the project was completed in 2016, EFE deeded the property back to the city, which, in turn, leases it to EFE for a nominal fee.
Caveat
"I'd hate to see it disturbed when (the restrooms) can be moved 300 feet," Blann said.
Councilmember Vance Williamson, who also chairs the council's Finance Committee, agreed.
Williamson made a motion to approve the $65,000 funding request with the caveat that other locations be considered.
A downtown property owner has voiced similar concerns and has threatened to file a lawsuit if the city proceeds with the project.
In a letter sent to city officials late last month, Richard Mason, downtown developer and property owner, wrote that he opposes building restrooms in OHP because the park is surrounded by five commercial buildings that he owns and serves as green space in downtown El Dorado.
Mason, the previous owner of the property on which OHP sits, spearheaded the project to place the oil monuments on the site.
He cited issues with vandalism and maintenance that arose with public restrooms that were previously located in Mellor Park.
"After being in place for several years, it became a hangout for undesirables, (possibly) with drugs, vandalized and left filthy for weeks on end," Mason wrote.
"No one in their right mind would use it … It seems to me that you are proposing to do the same thing in Oil Heritage Park," he continued.
He further argued that the restrooms in OHP could threaten property values and drive customers away from businesses in the area of Jefferson and Cedar.
Mason advocated for a single, unisex restroom and implored city officials to consider vacant lots nearby, adding that he plans to take legal action.
"… and if you move forward with this project, I will file suit. I hope I have made myself perfectly clear — that with all of the empty spots available, the Oil Heritage Park site for a public restroom will not be tolerated," he wrote.
Sponsor Content
Comments