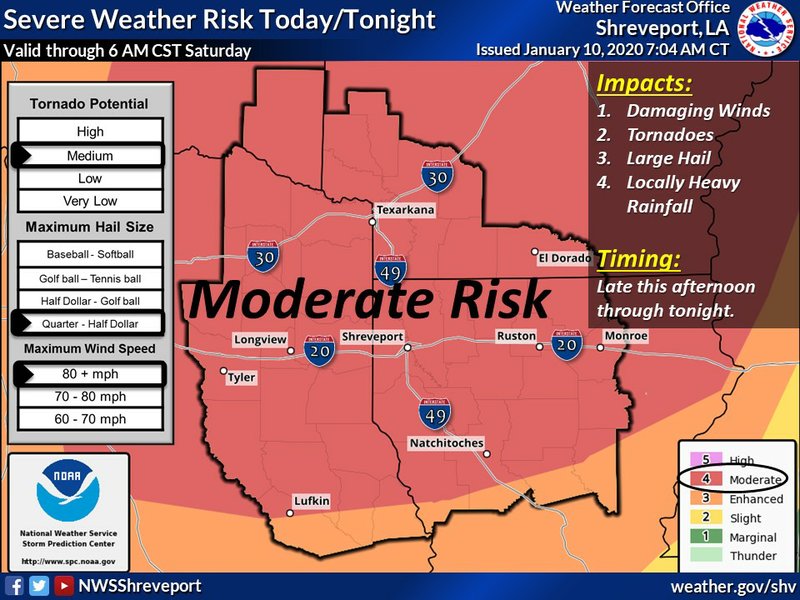 Severe weather graphic from NWS Shreveport.
UPDATE 5:47 p.m. — The National Weather Service's Storm Prediction Center in Norman, Oklahoma has placed Union County under a tornado watch until 2 a.m. Saturday morning.
A tornado watch means that conditions are favorable for the formation of a tornado. The more severe tornado warning means a tornado has or is likely to move through an area, and to take cover immediately.
This story will be updated as information is available.
ORIGINAL — As a long line of severe storms develops throughout the day west of the Dallas-Fort Worth metroplex and moves east through Texas and into Arkansas, National Weather Service forecasters are warning about potential high winds and tornadic activity in the region.
NWS Shreveport meteorologist Aaron Davis said severe weather is most likely to hit Union County between midnight and 3 a.m.
"With this severe weather event, we're highlighting the high, damaging winds and tornado threat," he said. "The midnight to 3a.m.m time frame is when El Dorado and Union County will see the best chances for damaging weather."
Flash flooding is also a risk Davis said. While the storm will move through the area quickly, it should dump a heavy amount of rain in a short amount of time.
"Right now, there is a flash flood watch kind of butting up against Union County," he said. "While we're expecting the heavier rainfalls to be north and west of Union County, we could see 1.5 to 2 inches of rain in Union County, with isolated pockets of maybe 2.5 to 3-plus inches. Flash flooding is definitely going to be a possibility."
While, with the right conditions, severe weather can hit the region at any point throughout the year, Davis said having a storm of this size and certainty is out of the ordinary for early January.
"According to Storm Prediction Center data, today is only the third time since 2003 that a moderate risk has been issued in January," he said. "While we're no strangers to severe weather during winter months, the scope and magnitude is what is so odd this time of year."
Davis equated severe weather conditions with baking a cake — you need the right amount of the right kind of ingredients in order for it to work. Today, it looks like everything is lined up correctly for severe weather.
"We're seeing the right amount of forcing with a cold front moving through, the right amount of atmospheric instability due to daytime heating and moisture from the gulf," he said.
Sponsor Content
Comments