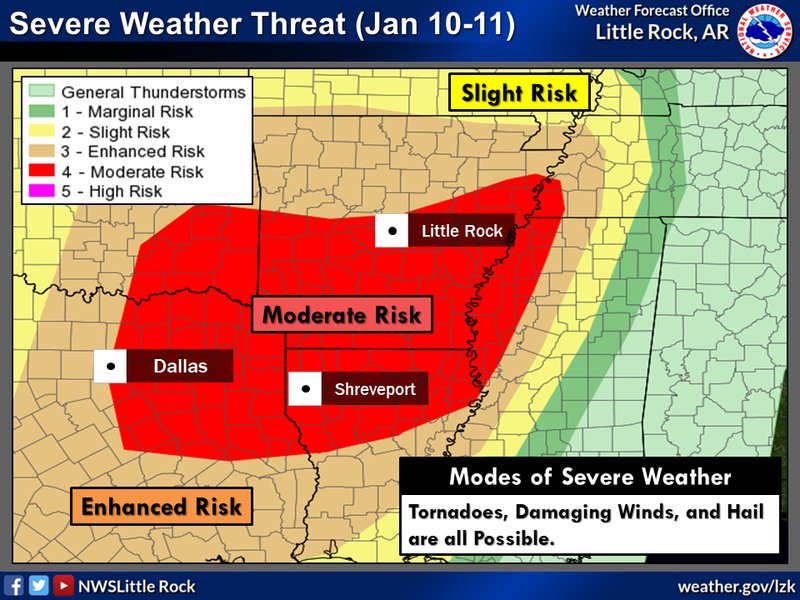 A graphic posted on the National Weather Service's Facebook page Friday morning showing the risk of severe weather Friday and Saturday.
With the threat of severe weather in the forecast today, the El Dorado Fire Department is advising local residents to stay alert and to take safety precautions.
"The weather is forecast to take some drastic turns. It can go from hot to cold pretty quickly and that type of change is usually followed by high winds and severe weather and there could be some tornadic activity," said Fire Chief Chad Mosby.
The National Weather Service has issued a hazardous weather outlook for south Arkansas and not Louisiana, starting late this afternoon and heading into the night.
Mosby said weather conditions could worsen between midnight and 1:30 a.m.
While many people use their cellphones to receive national weather alerts, Mosby said the technology is still reportedly "hit or miss."
"A weather alert radio is the best way to go. They're relatively inexpensive and you can buy them at a hardware store or somewhere like Home Depot," Mosby said. "We encourage everyone to stay informed about changing weather conditions on local radio stations and TV stations."
"Along with high winds and severe weather, we may have some trees down and power outages if it gets as bad as they're predicting," the fire chief continued.
He also cautioned residents not to rely solely on the city's weather sirens in the event of severe weather — advice that couldn't have been more timely.
During an El Dorado City Council meeting Thursday, city officials heard a grim report about the functionality of the city's eight emergency weather sirens, which were installed about two decades ago.
Marty Burns of Ark-La-Tex Two Way, a telecommunications company that has been servicing the sirens for about a decade, told council members that only one of the eight sirens functions at 100% capacity.
"They had been good and dependable up until about three years ago," Burns said.
The locations of the sirens are:
• West Eighth Street across from the El Dorado Municipal Auditorium.
• The 2200 block of West Hillsboro near Tuckers Truck Inc.
• Washington and Center near Rainbow Food Mart.
• The 3100 block of North West Avenue near Danny Walters Auto Sales.
• The 200 block of American Road near Freedom Bail Bond Company.
• The area of 19th Street and Martin Luther King near the entrance of Lions Club Municipal Golf Course.
• The area of U.S. 167 and Lilac near Storey's Floor and Carpet, Inc.
• The area of Bradford and Harold Ellen near the former West Woods Elementary School building.
Burns said only the siren near Tuckers Truck is fully operational.
He explained that the sirens are rotating units and one of them stopped rotating about three years ago.
"The gearbox had gone out and we went to the manufacturer and the manufacturer does not make those gearboxes anymore. It became a maintenance issue because it's the first one that could not be repaired. Now, four of the sirens don't rotate. Some of them make sound in one direction," Burns said.
Each unit contains four speakers and a thorough evaluation conducted in 2018 determined that a total of 10 speakers were out, he said.
At the time, manufacturer Whelan Weather Sirens presented options to remedy the matter, including an upgrade to a fixed sounder head.
Burns said that option, plus another to replace all eight units for approximately $100,000, was subsequently proposed to city officials.
"That was an old proposal. We did not get a decision on how to proceed on major repairs," he said.
He then recommended that the city replace the old units.
Councilmember Willie McGhee asked if the sirens "had to rotate."
Burns said newer models do not rotate and they have live-voice and canned-message capabilities, similar to units that are used by local industries.
He said when the eight sirens were purchase, engineers advised city officials to purchase 15 and recommended the locations for each.
"But it wasn't in the budget," Burns said.
Sponsor Content
Comments